Mar 29 2014 9:03AM GMT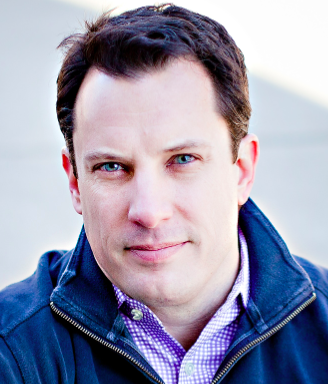 Profile: Brian Gracely
The week of March 23rd, 2014 might go down in history as 1 AG (After Google). By launching (or re-launching, who can really keep up), the Google Cloud Platform (GCP) officially created a public utility cloud marketplace.
What? How can that be, considering that there are lots of recognized Cloud providers? While it's true that all of these companies exist, and many run excellent businesses for specific market segments, most of them aren't focused on the utility elements of the market.

This really shouldn't surprise anybody, if you've been paying attention. The experienced segment of the #clouderati have been predicting this for quite a while (here, here).
But this is just one new provider, so why is this different? As GCP and AWS exchanged price cuts this week, why were people beginning to worry if this is just a "race to bottom"?
There are some interesting economics and supply-chain aspects in play. At this scale, the cloud providers are able to buy directly from the chip manufacturers, significantly reducing the overhead they pay for each cog in their bit factory. Add those servers into PUE optimized data centers and the marginal cost of each new revenue-generating machine is much less than for smaller Cloud providers (translation – higher margins). Then layer on their depth of automation expertise and the human costs remain low as a percentage of overall costs. Then throw in that they can dictate to suppliers that they will employ JIT principles and only pay for equipment once it goes into production, and the overall economics look very different from more traditional Service Providers.
So does this now mean we'll have a race to zero? Let's look at that from a couple perspectives: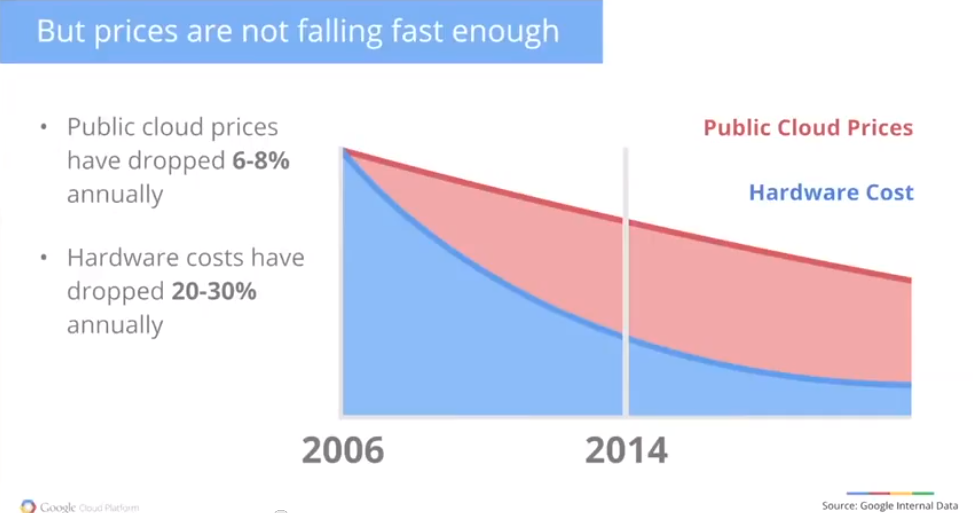 This image is from the Google Compute Platform launch.
Or consider the comments that Andy Jassy has made at the last two AWS events: "Amazon has cut cloud pricing xx times in 8 years "largely without any competitive pressure."
There is margin and then there is Moore's Law. Stay ahead of the latter and you can still enjoy the former, especially when both don't have to add human costs at rates that exceed those curves. Both of these companies understand this very well. And now comes the interesting game play.
One theory is that Google has much larger infrastructure resources to pull from and a cash-cow advertising business to supplement GCP, not to mention a number of adjacent businesses that could benefit from GCP success. They could use these factors to ruthlessly drive down GCP prices because they make revenue from other sources of the business. They are already aligning to popular AWS services, so the learning curve for new customers can be reduced. We are in a period of war in cloud computing, so destroying a competitor's resource longevity can be as valuable to growing your own resources.
Another theory is that AWS already has a significant lead in the market, creating a type of data gravity for companies wishing to create the best experiences for their applications. And given that AWS lives within the broader DNA of Amazon, they are well prepared to fight a long-term,  low-cost battle with large competitors.
So now it's game on. Welcome to the New Cloud Marketplace.