Dec 11 2012 12:06AM GMT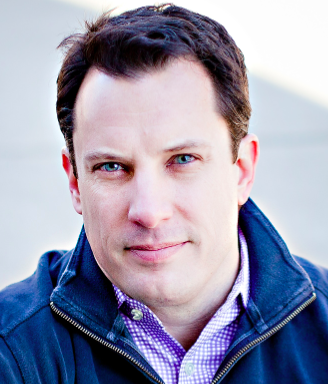 Profile: Brian Gracely
Sometimes it's easy to get caught up in the Twitter echo chamber , believing that whatever is good for Google, Facebook or NetFlix must also be good for your Enterprise environment. All new applications, built to scale and running on commodity hardware. But the other end of the spectrum is the conversations that take place at Gartner Data Center, where Fortune 500 companies and less bleeding-edge IT organizations look for guidance on how to keep up with their business demands.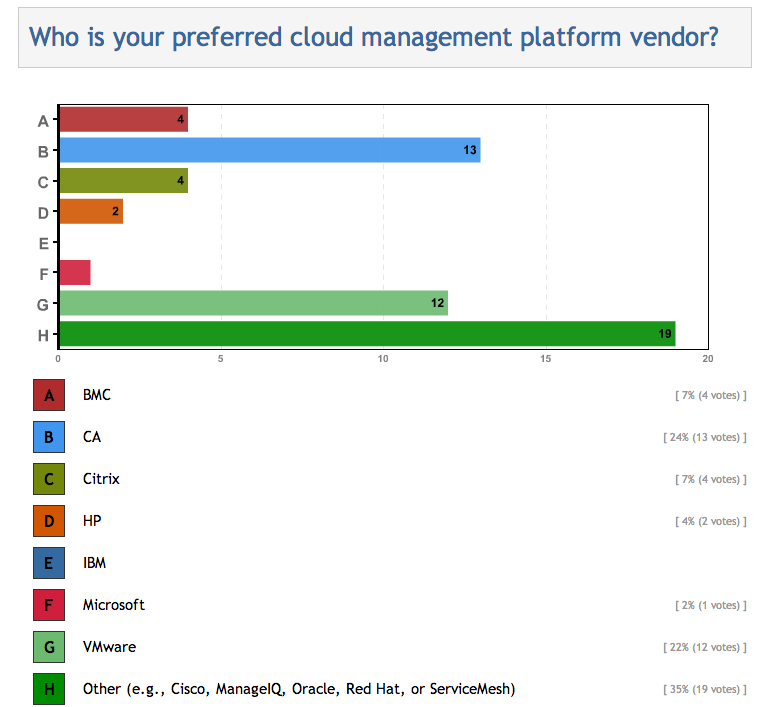 From those discussions, I noticed a couple of interesting polls/images.
The first one was posted by Chris Wolf (@cswolf, VP @ Gartner). While it only used about 100 data points, it does highlight that Enterprises are expecting their Cloud Management platform to come from someone other than the traditional "Big 4" vendors (IBM, HP, CA, BMC).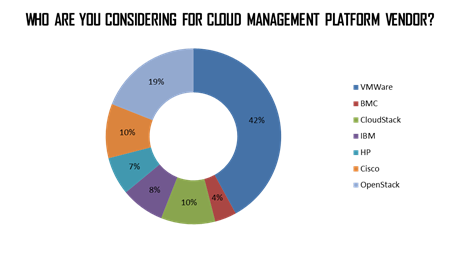 The second one was summarized by Lori MacVittie (@lmacvittie). This asked the same question, but with a slightly different set of potential responses. It's not completely unusual to see VMware leading, given their dominant market-share for the hypervisor (one of the new control points in the data center). But what was interesting was that almost 30% of the respondents said they were considering open-source options (OpenStack, CloudStack). This survey also showed even less interest in the incumbent vendors.
Neither of these surveys explicitly called out some of the start-up Cloud Management vendors, such as Cloudability, enStratus, Rightscale or ScaleExtreme, who tend to be focused on multi-cloud management, with public cloud being the primary deployment model. I suspect that is because the Development audience is still different than the IT Operation audience, and awareness of the multi-cloud management platforms is less well known. Shadow IT doesn't typically become a management problem until the number of applications, or the amount of critical corporate data grows to larger levels.
I've written before that the Cloud Providers are coming, and that Enterprise IT organizations would have many, many choices when it comes to Cloud Management. Just looking at the frequency of changes in the Gartner 2012 IaaS Magic Quadrant (from Lydia Leung, @cloudpundit, VP @ Gartner) reinforces the pace of change happening in this market segment.
While both of these survey have small data-sets, they do highlight that the Enterprise Cloud Management game is still wide-open to many vendors and many open-source projects. IT organizations are still trying to sort through the solutions from all the noise, and they are trying to determine how they will best be able to deliver IT services from a broad range of available resources.