---
February 23, 2010 6:32 PM
701
,
9.10
,
Citrix
,
eeePC
,
Firefox
,
Linux
,
receiver
,
Ubuntu
I gave my mother and brother-in-law Ubuntu recently...yes, I do like them. It's just XP sucks on old hardware. Linux is the only viable option, and Ubuntu is the closest thing to Windows in the Linux space.

Yesterday, I helped a colleague out, by installing


RSS Feed

Email a friend
---
April 9, 2009 9:13 AM
eeePC
,
Intel
,
Netbook
Intel looks like it's fed up with the success of the NetBook. Anand Chandrasekher, Intel senior vice president and general manager of the Ultra Mobility Group has said that NetBooks are for kids. Apparently grown-ups need a grown-up laptop.
This is utter rubbish. I travel every day into...
---
June 4, 2008 7:38 PM
eeePC
,
Mobile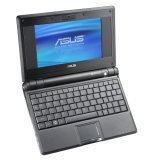 ---
April 24, 2008 6:50 PM
Bluetooth
,
DUN
,
eeePC
,
GRPS
,
PAN
A trip to ExCel in London for the Outsource World show demonstrated a problem I faced with Wi-Fi and the eeePC. Wi-Fi does exist at ExCel but as I didn't have an OpenZone account I was unable to access the Internet. This meant that the article I had written about the show was stuck on the eeePC...
---
April 17, 2008 8:00 PM
APT
,
eeePC
,
PGP
,
synaptic
As I mentioned yesterday, I now had Advanced Desktop Mode working. Now for the fun bit. To make the eeePC really useful I needed to install software not normally available in the standard Asus...
---
April 16, 2008 7:25 PM
APT
,
eeePC
,
synaptic
So I now had the basic machine up and running. This took roughly ten minutes. Again I needed to setup Wi-Fi. Last week I was a complete Linux novice and it took the whole weekend to setup the eeePC. This time I took a different approach which had me up and running in under an hour. The first thing...
---
April 15, 2008 6:53 PM
eeePC
,
XP
This weekend, after I returned from my trip to Pau I tried updating the eeePC to see if I could install an open source video editor like Kdenlive. The eeePC has built-in webcam video camera which produces OGG files. I thought it would really, really neat if I...
---
---
April 8, 2008 9:20 AM
Applications
,
eeePC
The first thing is to find the applications you need. Asus has made this relatively straightforward: it provides repositories of programs, applications, tools and code libraries (a bit like DLLs in Windows) that can be downloaded from the Internet. However, some of the applications you need may not...
---