---
November 1, 2012 1:11 PM
CIO
Windows 8 is out, the Microsoft Store in New York is open and Surface has surfaced. Times are certainly changing for Microsoft as it takes aim at Apple with a consumer friendly device and OS. Microsoft needs to win hearts and minds. But the winning formula that has given it a licence to print money with Windows licences, is no longer compelling.

One CIO I spoke to questions the need to pay £25 per desktop to upgrade the PC OS and he is certainly bot enamoured by the Microsoft Enterprise Agreement for MS office, given that only a small proportion of employees use PowerPoint and Excel.
Certainly, it seems there is no compelling reason to switch over from Windows 7 to Windows 8. But Windows 8 devices and Microsoft's own Surface tablets will find their way into the enterprise, thanks to the touch UI.
Personally, I'm not convinced Windows 8 makes a good desktop OS, for a non-touchscreen PC, but Microsoft says it is 30% faster than Windows 7.
October 18, 2012 10:36 AM
CIO
Oracle is well and truly pushing engineered (ie proprietary) systems.Speaking yesterday in London, Oracle president Mark Hurd claimed that Oracle's vertically integrated stack combining hardware, middleware, database and enterprise applications, has been pre-integrated so customers do not require expensive IT consultants to connect the system together.
This may be true of the bits within the Oracle stack, but most businesses connect systems across complex, heterogeneous environments.
Hurd also stated that Oracle will spend $5 bn this year on R&D. Now that it is playing in the hardware race, how far will that go? After all, Intel is expected to spend over $18 bn on R&D.
---
September 20, 2012 11:26 AM
Windows 8
For many years, Microsoft has been building its credentials in the enterprise with Windows Server, providing an alternative to costly Unix systems. It has taken over 20 years since it divorced IBM to build this reputation.
On the desktop, it has had no competition, until Apple finally got its act together with the iPad. Beyond professional graphics and multimedia workstations, so far Apple has not shown much enthusiasm for products and services for enterprise users. But its devices are being used within business, and some companies are even contemplating supporting MacOS. It is with this backdrop, that Microsoft is setting the stage for the next battle over desktop IT.
Windows 8 shows where the company is heading. It can be used as an upgrade to Windows 7 for traditional PC desktop computing. But desktop computing is not what it used to be. Recognising the threat and opportunity of IT consumerisation, Microsoft has made Windows more like Android and iOS, even though these lack the enterprise heritage the company has worked hard to earn.
This new operating system shows where Microsoft is heading with Windows: it will be increasingly consumer-focussed. Windows 8 does work with a mouse and keyboard, but it is certainly not the same user experience as Windows 7. The move from Windows XP to Windows 7 was a comparatively small step; the move to Windows 8 will be a giant leap.
---
September 11, 2012 3:31 PM
CIO
An article on Forbes has quoted the latest research from Forrester, which predicts Apple will sell $7 billion worth of Macs and $10 billion of iPads in the enterprise in 2012. Forrester analyst David Johnson believes Macs can make good corporate citizens in Windows-centric environment.
With IT planning to migrations off Windows XP, the roll-out of new MS server products and Office 2013, supporting Macs is probably the last thing IT admins need.
The biggest issue with Apple in the enterprise is how to engage with a company whose primary goal is to entice consumers with shiny gadgets. Apple's reseller channel certainly does not look like it is growing. Can we honestly expect the Genius Bar to provide a business with an enterprise-class SLA given the Apple Store is consumer focused?
---
August 29, 2012 4:48 PM
Security
Oracle has said "no comment" to the question I posed on when it would release a patch for a serious security hole in its Java runtime environment, that is currently being exploited.At the time of writing, there was absolutely no info or advice or the company's security blog.
Internet users are at the mercy of Oracle as reports have emerged of a zero-day vulnerability that capable of infecting PCs that run Java within their web browsers.
The next patch scheduled for release by Oracle is 16 October.
Java, the write once, run anywhere runtime environment is used on websites to add sophisticated interactivity. It requires a runtime download browser plug-in, and it is this plug-in that has been exploited.
Symantec
said: "In our tests, we have confirmed that the zero-day vulnerability works on the latest version of Java (JRE 1.7), but it does not work on the older version JRE 1.6. A proof of concept for the exploit has been published and the vulnerability."
The FireEye site warned: "It will be interesting to see when Oracle plans for a patch, until then most of the Java users are at the mercy of this exploit. Our investigation is not over yet; more details will be shared on a periodic basis."
F-Secure added: There being no latest patch against this, the only solution is to totally disable Java. Since this is the most successful exploit kit + zero-day… qué horror. Please, for the love of your computer disable Java on your browser."
---
August 23, 2012 3:56 PM
Windows 8
During the summer Microsoft gave developers who attended its TechEd developer's conference a Samsung 700T tablet preloaded with a pre-release version of Windows 8 to try out. The new operating system is key to Microsoft's strategy to bridge the gap between the corporate world and the consumer space,that is dominated by the likes of the iPad running iOS and the Samsung Note 10.1 running the Android OS.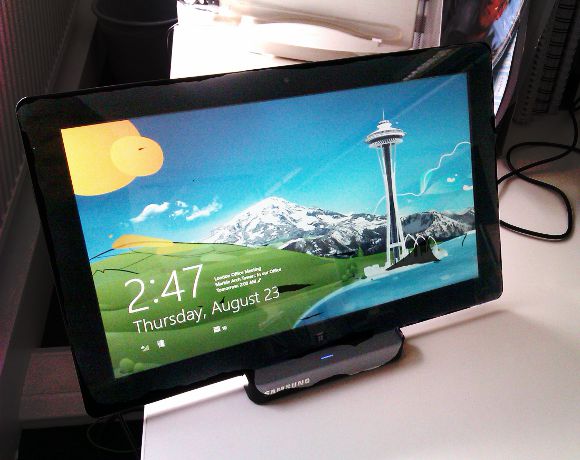 Windows is likely to remain king of the enterprise desktop laptop and PC market for the foreseeable future, but how well can it run on a tablet?
The Samsung 700T is what used to be called a "Slate PC". It was originally released in 2011, and is effectively a full-blown 11.6 inch touch-screen PC without a keyboard, which is currently selling on Amazon for £766.
In terms of spec, it is powered by an Intel Core i5 2467M 1.6GHz, and has 4 GBytes of RAM and a 64 GByte solid state disk. The screen looks amazing. With a bluetooth keyboard and wireless mouse, the Samsung 700T can easily replace a notebook PC – the elegant docking station, that measures 11 x 10 x 1.5cm and doubles as a stand, has an Ethernet connector and HDMI port.
The device is well-suited to running the final shipping version of Windows 8, with its touch-screen user interface. As expected, thanks to Microsoft ActiveSync, connecting the Samsung 700T to an Exchange email server takes a matter of seconds, which should not burden the IT support desk. It requires a Windows Live account and connects seamlessly to Hotmail and Gmail.
There are not yet enough applications in the Microsoft Store… no YouTube, Dropbox, no security apps, VPN apps or even BBC iPlayer. Hopefully this changes when Windows 8 ships.
Weighing just under a kilo, and limited battery life of around 4-5 hours, it is certainly not a tablet that could be used on the road all day. But, the Kindle app works well, and the large screen makes reading in landscape format particularly comfortable.
It will be interesting to see how the Samsung 700T works in a full enterprise environment, as and when VPN software, anti-virus software, ERP, BI and apps like Citrix Receiver are certified for Windows 8.
---
August 8, 2012 11:03 AM
CIO
I met John Abel, chief technology architect for Oracle EMEA today, to talk about Oracle's so-called "red stack". Far from being an Oracle-only strategy, Abel said Oracle's main objective with the strategy was to tackle the complex integration issues that exist between different layers of a customer's IT strategy. He says people want agility – ie speed of implementation. Vendor lock-in is less of an issue.
So while Oracle may indeed have a product to fit across all tiers of an IT architecture, Abel sees customers buying specific components and using Oracle's preferred orchestration methodologies to potentially lower the cost of IT integration.
From the hour-long conversation – the first I have had with Oracle for several months – it seems that the company's strategy is to give businesses the same software, whether they wish to deploy in the cloud, or on-premise.
Abel believes that IT needs to change how applications and infrastructure is procured. People today are building private clouds:so they buy each layer of their IT architecture separately. The hardware and infrastructure is separate to the platform, which is separate to the applications/business logic. He feels that IT must consider business benefits throughout all layers of the IT stack – but the constituent components do not have to be exclusively Oracle's.
---
July 25, 2012 11:20 AM
CIO
English: HCCH 4F Meeting Room (Photo credit: Wikipedia)
In this guest blog post, Neil Colquhoun, business sales director, Epson UK, writes about how CIOs and IT managers can improve meeting room etiquette
You know the feeling. You've been in the same chair for the past two hours, looking at the same faces and being shown slide after slide of bullet points. I'm sure I'm not alone in the desire for shorter, more productive meetings…
In a recent survey we ran nearly half of office workers admitted to using a tablet, laptop or smartphone for non-work-related purposes during meetings. Alongside this, 68% are distracted when others use tablets, smartphones or laptops during meetings and 16% blame technology failure for wasted time in meetings. I can understand the power a smartphone can hold in the middle of a dull meeting.
One of the most impactful steps could be to suggest that management ban mobile technology in meetings for all but urgent phone-interruptions or minute taking. This might sound controversial but it's rare that an email will arrive that couldn't wait 30 minutes to be addressed – after all, only a minority of office workers are involved in life-and-death situations…
Second, make your meeting room technology fool-proof: Whilst projection and AV technology is hardly rocket science, I've seen many a poor soul try and fail to clone their display while others sit expectantly waiting for the meeting to begin. Nor do people necessarily realise the 3.5mm audio jack should go in the headphones socket of their laptop. That's why I think every IT manager should provide framed and laminated step-by-step guidelines to save time wasted in the meeting through staff trying and failing to get their presentations fired up.
Finally, don't give people an excuse for cancelling: Scheduling everyone's time can be a challenge in itself, and so I'm a big fan of Doodle.com, which allows participants to vote on their preferred time for a meeting. This saves employees from trying to work multiple calendars around each other. It also works wonders for arranging a stag night with a group of disorganised mates.
---
June 26, 2012 8:05 AM
Dell
In this podcast recorded at the Forrester CIO Summit in Paris, Adriana Karaboutis, global CIO at Dell explains how her IT management team learns from summer interns. She says, "The Gen Ys have grown up with the technology. They provide insights that many of us have never thought about."
Listen to podcast:
---
June 20, 2012 9:02 AM
SI
Among the sessions at Forrester's CIO Forum Emea, was one that looked at sourcing, and in particular, the role of the big system integrators (SIs).
According to Forrester the major US, Indian and European SIs focus on helping clients lower the cost of IT. This may be fine if your job is to run IT services cheaply. But what happens when the SIs are asked to innovate?
All the experts looking at the role of IT, discuss the need to build new businesses empowered by IT. Forrester calls this "digital disruption" and it involves a recipe of mobile development, social media and IT consumerisation.
If your supplier is focussed on lowering cost, will you get the best developers in these areas from a major SI? It is highly unlikely. As Forrester points out, most large SIs are publically listed companies, and will save their very best people for their largest, most lucrative contracts. It is not a litmus test, but the speed with which a request for proposals is delivered, may indicate how seriously the SI sees the contract.
So where does that leave everyone else?
For everyone else, the best third-party suppliers may, in fact, be small local specialists, who are able to deliver expertise in a narrow niche. But these niche players may be unknown and the due diligence process to assess their suitability and financial stability will be harder.
---