---
June 30, 2011 3:37 PM
news
New research from Gartner shows that businesses are beginning to spend on IT again after a freeze on spending due to the economic downturn.
I spoke to Richard Gordon, research vice president at Gartner, about the areas where IT spending was increasing in the enterprise. No suprises here: Windows 7 upgrades, servers and storage.
He said, "There has been a healthy investment in data centre," suggesting that businesses are also investing to make their IT infrastructure cloud-ready. But cloud computing is just 2% of IT spending, and will not grow significantly short-term, in spite of everything the IT industry is saying.
Gartner expects the software as a service market to accout for 4% of overall IT spending by 2015, "We are unlikely to see a wholesale move to the cloud," said Gordon.
June 26, 2011 7:59 PM
Android
,
Linux
,
Open source
,
softsqueeze
,
squeezebox
,
squeezeplay
,
squeezeslave
,
Ubuntu
If you have ever wanted to learn about Linux, then why not try making something useful and fun. Here's how to put together a Linux sound server. The basic configuration is a a good start for any novice trying to get under the covers of Linux and networking.
This weekend I decided I would build a headless Linux server (ie no keyboard or display). Why? because I wanted to run an old PC as a sound server and Linux is by far the cheapest way to do this. The PC is a seven-year old Hush, a 1.2 GHz Via system with 40GB hard disk and 1 GB of memory…so barely enough to run Windows.
The Hush is, in my opinion, the best-looking PC ever – it uses a fanless design, based on a mini-itx motherboard, and is housed in an aluminum case, which doubles as a heatsink. As the name suggests, it is extremely quiet and looks perfectly in place in a hi-fi rack.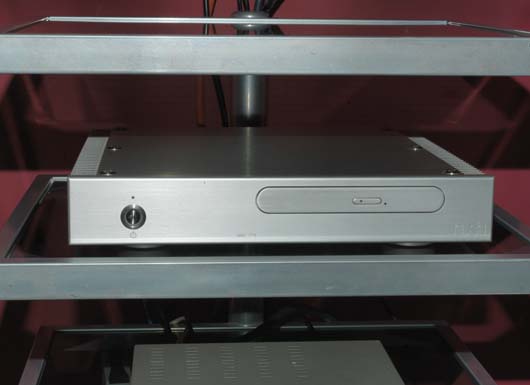 "In my experience, installing a sound server on Linux is one the best ways – and also a pretty rewarding way – to improve your understanding of how computer systems work."
Setting up Ubuntu is pretty straightforward. I chose the 10.04 LTS distribution as it's recommended for legacy hardware. It can be downloaded as an ISO image from a Windows PC. You then burn the .iso file using a DVD writer.
On the Hush PC, all I did was pop in the newly burnt Ubuntu CD and switch on. Obviously you need a working keyboard and display to install Ubuntu and you may need to change your Bios settings to boot from CD-ROM first.
The keyboard and display can be unplugged once the operating system software is running and you have enabled remote access (see below).
The installer has several options and the Function keys should be used to set things like keyboard, language etc. At this point, make sure you select the console-only version as a graphical user interface is a bit redundant – and a big overhead – for a server that will not require a keyboard, mouse or display.
Once Ubuntu has installed and rebooted,, make sure you have network access.
Try ifconfig which will give you the IP address of the PC (such as 192.168.1.12) , then ping 192.168.1.12.
If this works try ping google.com
And finally ping another computer on your network. If anything fails at this point you'll need to do some googling from another PC and check out Ubuntu network problem posts >>
In my case, the Ubuntu PC was unable to ping other machines on the network when it was connected directly to my wireless router, but it works perfectly when connected to a wireless bridge.
Linux is notoriously bad at wireless support – particularly on legacy gear. To overcome this,  I use a D-Link DAP-1522 802.11n wireless bridge to connect the Hush PC Ubuntu machine to my LAN via an ethernet cable.
Finally is important to log into your router's admin console and add the IP address of your new Ubuntu machine to the DHCP reserved list.
Remote Terminal
On my setup I wanted to manage the Ubuntu machine remotely. OpenSSH can be used for this. See >> http://principialabs.com/beginning-ssh-on-ubuntu/
On Ubuntu you issue the following command:
sudo apt-get install openssh-client openssh-server
I use a Windows PC running Putty (http://www.chiark.greenend.org.uk/~sgtatham/putty/) to access the Ubuntu machine remotely. So for everything needed to do, I simply logged in remotely to my Ubuntu console from Windows using Putty.
Squeezebox Server
Squeezebox is a great basis for a sound server on Linux project because there is a load of open source stuff out there, which you can use instead of, or to add to, Logitech's own excellent Squeezebox hardware like the Touch below.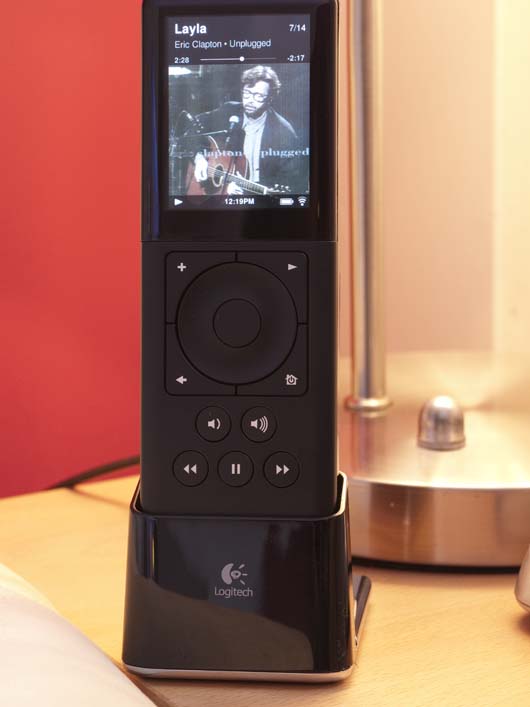 Basically it's possible to get a Squeezebox system running for free, or you can enhance an existing one with more players and controllers using an Android device as a Wi-Fi remote control and any spare PCs or laptops, to distribute music to another room. Just plug-in a pair of speakers or headphones!
Everything you need to get started can be found on the Squeezebox Wiki (http://wiki.slimdevices.com/index.php/DebianPackage)
To install the latest stable release it is necessary to update your Ubuntu /etc/apt/sources.list to include:
deb http://debian.slimdevices.com stable main
One of the great things about Squeezebox is that the Squeezebox server can be managed from any LAN computer with a web browsre. Simply type:
http:[enter the IP address of the ubuntu server here eg 192.168.1.12]: 9000
So in my configuration I use the following address in Firefox: http://192.168.1.139:9000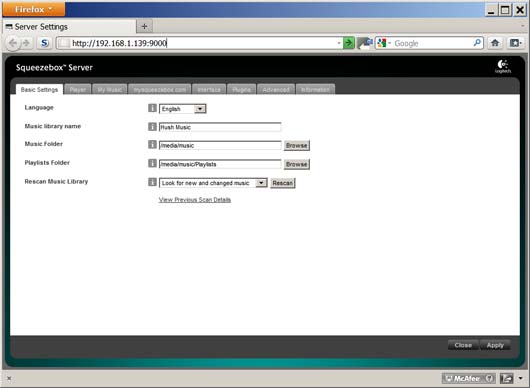 In my setup I wanted the music files to be stored n a NAS drive. This requires Samba.  Here is a great explanation of how to mount a NAS server at boot time using Samba >> (http://ubuntuforums.org/showthread.php?t=280473)
If all you want is a Squeezebox server then that's it.
But I also wanted to use the Ubuntu box to play music as well…
Getting Sound working
This is why people hate Linux. Sound can very tricky. From my own experience, plenty of Googling "Alsa", finally gave me what I needed – basically the alsa-base, alsa-lib and alsa-utils Ubuntu packages need to be installed and configured. There are many variations of things that can go wrong. See the Ubuntu Sound Trouble Shooting Guide here >>
I eventually got sound out of the Ubuntu box – but be warned, this was quite traumatic.
Install Squeezeslave
There are plenty of Squeezebox clients,  like SoftSqueeze, a Java client and SqueezePlay a native Squeezebox player. But these rely on the Gnome desktop GUI. For a text-only player, there's SqueezeSlave.
Now this is what open source is all about…to get SqueezeSlave working it is necessary to compile it for your system. This is not as bad as it sounds
First you need to install the various utilities require for compiling:
sudo aptitude install build-essential
A guide to getting it installed can be found on the SqueezeSlave Wiki here >>
sudo apt-get install subversion
sudo apt-get install libasound2-dev
sudo apt-get install libncurses5-dev
sudo apt-get install liblircclient-dev
svn checkout http://squeezeslave.googlecode.com/svn/squeezeslave/trunk/squeezeslave
cd squeezeslave
make -f makefile.linux26-alsa-display realclean
make -f makefile.linux26-alsa-display
You will need also to install LAME. Here's how to do it >>
There is a good set of tips on making sure Squeezeslave is working and it also shows how to start Squeezeslave at boot time at http://forums.slimdevices.com/showthread.php?t=79526
If you have installed the console-only version of Ubuntu, you may need have difficulty hearing any audio from the root user (which runs when the machine starts up).
I added root to the audio group. See: http://www.brunolinux.com/02-The_Terminal/The_Groups_Command.html
You will also need to make sure the volume works (my setup uses the SPDIF output, which, strangely I had to mute to hear sound using sudo alsamixer!). Here's a pic of the Android Squeezebox controller on a Sony X10 Pro. This software can be downloaded for free from the Android Marketplace.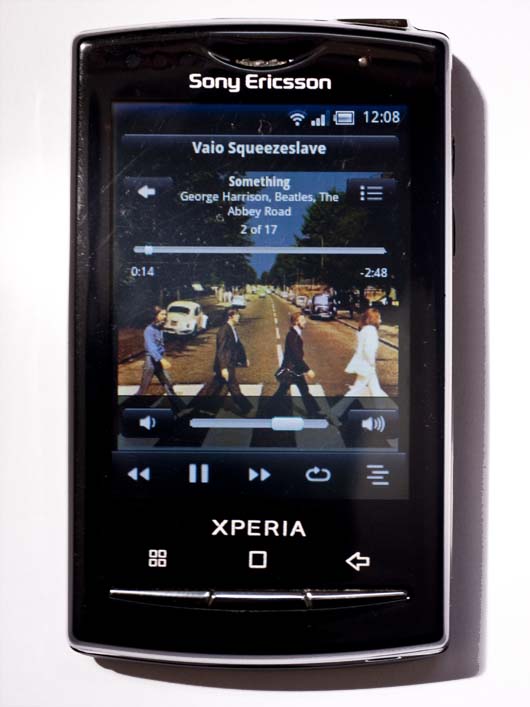 Once it is going
You can try a wealth of the Squeezebox plug-ins such as the great BBC iPlayer plug-in. One of the most useful ones I have discovered is svrpowercontrol, which lets you power down the server.
---
June 20, 2011 9:49 AM
gTLD
,
ICANN
,
Internet
The internet will never be the same again following approval today in Singapore of a plan by ICANN (Internet Corporation for assigned Names and Numbers), which controls internet address naming, to expand the number of generic top level domains (gTLDs). This means we will no longer be limited to web sites that end in .co.uk, .org, .gov, .com or the 20 or so other top-level domains.
ICANN states that new gTLDs will change the way people find information on the Internet and how businesses plan and structure their online presence. Internet address names will be able to end with almost any word in any language, offering organisations around the world the opportunity to market their brand, products, community or cause…but at a cost.
Organisations will need to pay an evaluation fee of $185,000 if they wish to register a new gTLD:
An ICANN paper on the pricing states:
"ICANN is currently estimating that the application evaluation cost for a new TLD will be approximately $185,000 per application in the first application round. The fee approach described here will be reviewed by the community as part of the overall new gTLD process review, and further refinements of the various estimates may take place up until the final application guidebook is issued. All applicants will pay for this evaluation cost with an equal fee, approximately $185,000 per application. Applicants will have additional fee considerations."
Applications for new gTLDs will be accepted from 12 January 2012 to 12 April 2012.
---
June 17, 2011 1:03 PM
Uncategorized
Executive Summary
With this June Microsoft Patch Tuesday update, we see a very large set of updates in comparison to those lists of updates released by Microsoft for the months of March, April and May. In total there are 16 Microsoft Security Updates with the following rating; 9 rated as Critical, and 7 rated as Important by Microsoft. Given the scope and nature of this month's update, the ChangeBASE team expects to find a significant number of issues raised by the AOK Automated Patch Impact Assessment. In particular, Microsoft Security Update M11-045 will require careful testing prior to deployment due to the core operating system DLL's contained within this update.
Given the nature of the changes and updates included in each of these patches, most systems will require a reboot to successfully implement any and all of the patches and updates released in this June Patch Tuesday release cycle.
Sample Results: MS11-045 Vulnerability in OLE Automation Could Allow Remote Code Execution

Testing Summary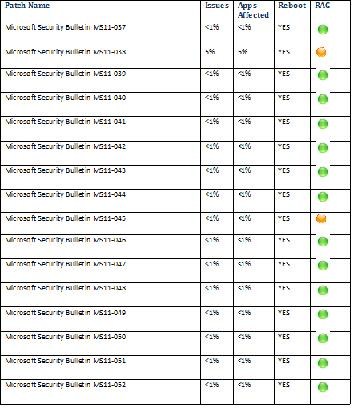 Here is a snap-shot of the AOK Summary Results report from a sample AOK database and the potential issues raised with each Microsoft Security Update.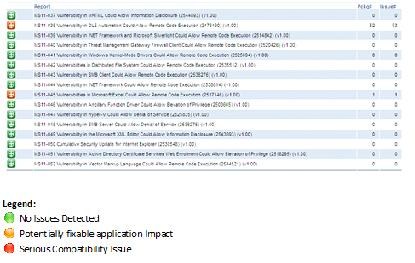 Security Update Detailed Summary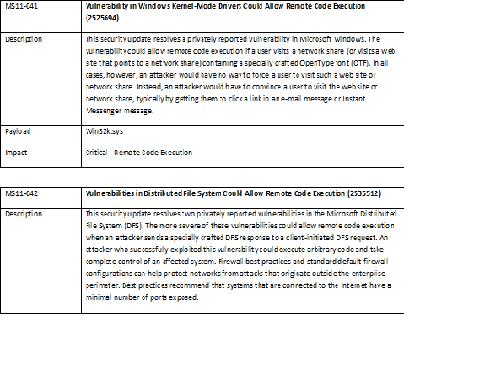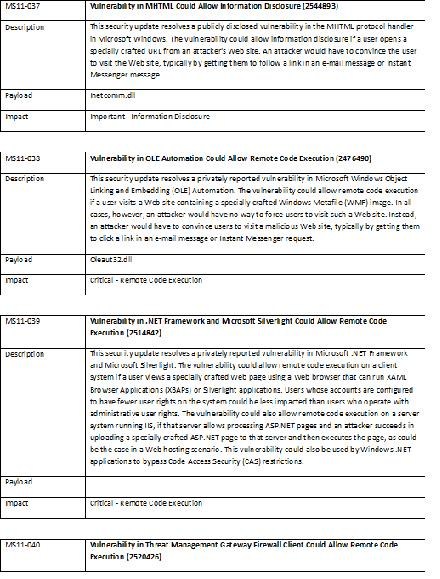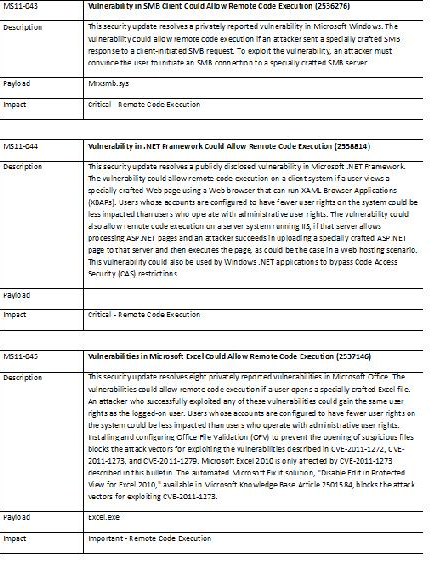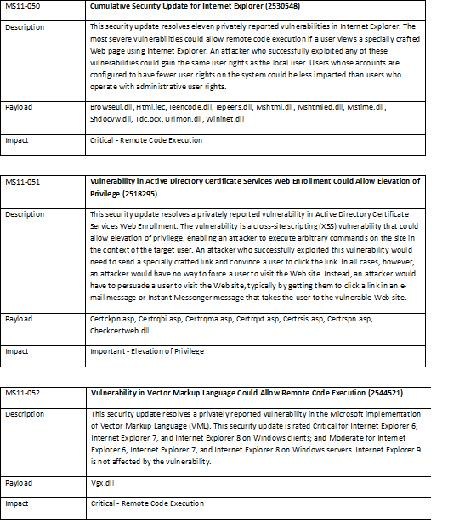 *All results are based on an AOK Application Compatibility Lab's test portfolio of over 1,000 applications.
---
June 9, 2011 10:14 PM
Big Data
,
CIO
,
Ebusiness
,
Real time analytics
,
Social networking
This week, over 500 CIOs attended Forrester's IT Forum Emea in Barcelona. Digital businesses need technological innovation and it is up to IT to innovate and deliver value to the business.
There is not much new in that, but there is certainly a sentiment that a business developing products in the digital era needs IT more than ever.
Kevin Gallagher, CIO of Channel 4, believes that CIOs are now able to engage much more closely with business leaders than in the past. CEOs want to talk about social media, eBusiness, remote working, what applications should the company build, data and the cloud.
Channel 4's goal is to offer its content at any time, any where and on any device. This means that IT is developing products, directly for consumers. So the 4oD video on demand service is multi-platform, available on the iPad, PS3, YouTube BT Vision, and Virgin Media among others.
The app costs "low six figure sum" to develop, but the business case was overwhelming, he said , due to the sponsorship opportunities the iPad offered. The app has already made its money back.
How can you be expected to innovate when IT spends over 70% of its valuable time and meagre budget, keeping the lights on?
At Whirlpool, Kevin Summers, global CIO, has transformed IT from a utility to working with the business to innovate IT, by focusing on a handful of key suppliers. Once you start calculating return on investment numbers, you quickly figure out good ideas are not necessarily great ideas, he says. IT should focus on the applications with strong ROI figures and offload anything else.
If he succeeds, Summers will create a world class IT organisation, allowing IT to move from a technical focus, to a business consultant role. Whirlpool, is looking at the opportunity of the Smart Grid, which will build intelligence into appliances to make them more efficient. Intelligent home appliances are basically endpoint devices on a network. They can be managed by IT, which puts the IT department at the heart of product development.
Now is the time to offload all your day-to-day operational IT work to a third-party. But while the suppliers can and will bring new thinking to the business, they must prove they can execute day-to-day tasks, before they are tasked with more challenging, value added services.
---
June 7, 2011 9:30 AM
audit
,
Licensing
,
Microsoft
,
Piracy
,
pre-owned
,
SAP
,
second-user
During my research for the Top five IT finance and asset management issues article, about how to finance IT purchases, I came across two companies specialising in second-user systems.
It's surprising how many people actually buy second-user hardware – and why shouldn't you, when the cost is significantly cheaper than the full price of a new product, and you are offered a guarantee. It certainly makes sense for enterprise hardware like servers, network equipment and storage.
But what is really interesting, is that there is also a burgeoning market for second user software licences. Discount-Licensing is a specialist in this space. I spoke to the managing director, Noel Unwin abut concerns over software piracy and whether you can actually sell pre-owned software licences. Apparently there is a clause in MS licences that allow for transfers.
To comply with licence audits, he says:
"We provide documentation including a sale of purchase agreement, unique licence number, volume licence key, a copy of the licence agreement, and a Microsoft Notice of Potential Transfer form, which the customer signs and sends to Microsoft."
This document can be downloaded here >>
This means you can save 25% on MS Exchange – and if you have too many licences, they can be resold to Discount-Licensing. Now what is really interesting about this is that Discount-Licensing also buys and sells SAP licences. According to Unwin, businesses can buy pre-owned SAP up to 90% cheaper than the cost of a new licence. Equally, organisations that are downsizing and divesting, can resell unused SAP licences.
Unfortunately Unwin says it is too hard to do the same thing with Oracle. Shame.
---
June 7, 2011 8:18 AM
Data warehouse
,
data-centre
,
HP
,
Services
,
Storage
HP is packaging up its servers, storage, network equipment, management tools and consultancy services in a bid to help businesses implement and rollout pre-configured systems. The strategy, called the HP Converged Infrastructure Solution includes modular, energy efficient data centre designs, cloud and virtualisation based on Hyper-V, VMWare, Citrix or Xen and applications like real-time analytics and data warehouses.
---
June 2, 2011 9:40 AM
Evolutionary IT
Computer Weekly's recent interview with Christine Connelly, director general for infomatics at the Department for Health, illustrates the challenges IT departments face when dealing with major IT suppliers.
A National Audit Office report published a few weeks ago found that the controversial £11.4 NHS National Programme for IT (NPfIT) offered poor value for money. Connelly says that if she were to design the project today, she would include tighter contract terms.
"When writing a contract that says everything is to hinge on the delivery of a product, it should have a very clear statement that if the product is not there by an amount of time, then everything else in the contract becomes void."
Connelly is referring to Lorenzo, the patient administration system. She admit it was over-ambitious to expect this system – which was not avaialble when the programme began – to be fully functional as NPfIT rolled out across the UK.
A so-called strategic supplier relationship involves trust on both sides. A CIO buys into an IT supplier's long-term plans and pilots early adopter technologies. The supplier commits to delivering the product on time and, ideally takes on board feedback from the customer, making the product a closer fit to the CIO's requirements.
However, in a long-term contract, particularly when the product may take years to develop, it is hard to see why any CIO would want to be the guinea pig who willingly funds the IT supplier's R&D effort. Being second past the post has its advantages – at least you can see where the first early adopter struggled.
Going forward, Connelly is planning to deploy much smaller scale projects that allow NHS Trusts to choose which bits they want, and how they wish to configure them.
This seems a sound strategy – and one that is not limited to the Department for Health. While a top down approach to IT can work in some global and geographically dispersed organisations, it may be better to give local business units the opportunity to choose their own destiny.

---
May 25, 2011 4:20 PM
Emulator
,
Mobile
,
Opera

Mobile browser Opera now offers a mobile emulator, designed to help software developers test their apps and websites. See the Opera site for details.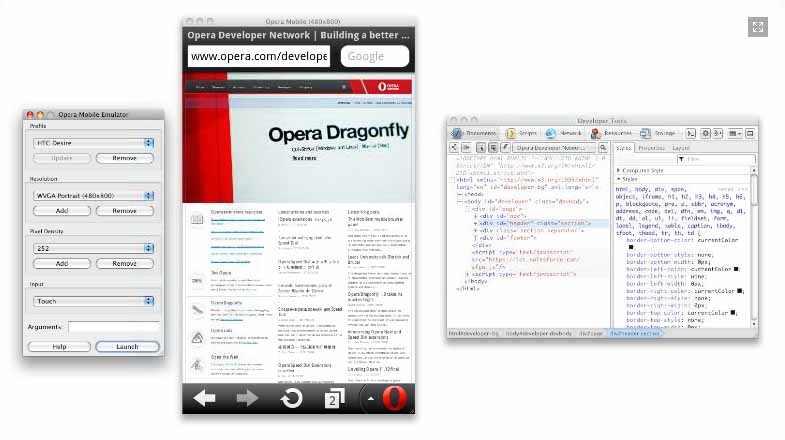 ---
May 13, 2011 12:32 PM
Evolutionary IT
ChromeOS and the Acer and Samsung Chromebooks offer people an alternative to Windows-based desktop computing. What was interesting listening to the Google execs yesterday, was the fact that they used the same arguments as Scot McNealy in 1997 when he launched the JavaSation network computer. At that time traditional PCs were very expensive – $8000 per year per PC – according to Gartner, because the desktop estate was largely uncontrolled. A managed desktop strategy has made the desktop far more efficient, yet Google claims it still costs $3000 per year to manage.
For the Chromebook, the savings will arise from what Google claims is greater security, auto-updates, less helpdesk calls, no need for anti-virus or firewall software, a warranty and a subscription service, which means users will get a new machine every few years.
But marketshare data shows that people are still buying PCs and the majority of PCs run Windows. So while the Chromebook is a nice idea, it's hard to imagine businesses moving away from the PC. After all, it has served business for over 30 years.
---