---
August 30, 2011 2:52 PM
news
At this year's VMWorld, VMWare is killing off desktop computing. Well, it is at least trying to convince the world, that thin client virtual desktop infrastructure is the way forward.
There have been plenty of attempts at getting users to dump desktop PCs in favour of thin client. As a thin client user, I find the technology is still far from seamless and very much bandwidth constrained. But if VMWare can truly make the virtual desktop experience as good as a physical PC, then there is no reason why I wouldn't switch to VDI.
Project AppBlaster, also unveiled at VMWorld, looks particularly interesting, especially if it makes it possible for tablet device users to access Windows applications using just an HTML 5.0 browser. Basically, it puts Windows in a browser. Citrix and Wyse should certainly be worried.
August 25, 2011 9:24 AM
Apple
,
steve jobs
In the book "Insanely Great", which tells the story of how the Apple Mac was created, Steve Jobs comes across as a driven character, perfectionist, whose attention to detail almost gave the whole of the Mac project team a nervous breakdown.
Jobs first milestone was with Apple co-Founder, Steve Wozniak, launching the Apple II, which arguably defined the home computing era in the late 1970s. In 1984, he launched the Mac, hired and was subsequently fired by John Sculley, then went on to form NeXT and Pixar, before storming back to Apple in the 1990s with the iMac, and the iPhone and the iPad most recently.
Looking at Apple's history Tim Cook is in the unenviable position of stepping into Jobs' shoes as the new CEO of Apple, Apple's customers and its board will want more of the "Jobs genius", and there will inevitably be comparisons.
Unlike Microsoft – when Bill Gates stepped down and was replaced by industry veteran Ray Ozzie – Tim Cook will have to prove he can steer the Apple ship into new areas of innovation.
In particular, businesses will be eager to see how Apple addresses the corporate market, an area Apple has scorned since the success of the iPhone and iPads. But with more staff bringing these devices into work, perhaps it is time for Apple to rethink how it approaches professional users.
---
August 12, 2011 1:58 PM
A-levels
,
Development
,
Education
,
GCSE
,
IT Works
,
Skills
,
Training
,
university
With 'A' Level and GCSE results coming out students will be contemplating whether further education and spending £50,000 on an undergraduate course is worthwhile. It is hard to see how they will ever get a return on that investment – or even pay back the loan.
The number of new recruits in IT has been in decline for some years and there is no indication this year will be any different. But in the UK, one in 20 people work in IT and unemployment for IT staff has now dropped to 3.1%, compared to 8.3% for the overall workforce. Four out of five jobs require IT skills. Unemployment is rising and yet there is still an IT skills shortage, says Gordon Frazer, UK managing director of Microsoft.  So why not consider a career in IT?
IT both empowers and is itself a stimulus for innovation.
Cost of entry is low, so there are plenty of opportunities for entrepreneurship through innovative use of technology. Take a look at the mobile apps marketplaces and the myriad website businesses to experience entrepreneurship empowered by IT.  You do not need much capital to get started, says Fiona Timothy, chairman of the Prince's Trust Technology Leadership group.Moreover, IT is no longer just about getting your hands dirty with programming,
She recalls how a young man, from a less advantaged background, taught himself IT and is now running a company with eight staff specialising in building e-commerce websites.
The Prince's Trust provides loans and mentoring to young people looking to take their business ideas to the next level.
Formal IT training isn't always necessary – or desirable – to secure a job. Business leaders, frustrated by the lack of business nous and practical skills of school-leavers, are running internships and apprenticeship programmes. For instance, Computer repair company D&J Henry  says business has grown five-fold after hiring apprentices to give recruits on-the-job training.
Such programmes fill the void left by what critics describe as an inadequate education system that fails to inspire or prepare young people for work in a commercially led organisation.
For further education, the sandwich-type course is attractive to employers.
Nick Wilson, UK managing director at HP, says he needs skilled people but does not want to spend three years training someone – which he says often happens with graduates who have completed undergraduate courses with no hands-on industry exposure. HP itself has an active internship programme and actively recruits from this pool of talent, as well as hiring graduates who have opted for a year in industry.
Over the coming months Computer Weekly will be looking at all aspects of IT training, development and job prospects. IT is a great career and we believe IT will fuel the UK's future economic growth.
Read more IT Works >>
---
Join the debate on Twitter using the hash tag: #ITWorkscw
---
---
August 11, 2011 11:19 AM
Application Compatibility
,
Automation
Executive Summary
With this August Microsoft Patch Tuesday update, we see a moderate set of updates in comparison to those lists of updates released by Microsoft for the months of June and July. In total there are 13 Microsoft Security Updates with the following rating; 2 rated as Critical, 9 rated as Important and 2 as Moderate by Microsoft. Given the scope of this month's update, the ChangeBASE team expects to find a small number of issues raised by the AOK Automated Patch Impact Assessment. In particular, Microsoft Security Update M11-060 will require careful testing prior to deployment due to the core operating system DLL's contained within this update.
Due to the nature of the changes and updates included in each of these patches, most systems will require a reboot to successfully implement any and all of the patches and updates released in this August Patch Tuesday release cycle.
Sample Results 1: MS11-060 Vulnerability in VISIO Could Allow Remote Code Execution

Testing Summary
| | |
| --- | --- |
| | Cumulative Security Update for Internet Explorer (2559049) |
| MS11-058 | Vulnerabilities in DNS Server Could Allow Remote Code Execution (2562485) |
| MS11-059 | Vulnerability in Data Access Components Could Allow Remote Code Execution (2560656) |
| MS11-060 | Vulnerabilities in Microsoft Visio Could Allow Remote Code Execution (2560978) |
| MS11-061 | Vulnerability in Remote Desktop Web Access Could Allow Elevation of Privilege (2546250) |
| MS11-062 | Vulnerability in Remote Access Service NDISTAPI Driver Could Allow Elevation of Privilege (2566454) |
| MS11-063 | Vulnerability in Windows Client/Server Run-time Subsystem Could Allow Elevation of Privilege (2567680) |
| MS11-064 | Vulnerabilities in TCP/IP Stack Could Allow Denial of Service (2563894) |
| MS11-065 | Vulnerability in Remote Desktop Protocol Could Allow Denial of Service (2570222) |
| MS11-066 | Vulnerability in Microsoft Chart Control Could Allow Information Disclosure (2567943) |
| MS11-067 | Vulnerability in Microsoft Report Viewer Could Allow Information Disclosure (2578230) |
| MS11-068 | Vulnerability in Windows Kernel Could Allow Denial of Service (2556532) |
| MS11-069 | Vulnerability in .NET Framework Could Allow Information Disclosure (2567951) |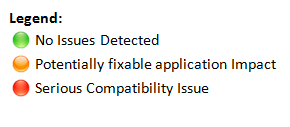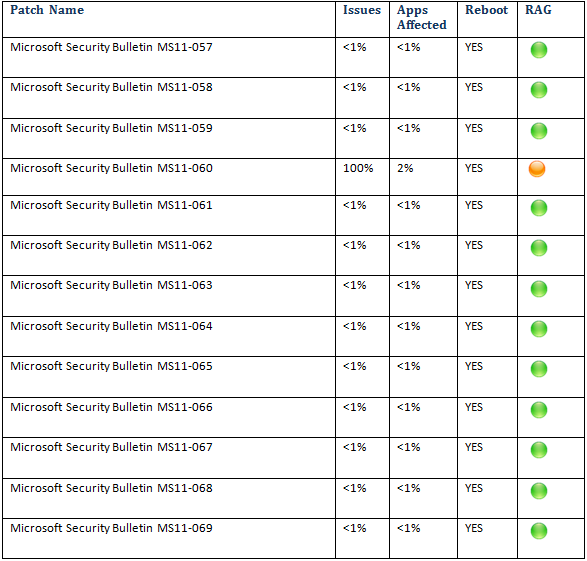 ---
August 9, 2011 12:08 PM
Amazon
,
AWS
,
Downtime
If you look at Amazon's 10Q report for three months ending March 30th 2011, income from Amazon's AWS cloud service accounted for only $311m out of the $9.857 billion the company made altogether. Internationally, its electronics retail arm is the fastest groing area of the business, with an increase in net earnings of almost 50%. The "others" part of the business, that includes AWS, grew 23%, but AWS is only 3% of Amazon's business.
So, in the light of the Dublin datacentre catastrophe, how critical is Amazon's cloud services to the company's overall business?
Long term, Amazon clearly sees the benefit of not being tied in to the whims of consumers. Its acquisition of LoveFilm video subscription service is an example of moving to a recurring revenue stream. Equally, AWS reduces Amazon's expose in the consumer market. But, clearly, Amazon does not make its money out of enterprise IT and AWS is still such a small part of the overall business.
---
August 5, 2011 12:51 PM
Accenture
,
BI
,
Big Data
,
Data warehouse
,
Databases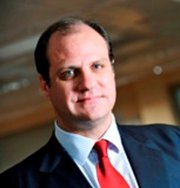 Data is the number one issue on the CIO agenda this year. The challenge today is managing information, and CIOs who create a data architecture within their enterprise that supports the free flow of information will be winners. In the not too distant past, all the data an enterprise needed was generated within its four-walls. Now CIOs need to think about data in terms of the broader eco-system that surrounds their organisation. They need to understand and analyse data from Facebook, Twitter and a raft of other external sources. Also, many of the existing architectures within organisations are not able to support the exponential increases in data and variety of sources and data structures, and the cracks are starting to show.

To prevent these cracks deepening, organisations will be forced to go back to basics and rebuild their data platform from the foundations up. CIOs will need to think about data as a new platform. It's not just about handling data growth and volume in terms of storage, processing power, cost, etc, it is imperative to derive value from it too.

A good foundation will consist of data models, data architectures, storage architectures and strong data governance (including governance of data quality). But the platform will only be effective if it allows the free flow of information around the enterprise, and can handle traditional structured data as well as unstructured data.

With distributed data being the new normal, the data governance function now also needs to take a more pragmatic view of data quality. The growing availability of external data sources–including social media sites–means that not all data will be of a verifiable standard. The governance function needs to determine when accuracy is needed and when "good enough" is sufficient.

Business leaders are also realising that timely data and analytics can create a strong competitive advantage for their organisation. This is particularly true in the financial services, telecoms and retail sectors. And it is necessary that the new data platforms provide insights in a timely fashion. In the current competitive environment, timeliness is often the difference between prospering and folding. Companies that get it right will be able to provide a richer set of services at the right time to customers. They will be able to differentiate themselves in the eyes of their customers in a way that companies which have not dealt with this issue cannot. Having the right data platform will become a strong business driver for the way in which innovation and growth are delivered, and companies that make the investment will pull away from those who are still floundering.

As well as putting the right technology in place, the evolution of data as a platform also requires today's CIOs to identify the skills within the organisation to be able to deal with new data models and data governance. When it comes to building this new platform, it is critical that not only the CIO, but the business users are also actively involved every step of the way. Building a new data platform is not just a technology issue; it is a business issue too.

The CIO's role in this important transition is vital. We are seeing the CIO becoming less of the supplier of technology services and more of an orchestrator. We are seeing a shift towards business outcomes rather than just driving technology operations. This is all part of the CIO becoming a true business leader; being able to understand, on one hand, the value that the data can provide to the organisation and, on the other hand, being able to deliver a set of services that can extract that value.
Gavin Michael is Chief Technology Innovation Officer at Accenture. Follow Gavin on Twitter @gavinmichael.
Gavin started working for Accenture in 2010. He previously worked at Lloyds Banking Group as the Retail Technology Director. At Lloyds he was also a member of the Retail Bank Board. Prior to this role, he served as CIO of Lloyds TSB – UK Retail Banking & General Insurance. In this capacity, Gavin set the information technology strategy and direction for growing the UK Retail Banking Division and drove strong collaboration and alignment of technology with the business.
---
July 20, 2011 7:09 PM
news
A few years ago I attended a presentation given by Thorkil Sonne, the founder of Specialisterne, who formed the Danish software company in order to make use of the special skills that people with Autistic Spectrum Disorder (ASD) can bring to the workplace.
When I spoke to Thorkil he said:
"The main benefits that autistic individuals bring to the workplace are they are methodical and exhibit great attention to detail."
Other attributes that people with ASD can exhibit include motivation, focus, persistence, precision and the ability to follow instructions, making individuals excellent at testing and spotting errors in software code.
Three years on and it's good to see that Thorkil has managed to establish operations in Glasgow, and has hired 10 people with ASD to work as software testers. The company has just won its first contract >>
---
July 15, 2011 2:00 PM
Ebusiness
,
ERP
,
Licensing
,
Oracle
,
SAP
,
Sun
,
Support
For the last three weeks a colleague on Computer Weekly has been trying to get a straight answer from Oracle on price changes to support and maintenance, which will affect organisations that wish to use the yet to be released Oracle's Fusion Applications suite.
Some people using eBusiness Suite 11 have delayed upgrading to eBusiness Suite 12 as Fusion is due out this year. But Fusion is still not available and eBusiness Suite 11 goes into Extended Support in November, which will increase support fees.
We asked Oracle representatives about whether it would waiver the Extended Support fee for eBusiness Suite 11, licensing, general availability (GA) and UK pricing of Fusion. They came back with the following:
GA is still under review but we have a very positive EAP roll out. We will provide out-of-the-box language capability for eight languages… Prices are global and available online. We have a localizable price list that reflects prices in local currencies based on appropriate exchange rates. I appreciate these statements don't answer your questions, but it's all we have at the moment I'm afraid!
Software maintenance revenue last year made up over 40% of Oracle's business. The company has been aggressively clamping down on third-party support (especially for Sun products).
It is now set to force those eBusiness Suite users who couldn't buy Fusion, since it isn't available, to pay extended support fees or upgrade to eBusiness Suite 12. And they have to make a decision before they have had a chance to assess the shipping version of Fusion properly.
---
July 13, 2011 9:45 AM
Uncategorized
Executive Summary
With this July Microsoft Patch Tuesday update, we see a moderate set of updates in comparison to those lists of updates released by Microsoft for the months of April, May and June. In total there are 4 Microsoft Security Updates with the following rating; 1 rated as Critical, and 3 rated as Important by Microsoft. Given the scope and nature of this month's update, the ChangeBASE team does not expect to find a significant number of issues raised by the AOK Automated Patch Impact Assessment. The Microsoft Security Update M11-055 will require moderate testing prior to deployment due to the core operating system DLL's contained within this update.

Sample Results for Microsoft Update MS11-055

Given the nature of the changes and updates included in each of these patches, most systems will require a reboot to successfully implement any and all of the patches and updates released in this July Patch Tuesday release cycle.
Testing Summary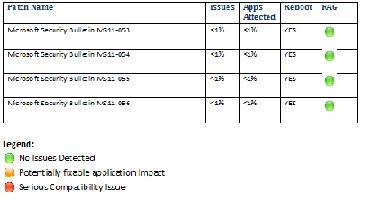 Security Update Detailed Summary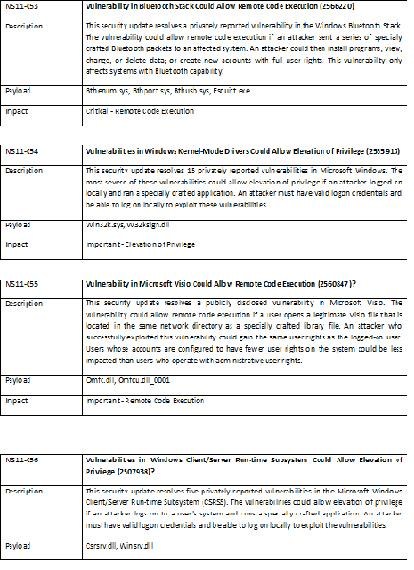 *All results are based on an AOK Application Compatibility Lab's test portfolio of over 1,000 applications.
---
July 8, 2011 2:29 PM
BEA
,
Java
,
Oracle
,
PeopleSoft
,
Siebel
,
Sun
,
Support
,
ukoug
This week the UK Oracle user group is reorganising. Chairman, Debra Lilley takes on a new role as president of the council and leader of the user group. In a statement UKOUG said:
"For members, the changes mean better representation of a diverse membership, concentrated focus on member needs and ultimately a more influential relationship with Oracle."
The user group has done extremely well at bringing on-board people following Oracle's acqusiion spree, which has meant that along wit the traditional Oracle stable, it is now a user group for PeopeSoft users, JD Edwards users, Siebel users, BEA WebLogic and now Sun hardware users.
The challenge it faces is whether UKOUG can be focussed enough to support this diverse community of users.
The idea of a traditional user group is perhaps a tad old-fashioned. User groups represent people who push software hard and struggle to get their opinions and views heard by major suppliers. But blogging, Twitter and Facebook along with the extensive developer forums run by major software suppliers, does make the user group a bit of a pre-internet legacy. User pressure is still important but arguably, it needs to be refreshed to User Group 2.0.
As for the UKOUG, let's hope it can remain focussed, embrace social media and build on its strengths as an independent group repesenting all Oracle users.
---