Jan 30 2008 8:16PM GMT

Profile: David Davis
Cisco released a new certification offering called the CCDE. What is the CCDE? Let's find out!
The CCDE is the new Cisco Certified Design Expert and it is the pinnacle of design and networking architecture of Cisco technologies and it is equivalent to the Cisco CCIE. It had been rumored, in the past, that there would be a new "CCIE Design", just as there is a CCIE Routing/Switch & CCIE Security. However, instead of doing that, Cisco has released a newly-named certification – the CCDE.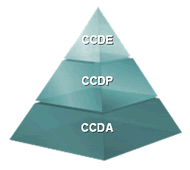 Like the CCIE, the CCDE is a two-step certification where you, first, pass the CCDE written (computerized) exam (number 352-001) and, second, pass a hands-on / practical / lab exam taken at a Cisco office. The written exam can be taken immediately at your local Pearson VUE testing center but the hands-on exam won't be ready until later in 2008. That hands-on exam will be an 8 hour, scenario-based exam, focused on the design of large networks.
While the CCDA and CCDP are both Cisco lower level Cisco design certifications, neither of these are required to be achieved before attempting the CCDE.
Personally, I am excited to take the CCDE exam and pursue a new certification. I hope you will consider the CCDE as well!
-David
Personal Website: HappyRouter.com
Checkout David's Video Training:
VMware ESX Server Video Training
Cisco CCNA & CCNP Video Training