---
May 30, 2009 11:38 PM
VMware is now offering a "technology preview" / beta of an upcoming new product – vCenter Mobile Access (vCMA). By installing this appliance in your virtual infrastructure, you will be able to remotely manage your ESX hosts and virtual machines. Here are some of the features of vCMA:
Search for virtual machines in your data center
Migrate virtual machines from one host to another using vMotion
Execute recovery plans using VMware Site Recovery Manager
Access Scheduled Tasks, Alarms and Events
And much more…
For more information and to download vCMA, visit the vCenter Mobile Access webpage.
May 30, 2009 9:41 AM
One of the best free network hardware and software inventory applications out there is LanSweeper. Recently, they have begun to offer a free edition.
What does it do for you? Lansweeper is a powerful freeware solution (without any embedded ads) that performs a  complete software, hardware, computer inventory of your windows network.
Here are the features of LanSweeper:
Automatic computer inventory of all your Windows clients.
No need to install an agent on your workstations. Scanning is triggered when a user logs on.
Active Directory user and computer details.
Reports on custom Registry Keys and custom File Information.
Find unauthorised software, unknown processes, browser hijacks.
Scan used software, track licenses.
Build you own custom reports.
All information is stored in SQL server (or in the free SQL Express version)
You can download LanSweeper for free at this website.

---
May 30, 2009 8:31 AM
I have published over 20 different Cisco IOS tip and trick articles over at the Petri IT Knowledgebase. In these Cisco tips, I cover things like setting up a Cisco switch, VLAN configuration, DDNS, ACLs, and selecting the right router for your CCNA studies.
Of these 20+ Cisco tips, here are 5 of the most popular:
I hope you will check them out!
---
May 29, 2009 12:03 AM
I attended Cisco Live/Networkers 2007 in Las Vegas and it was a blast! While I may always call it "Networkers" instead of Live – its still the best networking conference in the world. Besides John Chambers big keynote, tons of Cisco Education, lots of vendors, and big This year, Cisco Live will in in San Francisco, California from June 27 to July 2. While I won't be able to make it to Live this year (because I will be at VMworld in San Francisco at the end of July), I highly recommend that you go if you can make it.
And if you can't make it to California this year, you still have the option to attend "virtually", over the Internet with the new Cisco Live Virtual.
For full conference information checkout the Cisco Live! 09′ website!
---
May 28, 2009 12:16 AM

Like free tools? Who doesn't! GFI, the makers of the very popular network security scanner, are now offering a free version LANguard!
LANguard performs:
Vulnerability scanning
Patch Management
Network Auditing
And More…
Download the FREE GFI LANguard (5 IP Edition) Here!
---
May 24, 2009 11:21 PM
Hyper9, the makers of the virtualization management, alerting, and troubleshooting tool, is about to release a new version of Virtualization Mobile Manager (VMM). With this tool, you can manage your VMware, Hyper-V, or Xen Infrastructure from your iPhone or Blackberry!
You can learn more about the VMM, how to download it, and learn about all the features at the Hyper9 VMM Community.
---
May 24, 2009 7:21 AM
This week, Train Signal computer training announced their latest video training product – SQL 2008 Administration. In this new 10 hour course, their MCT Instructor, Mel Haynes, covers Microsoft SQL inside and out – from Installation all the way to High Availability. The course will help you prepare for Microsoft certification exam 70-432 and it comes in a variety of formats so that you can watch it on your computer, iPhone, iPod, or listen on your MP3 player.
As part of the new release, they making 10 free SQL Server training videos available on their blog. To watch the first of these, just visit:
SQL 101 — Free SQL Server 2008 DBA Training Videos
---
May 23, 2009 7:00 AM
In my last post (VMware vSphere Launch and Resources), I covered the VMware vSphere launch. On the same day that vSphere was launched, Cisco launched their revolutionary new virtual network switch that integrates with VMware vSphere.
Dubbed, the "Cisco Nexus 1000V" (or N1KV), this switch actually replaces and builds on the functionality of the VMware vSphere dvSwitch. The N1KV comes in two pieces – the VEM and VSM (or virtual ethernet module and virtual switch module, respectively).
Luckily for us all, Cisco is offering the Cisco Nexus 1000V available in a free 60 day evaluation mode (keep in mind that you need vSphere up and running to use it).
To learn more about the Cisco Nexus 1000V and download the 60 day evaluation, just visit the links below:
I hope that you will try out this cool new Cisco product with VMware vSphere!
---
May 22, 2009 6:49 AM
Just about everyone has heard by now but, if you have not, you should know that VMware vSphere has been released. VMware's new virtualization platform & suite is called vSphere but it encompasses many different VMware products like the new ESX4, vCenter, Data Recovery (VMware's new backup/recovery application), and many more.
The great thing is that you can Download VMware vSphere for free, with a 60-day limited eval license, and try it out for yourself!
But what about resources you might need to learn about it or test it? Here are some vSphere resources you should take a look at from VMware:
And then, Eric Siebert has compiled a great collection of vSphere related links and guides at:
---
April 30, 2009 4:59 AM
This week, Train Signal launched their latest Microsoft Windows Server 2008 training and certification computer training course. This 10+ hour video training course is taught by "Coach" Culbertson a Microsoft Certified Trainer and a wonderful instructor.
The course runs through a variety of Win 2008 Enterprise configuration tasks including things like AD Design, GPO, Certificates, WSUS, HA, Terminal Services, Hyper-V and much more. You can watch the course not only on your PC but also on your iPod/iPhone and listen to it on a MP3 player.
You can watch a free demo of the course and learn more about what is covered at the Train Signal Windows 2008 Server Enterprise Administrator video training course homepage.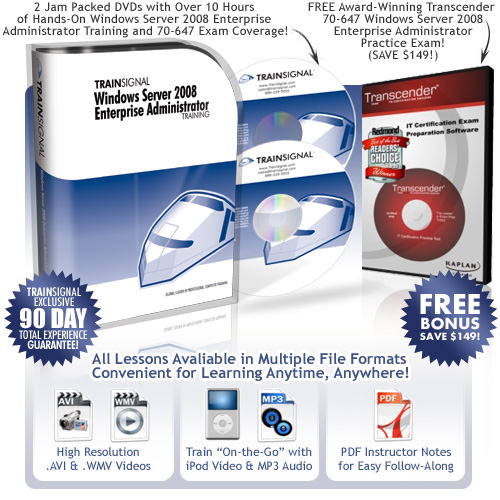 ---