---
October 31, 2009 3:21 PM
The P2V Planner automatically collects all your hardware information and its utilization so you can make more sysync decisions regarding your business.


5Nine is unique because they are the only product out there to provide the financial calculations necessary to decide between Microsoft Hyper-V and VMware vSphere, including TCO and ROI numbers. Once you decide on your virtualization platform and have a plan, 5Nine's migrator can actually migrate your physical servers to virtual servers for you. Then, once the P2V migration is done, 5Nine's Optimizer can monitor your virtual infrastructure and advise you about statistics you need to be aware of. There are so many features and benefits to this product and oh yes, it's simplicity of use is an extra bonus. View my Train Signal Video and white paper on these facinating new products.


You can also access 5Nine directly.
October 31, 2009 10:17 AM
Daniel Petri has done a great job over at the Petri IT Knowledgebase covering Windows 7. Here are just some of the great new articles on this exciting new OS:
For all Petri Windows 7 articles, checkout the Windows 7 category at Petri's Window 7
---
October 31, 2009 6:16 AM
I will say a resounding, YES. Even though Microsoft has done away with this certification, in favor of its MCITP path, there are still many senior level jobs on Microsoft's own job search engine for MCSE's and it is touted as a "badge of honor" in most of the business world.
For those of us who have MCSE Server 2003, Microsoft has provided a one certification upgrade exam that will equivocate to three Microsoft MCTS certifications. They are: Active Directory, Network Infrastructure, and Application Infrastructure Configuration. Read more on Brian Nelson's articles, Why getting your MCSE is still a good idea and What's The Next Step for MCSEs.
---
October 30, 2009 7:01 PM
Jason Zandri, over at the Petri IT Knowledgebase, has recently posted some great articles on Windows 7 and IE8. They are:
In these articles, you will learn how to speed up IE8 with accelerators and how to use Private Browsing with Windows 7 and IE8.
Enjoy!
---
October 30, 2009 10:52 AM
As you know, Microsoft has released Windows 7 and Windows Server 2008 R2. So how are you going to get training on these new operating systems? Good News! Train Signal has just released their Windows 2008 R2 Training Video!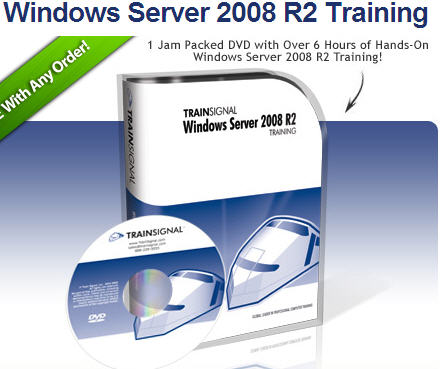 There are over 6 hours of training jam packed with new features to assist you with upgrading to Windows Server 2008 R2. What's cool is that the videos can be downloaded via different media such as iPod, Mp3, among others.
Check out this link for the latest info- Windows 2008 R2 Training Video
---
October 30, 2009 6:49 AM
Before you install VMware Workstation, vSphere, or even Microsoft Hyper-V, you first need to verify if your processor can utilize virtualization. Over at Train Signal's Windows Server Blog, they have a great article by "Coach" covering how to tell if your CPU is virtualization compatible. To read the full article, checkout-
How to verify if your processor is virtualization compatible
---
October 29, 2009 12:31 PM
Tom Finnis, Technical Operations Manager for Help4IT, has recently written some excellent articles on VMware vSphere and ESX over at the Petri IT Knowledgebase. 
Here are some of the VMware-related articles that he wrote:
Also, check out the VMware vSphere Training from Train Signal! This new course covers VMware ESX Server and the replacement for the VMware Virtual Infrastructure Suite – vSphere.
Also, did you know that VMware ESXi is FREE? You can register at VMware.com to obtain a FREE ESXi 4.0 download and license key for as many hosts as you would like.
---
October 29, 2009 8:28 AM
I just posted a new article covering how to configure Windows 7 to connect to an iSCSI SAN. I take you from running the ISCSI Initiator to start the process, to sharing what to key in at each stop in the process, to sharing how to allocate volume space. I display the screens that you would see as you follow along in a virtually seamless process.
To get all the details, read the full article, Connecting Windows 7 to an iSCSI SAN
---
October 29, 2009 7:27 AM
According to Sue Ellen Schaming of Xangati, I've listed the top 5 pitfalls that you might encounter regarding virtualization:
Pitfall 1. Assuming application resources will optimize themselves.
Self-Optimization: Yes, virtualization can increase up to 70% by putting many applications on a single VMS server but realize that it also requires a continuous review of what resources are really being used and what impact is realized by it. In this way, you will not have to be concerned about unused applications taking up resources or applications looping endlessly.
Pitfall 2. Turning a blind eye to the interaction between virtual and physical realms.
Managing Physical and Virtual Interaction:  It's there and now it's gone! Trying to keep the physical and virtual environments managed can be a daunting if not impossible task at times. Xangati suggests that Virtualization can create a visibility of both domains to quickly isolate preditable or on-going problems.
Pitfall 3. Creating a visibility blind spot with vSwitches.
 Xangati expounds on the need for vSwitches that include NetFlow which can help you see those blind spots  transversing your applications. Additionally, beware that some vSwitches do not support NetFlow. Cisco has a version that supports NetFlow called Nexus 1000V.
Pitfall 4. Losing track of virtual IP storage.
Moving your storage for maintenance or disaster reasons can result in massive data integrity issues among other problems. Clearly, there is a extreme need for visibility tools to assist in this area.
Pitfall 5. Ignoring the end-user experience.
No matter how cost-efficient the VM deployment is, there is incredible significance when your end-users can efficiently user the applications.  Partnering with them to isolate production problems can be a very useful tool to quickly resolve issues while measuring the performance of your resources.
Check out the full article on Xangati's web site. 
---
October 29, 2009 6:21 AM
Train Signal has gone wild with their out-landish costumes. What a hoot! And who might that be in the Michael Jackson outfit? It's me – David Davis! 
Vote for the best costume, leave a comment, and you could win a free Dell PC, or free training from Train Signal along with a lot of other amazing prizes. Train Signal would also like to see your costume so send in your photo!
Click on the Train Signal Halloween link to see when the winner will be selected and all the gorry details!
---