---
November 11, 2008 5:57 PM
Besides Cisco's Nexus 1000V virtualization switch that integrates with VMware ESX Server "4.0", Cisco now has a much larger stake in the success of VMware. Cisco recently announced plans to take another stake in VMware with a $13.3 million investment. That meanst that Cisco now owns about 1.7 percent of VMware!
For more information, read these stories about the enhanced partnership between VMware and Cisco:
October 31, 2008 3:15 PM
Are you interested in obtaining a CCIE Security certification? I have taken the lab and I can tell you it was very tough. Well, its about to get even harder. Cisco made this announcement concerning big changes to the Cisco CCIE Security lab exam…
Effective April 2009, important content changes will be implemented in the CCIE Security Lab exams. Candidates for lab exams scheduled mid-April 2009 or later should prepare using the v3.0 Lab Equipment and Software Versions and v.3 Blueprint. Candidates prior to mid- April 2009 should continue using the v2.0 Lab Equipment and Software Versions and v 2.0 blueprint.
---
October 31, 2008 2:46 PM
In my latest article, I covered a new Cisco IOS feature used to prevent multipe admins from making changes on a Cisco router IOS, at the same time. This could prevent downtime and outages due to partially implemented or conflicting configurations. Read how to configure the new Cisco IOS configuration lock in my latest article.
---
October 31, 2008 2:31 PM
I attended a webinar put on by PacketTrap network management this week. I was interested to see one of their latest features of their network management system – Perspective. The new feature is VMware Virtualization support.It works like this – PacketTrap uses SNMP to talk to each VMware ESX host system, pulling back statistics on host and guest performance. Perspective collects the following data:
Hostname
IP address
Operating System
Application Statistics
Services Running
CPU
VM Memory
Disk Usage by VM
You can download a free evaluation of PacketTrap Perspective and their virtualization features at their website.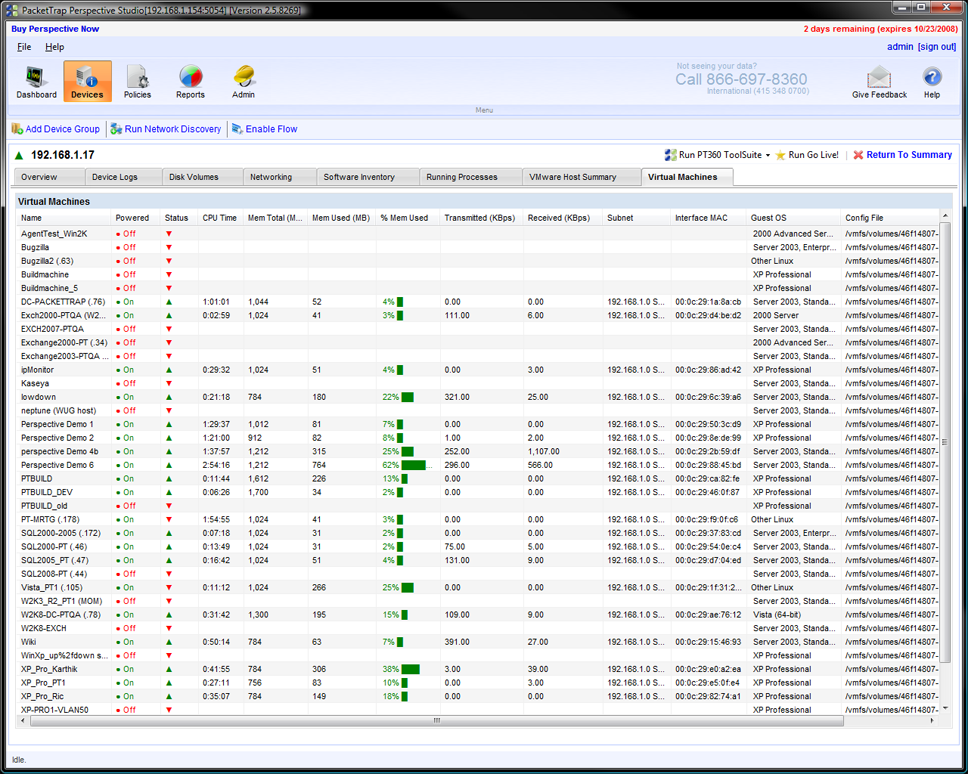 ---
October 27, 2008 8:40 PM
I recently completed my updated VMware ESX Server 3.5 video training course. For over a year now, my ESX 3.0 training course has been a "best seller", helping thousands of IT Pro's learn VMware ESX & VMware's Virtual Infrastructure Suite. In the new course, I have updated videos on how to use VMware's latest features. The videos include- Update Manager, Storage VMotion (SVMotion), and how to run ESX 3.5 inside VMware Workstation. The latest video offers all my video training (over 20 videos and 17+ hours) in Windows Media format AND in MP3 and iPod formats so that you can watch/listen to the VMware ESX training "on the go". To view a free demo of my training course, please visit Train Signal.com – VMware ESX 3.5 Video Training.
---
October 26, 2008 2:52 PM
I have authored many Train Signal courses and used their courses to learn about new technologies. Now, Train Signal, Inc – the global leader in video training – is now offering a new video training course. This course covers Windows 2008 Active Directory and helps prepare you for Microsoft MCITP test 70-640.
This course is authored by "Coach" Culbertson, a veteran Microsoft trainer and is over 20 hours long. It includes both MP3 and iPod versions of the course so you can "watch it on the go" and now Transcender preparation tests for exam 70-640 are also included. The course has a 90 day money back guarantee.
You can read more about this new Windows 2008 AD 70-640 video training course at www.TrainSignal.com
---
October 24, 2008 8:09 AM
I recently wrote an article for on how to configure your router to send a core dump of all current RAM memory to a TFTP server when/if the router crashes. I believe this is very important to configure on every router so that you can troubleshoot a router crashing issue with the Cisco TAC, when it happens to you. You don't want to have to wait for another router crash do you? For the full article, please read: Configure Cisco routers to save core dumps for troubleshooting crashes
---
October 20, 2008 3:15 PM
Cisco announced a new learning program that will be offered from select learning partners. This could be like the master's program of Cisco routing and switching with the CCIE lab being the capstone. The new 360 Learning program is a 6 month blended learning program. I can't imagine what the price tag will be on this type of program. Here is the official Cisco information:
Introducing Cisco 360 Learning Program for CCIE Routing and Switching

Designed with high-potential network professionals in mind, the Cisco 360 Learning Program for CCIE Routing and Switching is a comprehensive, blended learning program designed to accelerate expert-level competency and provide the skills and training needed to prepare candidates for the rigorous CCIE Routing and Switching exam. 
For the ful press release and more detailed information, please visit Cisco's 360 Learning Program website.
---
---
October 11, 2008 8:15 PM
New, from the company that brought you the free PacketTrap pt360 network troubleshooting tool, PacketTrap is now offering their full network management system (NMS). This NMS is unique because it works with pt360 to help you to more efficiently troubleshoot your network. Perspective also has a number of modules that integrate to troubleshoot specific types of devices like wireless networks or virtualized machines. To find out more, read my article: How can PacketTrap Perspective help you manage your Cisco network?
---