---
November 30, 2008 2:18 PM
Originally introduced as a hidden command in IOS 11, Route Table Profiling is now an officially supported command and can be very helpful to Cisco network Admins. With Route Table Profiling, you can monitor for fluxuations in the routing table, route flapping, and network outages, among other things. This feature is enabled globally with ip route profile and you can view information about it with show ip route profile.
Joe Harris, CCIE #6200 has a great article on it over at his site with lots of details and examples. To view the full article visit: 6200Networks.com Route Table Profiling.
November 30, 2008 8:58 AM
I ran across this cool firewall tool called Fireplotter. It graphs and shows real-time Internet traffic going through your Cisco PIX, ASA, or Fortinet Firewall. You can use it to:
Find out why your internet connection seems to have slowed down
Identify unfamiliar connections
See Bandwidth Hoggers
Track down Virus or Malware infected PCs
Monitor undesirable Website Usage
Check that email is flowing in and out
Check that VPNs are up
Use Basic View Mode to summarize traffic, Advanced View Mode for details
Monitor network availability
I like that the free "watch only" version is available to be used at no cost! The commercial versions offer more features and are tiered per the size of your firewall.
You can download Fireplotter and read more about it at: www.FirePlotter.com
---
November 29, 2008 6:58 PM
Cisco is offering free Web Browser plug-ins to allow you to search their various sites and communities directly from your web browser. By using this tool, here is what you can search:
BugID Lookup Tool 
Command Lookup Tool 
Error Message Decoder Tool 
RMA/Service Order Status Tool 
TAC Service Request Query
Search Cisco
Search Cisco Brazil
Search Cisco Japan
Search Cisco Latin America
Search Cisco Russia
Search Netpro Discussions 
To download these tools and add them to your web browser just visit:
---
November 29, 2008 6:11 PM
Last week, Train Signal – the global leader in video training – released their Microsoft Windows 2008 Network Infrastructure training course. This course covers the Microsoft MCTS / MCITP certification exam 70-642. Taught by Ed Liberman, this 14 hour video training course also includes the 70-642 Transcender exam simulator to ensure you are prepared for the exam. Besides certification coverage, the product uses real-world scenarios to ensure that you are prepared to be a Windows 2008 Network Admin in a enterprise.
I watched one of the videos and was impressed by Ed's knowledge of networking and his clear speaking voice. I liked the way that he made Windows 2008 Networking easy to understand.
I hope you will checkout the demo of the Train Signal Windows 2008 Network Infrastructure video training course.
---
November 29, 2008 5:59 PM
One of my favorite new VMware ESX Server free tools is VM Explorer (VMX) by Trilead. This is a free tool (commercial version also available) that is used to backup, restore, and perform basic management of VMware ESX hosts. Some of the coolest features are- 
server to server backup (including backup to the windows PC running VMX or a Linux server)
Snapshot management
SSH to the console of the server
Scheduled backup (with the upgraded commericial version)
and more
One of the coolest things is that the free version has just about every feature except the scheduled backup. Download your copy of VM Explorer and try it out for yourself!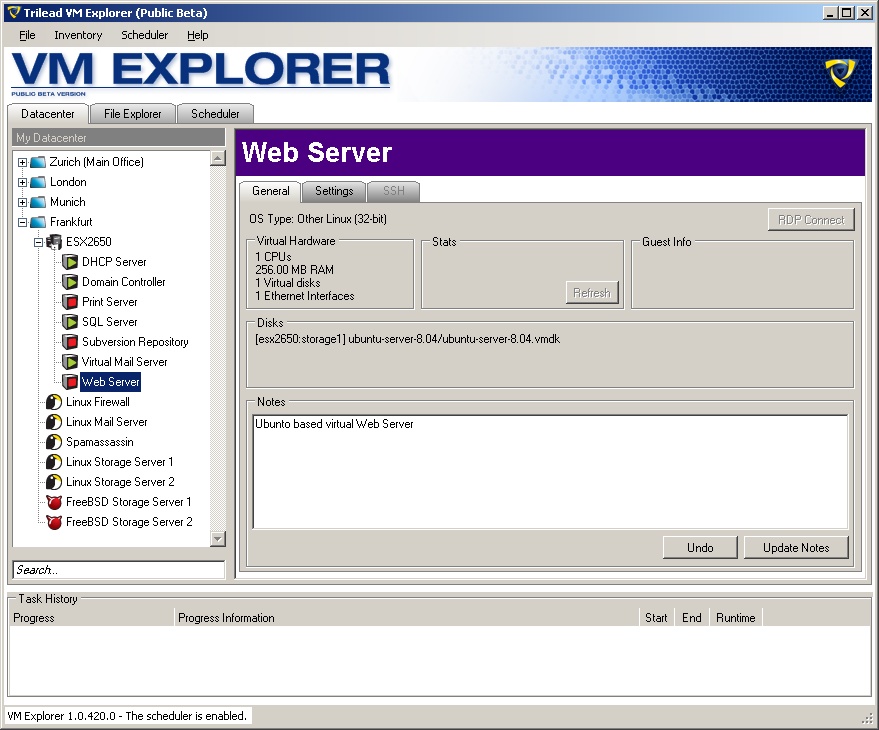 ---
November 19, 2008 11:24 PM
Microsoft licensing is getting more and more complex. With Windows 2008 Server, there is a command line tool used to import, export, view, and activate licenses. This tool is slmgr.vbs
---
November 18, 2008 10:00 PM
You don't see a lot of Cisco and Microsoft "joint announcements". In this case, Microsoft and Cisco jointly announced a new networking appliance – Windows on WAAS. The "WAAS" is Cisco's Wide Area Application Services initiative (read more about WAAS here). WAAS is designed to accelerate application performance to remote offices and by having Windows 2008 Server virtualized inside the WAAS Appliance, there is no need for a separate Windows Server. In this way, the WAAS Appliance (and embedded Windows Server) can provide necessary branch office services like Active Directory (AD), DHCP, DNS, and File Services.
To learn more, take a look at Microsoft & Cisco's Joint website on Windows on WAAS.
Also, check out these videos covering WAAS:
---
November 18, 2008 8:30 PM
In my latest SearchVMware.com article, I show you, step by step, how to enable and configure SNMP in VMware ESX and ESXi Server. From there, I move on to demonstrating a few different applications that can be used to monitor your VMware ESX Servers using SNMP. Monitoring VMware ESX Servers with SNMP applications is becoming more and more common so I hope you will read my article to learn more about it.
To see the full article, visit: Use SNMP with VMware ESX to monitor server statistics
---
November 14, 2008 4:21 PM
In a recent article, I covered the Cisco service provider router lineup. These amazing routers are what allow us to surf the web and watch IPTV. In this article I cover routers like the CRS-1 (Cisco's most powerful router) and the new Cisco ASR 9000 and 1000 routers. To see the full article, read Check out the most powerful Cisco routers ever made
---
November 13, 2008 8:49 PM

Hyper9 is a VMware Virtual Infrastructure Management platform. The most powerful feature is its "search engine" for your virtual infrastructure. As Hyper9 can do so much, it is difficult to describe. That is why I recommend you watch this YouTube video covering Hyper9.
If you have a VMware Infrastructure with at least 2 servers, 20 VMs, and would like to obtain one of my exclusive Hyper9 Beta program invitations, please contact me, David Davis. I will put you in contact with the Hyper9 beta program manager.
Once you see Hyper9 in action, I think you will be as impressed as I was!
---