---
January 27, 2009 12:40 AM
If you are familiar with Microsoft MVP, VMware's new vExpert is a similar concept. Both are yearly awards to people who contribute to their respective product communities (Microsoft or VMware). You can nominate yourself or others can nominate you. There is no monetary award but perhaps some software and access to special forums will be awarded. Still, the biggest benefit is that you can associate the term "vExpert" with your name.
Keep in mind that VMware is only accepting vExpert nominations until Feb 6, 2009.
Read more about the VMware vExpert here and feel free to nominate any VMware experts (maybe, like me) to be a VMware vExpert in 2009.
-David Davis, VCP, and VMware ESX training video author, www.VMwareVideos.com
January 26, 2009 11:47 PM
I really enjoyed Jamey Heary's NetworkWorld.com article covering the Top 10 YouTube Hacking Videos. While there were may interesting and funny videos, the one that I found most interesting (as I am interested in Virtualization) was the virtual machine hacking video:
[kml_flashembed movie="http://www.youtube.com/v/zjwe5RvVrA0" width="425" height="350" wmode="transparent" /]
For more information, read the full article at – Top 10 YouTube Hacking Videos.
---
---
January 25, 2009 6:53 PM
The process to obtain your CCNA Certification can be confusing. Luckily, in this informative video, the guys at Train Signal offer a breakdown of how you can get your CCNA:
[kml_flashembed movie="http://www.youtube.com/v/XxKW4P0OfPU" width="425" height="350" wmode="transparent" /]
---
January 25, 2009 2:15 AM
Okay, I know that this doesn't have anything to do with Cisco Networking but I just wanted to offer a quick blurb here about a new product from my friends over at Train Signal video training….
Just released last week, Train Signal is offering a PowerPoint 2007 video training course. This 17 hour training course on 4 DVD's and even includes an iPod/iPhone version to watch it on the go.
This PowerPoint package is the final piece of their Office 2007 video training package. That package is 91 hours and18 DVDs covering Word, Excel, Outlook, Access, Visio and Powerpoint 2007.
Both of these come with a money back guarantee and you can see demos of these products at their respective sites. I hope you will check them out and telly our friend about them!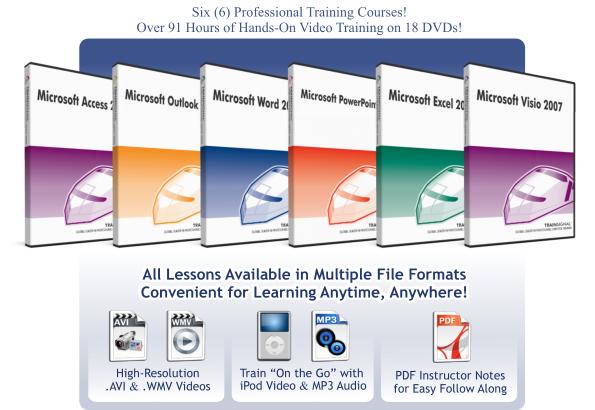 …. Now, back to more Cisco Networking News ….
---
January 23, 2009 7:17 AM
In my article Exploring entry-level options for using VoIP, I cover your choices for getting into the world of VoIP with a VoIP phone system. Cisco, and other companies, have some great options that you should consider before dropping $20K with a local PBX vendor who sells you a some overpriced PBX that also does VoIP.
To learn more, read my artcile Exploring entry-level options for using VoIP
---
January 15, 2009 11:57 PM
Chris Bryant, CCIE #12933, and Train Signal have released their latest video training course and it covers the Cisco CCNA Security certification. The course not only prepares you to pass the CCNA Security test (IINS 640-553) but also does a great job teaching you how to secure your Cisco network.
I have watched many Chris Bryant videos and, trust me, he is one of the best Cisco teachers I have ever learned from. There is a free demo of the course on the Train Signal website and it comes with a 90 day money back guarantee. Plus, you will receive a the associated Transcender exam and the video training on iPod, WMV, and MP3 formats for training on the go!
Here is a sample from the 13 hour training course.
[kml_flashembed movie="http://www.youtube.com/v/LMTNN9pQI6w" width="425" height="350" wmode="transparent" /]
CLICK HERE to learn more about the Train Signal CCNA Security video training course
---
December 30, 2008 5:58 AM
I have blogged a few times in the past about the Cisco Nexus 1000-V. See:
However, as the saying goes, these have been "all talk and no action". Well, what I mean is that you didn't get to "see it" in any of these posts and, if you are a visual person like me, it can be tough to imagine a new Cisco virtual switch from a bunch of words.
Now, you can see the Nexus 1000-V by watching this new Cisco video: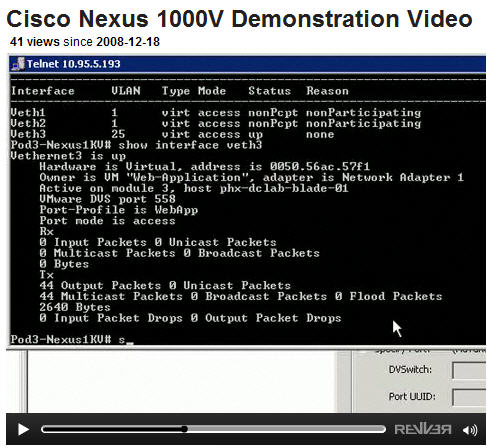 ---
December 28, 2008 5:46 AM

Cisco has announced that they are offering new Catalyst 2975 stackable switches. Cisco claims that these new switches can help to lower your TCO for Ethernet switches. These switches offer:
Integrated security, including network admission control (NAC)
Enhanced quality of service (QoS)
Resiliency to deliver intelligent services for the network edge
48 10/100/1000 PoE ports and 4 Small Form-Factor Pluggable (SFP) uplinks
High-speed stacking for up to nine switches
Unified stack management to simplify management of the network access layer
Auto software image and configuration provisioning for plug-and-play hardware replacement
Network control and bandwidth optimization using QoS shaping, granular rate limiting, traffic classification, sophisticated access control lists (ACLs), and multicast services
NAC through a wide range of authentication methods and support for the Cisco Catalyst Integrated Security Framework
Common Cisco IOS Software with support for Auto QoS and Smartports
Easy network configuration and troubleshooting using Cisco Network Assistant software
Software updates at no additional charge
For more information see: Cisco 2975 Stackable Switches.
---
December 27, 2008 5:34 AM
A little while back I wrote an article entitled Cellular Data to your Cisco Router – have you tried it? In this article, I talked about how I used a Kyocera KR1 cellular data router with a Sprint 3G cellular data card. Toward the end, I have a large section on the Cisco WIC cards that are available if you want to use cellular 3G with your Cisco router.
Recently, Cisco has begun offering 880 series routers that have 3G capabilities built in. Checkout the options for 3G in your Cisco router at- Cisco 800 3G Integrated Services Routers.
---