---
February 16, 2009 10:38 PM
Interested in Windows Server 2008? The new Windows Server HQ Blog has Nine Free Windows Server 2008 Training Videos. These are 30-40+ minute training videos in WMV and iPod/iPhone format. Topics include:
Active Directory
AD Users and Groups
Server Core and DHCP
File & Print
Server RODC
IIS 7 Web Services
Terminal Services
Windows Deployment Services (WDS)
Hyper-V
And the new Microsoft MCITP Certification
The first video in this 9 part series, and links to all the other videos, can be found here:
Windows Server HQ: New to Server 2008? No problem — Learn How to Install Windows 2008 Server and Active Directory
February 15, 2009 8:13 AM
What is your firewall of choice? What firewall do you really use?
Cisco has launched a new addition to their ASA firewall lineup – the new ASA 5580.
However, this new firewall is only for the lucky few that can afford it. You see, the 5580 comes in 3 flavors, the 5580-20, the 5580-20VPN, and the 5580-40. The 5580-20 starts at around $50,000 and the 5580-40 starts around $100,000. So, you see, most of us out there aren't going to get to have a new 5580 anytime soon (if you have one, let me know because I would like to 🙂 "demo it").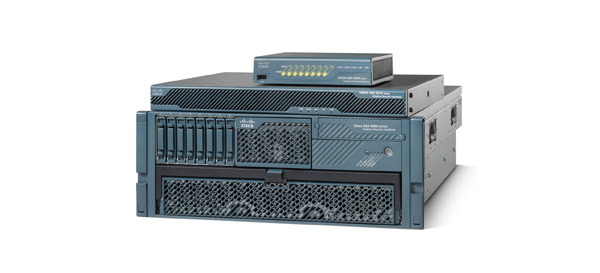 At my company, we tried a PIX 515 but it just lacked the full "unified threat management (UTM)" approach. In other words, it didn't have anti-virus & content filtering and, when compared to other alternatives, it just wasn't easy to use. We ended up settling on a Fortinet 100 because it does anti-virus, content filtering, and the GUI is so simple to use. The content filtering was the real savings. While a PIX could use a 3rd party content filtering service like websense, that type of service was going to cost us like $25K per year. With the Fortinet and their Fortiguard service, the cost is only a few thousand per year.
Recently for testing, I bought a Cisco ASA5510. While it is an improvement over the PIX, without the proper module, it can't do the "anti-X" and the content filtering is still an extra charge.
-David
Personal Website: HappyRouter.com
Checkout David's Video Training:
VMware ESX Server Video Training
Cisco CCNA & CCNP Video Training
---
February 13, 2009 10:55 PM
he Cisco Discovery Protocol (CDP) is a proprietary layer 2 management protocol for networks. CDP provides network device inventory, connectivity information, and IP next hop info. It works on LANs and WANs. CDP also works no matter the layer 3 network in use. This, no matter if you are running TCP/IP, Decnet, or Novell IPX- CDP will still function and provide the same info. CDP is excellent for troubleshooting.
I have used CDP to find out what the IP address is of a misconfigured router or switch on the other side of a WAN link. CDP can be enabled/disabled at the interfae level or globally on the whole router/switch.
Here are 6 CDP commands you should know:
cdp run and cdp no run – to enable and disable CDP globally
cdp enable and no cdp enable – to enable and disable cdp per interface
show cdp neighbors – to view see what routers and switches are connected to you on the LAN or WAN.
show cdp interfaces – to see which of your interfaces are participating in the CDP exchange
show cdp entry – to look at a particular switch or router that is a neighbor
show traffic – to see statistics about how many CDP packets have been exchanged
Also, you can also set cdp timers and clear cdp statistics.
For more information on CDP see the Cisco IOS Configuration Fundamentals Configuration Guide, Configuring Cisco Discovery Protocol (CDP) section.
---
February 10, 2009 11:03 PM
Cisco routers are very reliable but no router is perfect. Routers can go down at anytime due to bad hardware, failed IOS upgrades, or just plain human errror.
Your default gateway router is your connection to the outside world (that's the Internet). I recommend you configure the hot standby router protocol (HSRP) on your Cisco roger functioning as your default gateway (perhaps other core routers too).
To learn all about HSRP and how to configure it, read my article: Ensure Cisco router redundancy with HSRP

---
February 9, 2009 11:04 PM
Is the time and date on your cisco router I switch correct? Both time and date need to be accurate for things like security logs, troubleshooting logs, time based ACLs, and a variety of other reasons.
Fortunately, the network time protocol, or NTP, was created to sync the time and date on our cisco routers down to the microsecond.
NTP isn't hard to configure with the help of my step by step article:
Synchronize a Cisco router's clock with Network Time Protocol (NTP)
---
January 31, 2009 3:00 AM
Do you want to get the latest Cisco news? Ever used Twitter?
Twitter is the *BEST* place to stay up to date because its REAL TIME. Here are the best Cisco Networking resources on follow on Twitter:
And finally, if you are going to follow those "in the know" in Cisco networking, why not follow me? You can do that at- @davidmdavis
---
January 30, 2009 1:43 AM
With over 42 votes and 16 comments, my new article 10 dumb things you can do to your Cisco router and how to fix them is likely one of the most popular articles I have even written. In this article, you will learn "what not to do" and, even more productive, you'll learn how to prevent these common mistakes (before you take down the network). Read the full article at the link above!
---
January 29, 2009 12:52 AM
In these down economic times, it is great to see that I company I fully support (even with the purchase of their stock in my IRA) taking the lead in numerous segments of networking. Here are some examples:
Go Cisco Go!
---
---
January 27, 2009 7:58 PM
In my latest article, I cover the top 10 Cisco IOS router file management commands that every Network Admin should know. These, of course, start with dir, and cd, fsck, verify, and many more – all commands that you might not have known you could do on your Cisco router.
This has been one of my most popular articles with 26 votes and 11 comments so far. Read the full article at: The 10 Cisco IOS Router file management commands you must know
---