May 28 2008 9:00PM GMT

Profile: David Davis
The very cool PacketTrap pt360 all-in-one network management application has a new version out – version 2.0.
With this version, you get the new Cisco Configuration features (what I have personally been waiting for)!
You can download a free 21 day trial version of the software from the PacketTrap Download site (and don't forget that they have a FREE version too)! I have used this myself and it has been very helpful and has reduced the amount of time it takes to troubleshoot and configure my network. Trust me, it is much better than some of the other all-in-one network management applications because it is all integrated – not a bunch of seperate applications
So, give it a try! What the heck, its free, right?
pt360 Tool Suite PRO: Network Management Software
The PacketTrap pt360 Tool Suite PRO edition consolidates dozens of network management and monitoring tools into a single, integrated interface. The tool suite includes Cisco configuration management, server and application monitoring, open source and third party integration, a robust encrypted credential store, the ability to save and flow results between tools, deep network discovery (with network mapping) and syslog server capabilities. All of these tools compliment the extensive real-time monitoring provided by the pt360 Dashboard. Networks are complicated. Network Management doesn't have to be.
FEATURES INCLUDED IN THE PT360 PRO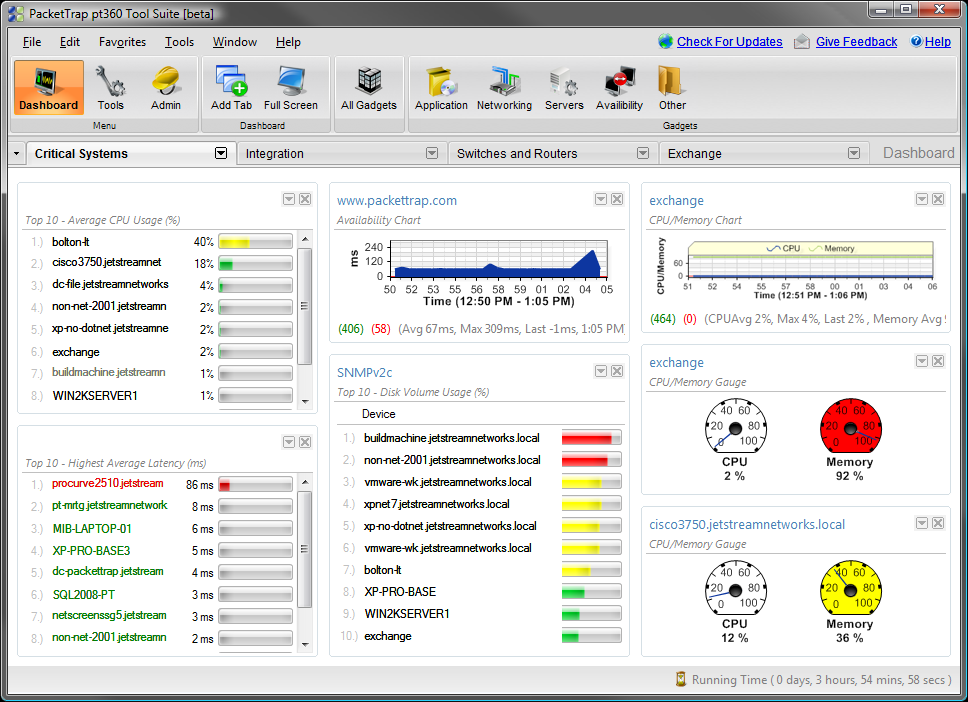 Application Monitoring
Cisco Configurator
Dashboard
Device Groups
DNS Audit
Encrypted Credential Store
Enhanced Ping
Favorite Tools
Graphical Ping
MAC Scan
Network Discovery
Network Inventory
Open Source Integration
Ping Scan
Port Scan
Recent Tools List
SNMP Scan
Switch Port Mapper
Syslog Server
TFTP Server
Trace Route
Traffic Jam
Wake on LAN
WHOIS
WMI Scan
Cisco Configurator
PacketTrap Cisco Configurator eases configuration and change management of Cisco® devices in lieu of one-off non-integrated point tools.
Download device configuration files from a Cisco® devices
Archive Cisco® router startup and running network configurations
Upload configuration changes to routers or switches via SNMP or Telnet
Compare the running config of a Cisco® router with the startup config or archive config
Go to and find any section within the config file quickly
Decrypt any Cisco® type-7 passwords for routers and switches for lost password recovery