Jul 31 2009 8:25PM GMT

Profile: David Davis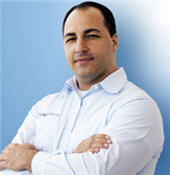 This week I had the honor of meeting J. Peter Bruzzese– Microsoft guru and Exchange Expert. Peter writes for many different online (and offline publications). He has published hundreds of free videos and many books that you'll find on the shelves at your local bookstore. For example, one of his books is the, just released, Exchange Server 2007 How-To.
However, those things aren't what makes Peter so unique.
In my opinion, Peter is unique in the industry for 3 reasons:
Peter genuinely loves the Microsoft technologies and is very passionate about them. He doesn't do all this just for a paycheck. He does these things because he loves to help people, like you and I, learn Microsoft technologies.
His has created hundreds of videos covering Exchange 2007, 2010, and many other technologies. These videos are offered for free on his website: Exchange 2007 videos.
Despite being such an big time expert in the industry, Peter is a genuinely nice guy who doesn't have a drop of arrogance.
If you are interested in Exchange 2007, Exchange 2010, or other Microsoft enterprise technologies, I hope you will checkout Peter's website:
And finally, the best thing about Peter is that he is joining me in working at Train Signal – where we will be creating video training for IT Professionals around the world!