Jan 30 2008 8:29PM GMT

Profile: David Davis
I am curious to hear from those who are working on their CCENT certification. Have you tried it? Or have you even heard of the CCENT yet?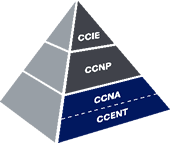 The CCENT is the Cisco Certified Entry Networking Technician and it is what you achieve if you take just 1 Cisco test (640-822 ICND1). The CCENT prepares you for the CCNA exam and you Cisco has some nice resources for it at both the CCENT Instant Answers webpage and the CCNA Prep Center.
I have heard from a number of my associates and they have been using the Train Signal CCENT Video Training package and have been impressed with it. I know they have a free demo at that URL.
So – how about you? Are you already a CCENT? What did you think of the experience? Are you aspiring to be a CCENT? What questions do you have? Post em' here!
-David
Personal Website: HappyRouter.com
Checkout David's Video Training:
VMware ESX Server Video Training
Cisco CCNA & CCNP Video Training