---
June 30, 2008 9:11 AM
While the OSI Model may seen like some useless & arcane topic that you only study to get your CCNA, I believe it is very valuable in understanding how networks work and how to troubleshoot them. In one of my most recent articles, I cover the OSI model and explain how you can use it to better...
June 30, 2008 8:50 AM
Just published, my most recent article covers, step by step, how to secure your Cisco router using passwords. I start off with the different levels of the Cisco IOS and the different passwords that are available. Then, I move on to show you exactly how to configure passwords in the Cisco IOS to...
---
June 29, 2008 10:15 PM
Did you see my blog on MSE? Well, guess what, here's another use for it. I was reading the Cisco news recently and came across this article on Cisco Motion. It's really just a way to integrate our ipods and other mobile devices. Cisco's Motion approach...
---
June 29, 2008 4:43 PM
Cisco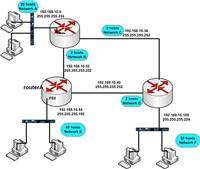 I read a great article covering subnetting tricks and VLSM by
---
June 28, 2008 10:13 PM
Mobility Services Engine (MSE) is what Cisco is calling it. Cisco has designed an appliance that will collect all of the different data environments and feed it to other applications. What does that mean to me? The MSE uses this data for jobs like rogue radio detection, and shares it with...
---
June 28, 2008 4:42 PM
Train Signal Training.com has recently made available 6 free videos that cover how to configure Cisco IOS static routing and RIP routing. These videos are by CCIE, Chris Bryant, who has an excellent teaching style. I recommend these videos to anyone who is preparing for their CCNA or the routing...
---
June 27, 2008 10:11 PM
show ip interface brief  - verifies your configuration.
     Example snippet output of configuration file: Serial0/0 is up, line protocol is up.
2....
---
June 27, 2008 10:02 PM
One of the junior admins at my company was studying for his Cisco CCNA. He asked me about Repeaters, Hubs, and Switches. What is the difference? Well, let's see. A repeater does exactly that- it repeats any electrical signals that come into one port, out its other port....
---
June 27, 2008 5:24 PM
TechTarget's Virtual Data Center e-zine is a huge electronic magazine specializing in virtualization. Recently, the new volume 3 was released and there is a 9 page article, authored by David Davis (that's me). If you are interested at all in virtualization, reading this free online magazine is a...
---
June 26, 2008 10:02 PM
I just found out that my friends over at Train Signal.com are sponsoring a very cool contest that I wanted to let all the readers of VirtualizationAdmin.com know about. Here is how it works - you write a 500 word essay (max 1000 words), covering the following: -Why did you (or why would you)...
---