Nov 20 2009 5:11PM GMT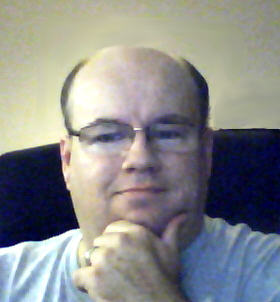 Profile: Dave Bateman
From time to time I will be meeting with a client that is considering a Unity implementation. One common concern is how they will integrate it in with their existing voicemail systems. Often they have systems spread across the country and are not ready to replace all of them. While this is a valid concern, it is not a problem. Unity has the ability to integrate with a number of different voicemail systems. This article will offer an overview of four types of Unity networking.
The first is called Digital networking. This type of networking is not used to interrogate Unity with another vender's voicemail, but rather to connect multiple Unity servers together. One requirement of Digital networking is that all the Unity servers be part of the same Active Directory (AD). Since all the Unity servers use the same AD, there really isn't much Unity has to do to make this work. Unity leverages AD to provide Digital networking. Once Digital networking is implemented, the users on any Unity server can forward and reply to messages to a user on any of the servers. To the users they all feel as if they are on a single voicemail system.
When integrating with a voicemail system from another vender, you will most likely use Audio Messaging Interchange Specification (AMIS) or Voice Profile for Internet Mail (VPIM). They are similar in that they allow you to integrate with other voicemail systems but how they do it is quite different. AMIS uses analog telephone lines to communicate with the other voicemail system (figure 1). The simplest way to explain this is that Unity calls the other voicemail system and plays the message which the other system records and delivers to the user's voicemail box. Since Unity has to play the message, the delivery will take at least as long as the message is. For example, if the message is 30 seconds, it will take 30 seconds to play the message plus time for the setup and tear down of the call.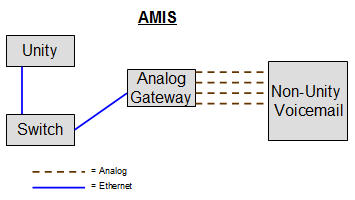 Figure 1



VPIM on the other hand uses IP as its transport mechanism. This, of course, requires that the systems be connected via some type of IP network (figure 2). VPIM works very similar to the way email works. VPIM messages are actually sent via Simple Mail Transfer Protocol (SMTP) just as emails are. Since these messages are sent across an IP network, the time that it takes to deliver a message is dependent on the speed of the connection; but it is safe to say that it will always be quicker than AMIS.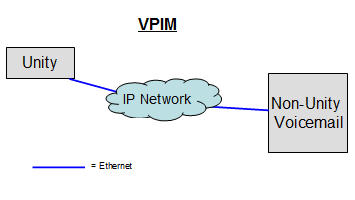 Figure 2
So why wouldn't you just always use VPIM? That's an easy one… because you can't. Some voicemail systems don't support VPIM. This would leave you going the AMIS route, assuming the other voicemail system supported that.
The last type of networking is called Bridge networking. This is used to connect Unity to an Octel system. This type of networking requires a separate server called a Bridge server (figure 3). Unity connects to the Bridge server via IP while the Bridge server connects to the Octel system via analog lines. The bridge server looks like another Octel server to the Octel network. Messages from the Unity server are delivered to the Bridge server, and the Bridge server delivers them to the Octel server.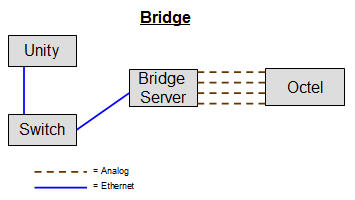 Figure 3
So now you know everything you ever wanted to know about Unity networking. OK, maybe not, but you should have a good understanding of the different types of networking that Unity supports.