---
September 30, 2012 10:16 AM
There is a pretty cool video over on youtube right now. It is of a mind reader that sets up tent in the middle of a public square and offers mind reading sessions to random strangers. The facts that he reveals about these people is truly amazing. If you don't want the ending spoiled, skip to the video now. So here's the trick, while people are waiting in line there is a group of "investigator" searching the Internet for information on these people, and they feed it to the "mind reader." At the end of the "reading," a wall of the tent falls down and shows the group of hackers and the person's personal information displayed on screens.
I think everyone that uses the Internet should have to watch this video before they are allowed to post to any social website. Sadly, however, I don't think it would have the impact that it should. But maybe, just maybe, they would think twice before letting the world know all their personal information.There is a reason it's called personal.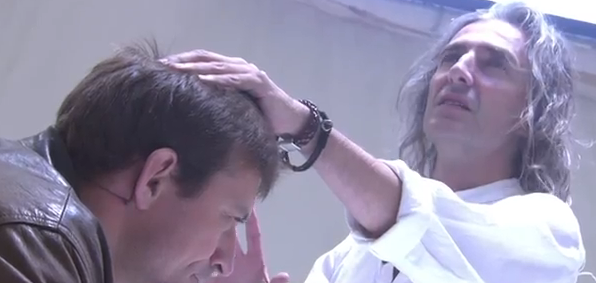 ---
September 29, 2012 9:07 AM
The networking vendor Juniper has confirmed that it will be reducing its staff by approximately 500 people. While they confirm the cuts, they aren't saying what areas of the company are most likely to be hit. Some are speculating that Juniper's QFabric data center networking technology will be the hardest hit due to the fact that, while it is a promising technology, the adoption rate is fairly slow.
Juniper is not the only one that is experiencing cuts. Its competitor, Cisco Systems, has experienced a 2% reduction this year. None of the news is that surprising with the economy still showing mixed signs of recovery. The only thing that seems certain is that we will hear of more layoffs until the economy truly starts to recover. More evidence of that was seen this week when Kodak announced layoffs and that it is removing itself from the consumer printer business.
---
September 28, 2012 7:42 PM
There was a time when if you wanted a super computer you would really only need two things, space and money. However, you needed a lot of each of those. While you don't need as much space as you use to, you still need a fair amount of money. That may all change if a company by the name of Adapteva has its way.
They have launch a Kickstarter program in the hopes of raising at least $75,000 and hope for up to $3 million. If successful, they plan to sell a 16 core board with 26 gigaflop performance for the low low price of only $99. If you have an extra hundred bucks laying around, they will sell you a 64 core board offering 90 gigaflops for only $199.
If you want to get to the head of the line you will need to head over to Kickstarters and hand over 99 bucks. If you do, they promise to deliver you one of these devices by May of 2013. If that is too far away for you, you can speed the process up by giving them $499. Do that and they say you will see one in February of 2013. Not sure that $400 bucks is worth getting it three months early but it may be to you. Last I looked they had already raised over 70k and there is still 28 days left.
---
September 27, 2012 7:25 PM
A few posts ago I told you how to install Android on your PC by creating a virtual machine. If that seemed too difficult for you but you still want to play around with Android apps, then I have some good news for you. It's called BlueStacks. It is as easy to install as any application and, once installed, is just as easy to run. You can access the Google play store as well as other app stores and download most any app you like. Of course, apps that require phone functions may not work, but nothing will stop you from playing Angry Birds.
I installed it on my Windows system and it was running in no time at all. If you have a Mac there's some good news for you, too. They recently release a version for Macs. It is still alpha so be prepared for a few hiccups. I just installed it on my Mac, and the installation and use of it is just as good as it was on the Windows system. It did seem to run a little slower, but that could be due to the fact that my Mac doesn't have the same horse power as my PC.
So if you are interested in running Android apps on your PC or Mac, give BlueStacks a try.  I think you will be pleased.
---
September 26, 2012 8:09 PM
When I was 18, I walked into a rent-to-own store and signed up to "rent" a TV. I thought it was going to be a great deal, only 39 bucks a month, or was that a week? I was so excited about the TV I may have missed some of the details. However, when I got home and told my dad, he did not have quite the same level of excitement as I did. To make a long story short, I never got the TV. Yet another time my father saved me from my own choices.
While the deal I signed up for might not have been that good, it can't compare to what several rent-to-own companies charge customers to rent a PC. To be honest, I am not sure how much money they charge, but along with your weekly payment they had access to your most personal information and could even watch you as used the PC.
A program called PC Rental Agent would be installed on the PC before the renter would take it home. This software would allow the managers of the store to not only capture what the user typed, but they could also turn the webcam on without the user's knowledge. Who knows what they saw, but it is alleged that the webcams captured images of individuals not fully clothed along with other things that were never meant to be shared with the manager of the local rent-to-own.
The good news is that the FTC filed charges and the case is close to being settled. In the end, the software was installed on over 420,000 computers. While I don't make a habit of reading legal filings, I found this one quite interesting.
---
September 26, 2012 8:48 AM
The short answer to that question is, not yet. However, John Chambers, CEO of Cisco, has recently identified a few possible successors. This won't happen this year, but his retirement is expected in the next two to fours years.
Chambers has been the CEO of Cisco since 1995  and lead the company through the best of times and the not so best of times. He is fairly well respected and most feel he has done well leading the company. One can't help but wonder what will happen when he steps down, but he has offered to stay on as Chairman if the company wishes.
Possible successors included Chuck Robbins, senior vice president of the Americas; Robert Lloyd, executive vice president of worldwide operations; Gary Moore, chief operating officer; and Edzard Overbeek, senior vice president of global services.
---
September 23, 2012 7:25 PM
Hitachi  announced that they have a storage device that can retain data for hundreds of millions of years. This comes as a great relief to me as I was trying to figure out how to preserve pictures of my frog collection for the people of the future. But seriously, that is pretty amazing. So what is this amazing new technology? A piece of glass, well to be more specific, it is a piece of quartz glass. The glass is laser imprinted with binary dots which can be read by a microscope hooked up to a computer.
Not only can it last forever, or darn close to it, but it is nearly indestructible. It can be heated to 1000 degrees Celsius for two hours and still be readable. Currently it can only store about 40 MB per square inch, but Hitachi hopes to improve on that in future versions.
---
August 31, 2012 8:28 PM
So, imagine the next time you do your shopping you don't have to wait in line at the checkout. No, I am not talking about just walking out the door without paying, but rather using your smartphone to scan items while you shop and pay for them that way. Well, if the test that Walmart is currently running is successful, this may be a reality in the future. As a matter of fact, if you are an employee of the Walmart store in Rogers, Arkansas you may have already tried this. Walmart allowed employees of that store to test this new system, which they are calling "Scan and Go." The system lets you use your iPhone to scan the items while you are shopping and then pay for them at one of the self checkout lanes. Currently there is no way to pay for the items via your iPhone, but that does seem like the next logical step.
So, what do you think? Would you prefer this method of shopping? I just can't help but wonder what this will do to the sales of tabloid publications. I mean, if you aren't waiting in line, how will you be drawn in by the latest Bigfoot sighting or alien abduction story? For more on "Scan and Go" checkout this story over at Reuters.
---
August 30, 2012 7:23 PM
Since I got my Nexus 7, I find that I don't carry my cell phone around the house with me. Instead, I carry the Nexus 7. Yes, it is bigger but not so much that it is too large to easily carry around the house. The fact that it is larger than my cell phone is one of the main things I like about it. However, it isn't a cell phone.  When a call comes in, I have to run to my cell phone to answer it. Well, not anymore.
There is a cool app for Android devices called GrooVe IP. The app links to your Google account and allows you to place calls via Google Voice. If you don't have a Google Voice, account it is pretty easy to get one. Just go to Google.com/voice and login using your Gmail username and password. Of course, this is assuming you have a Gmail account. If you don't,you will need to get one first.
Not only can you make calls using the GrooVe IP app, but you can also receive them. Each Google Voice account includes a phone number. You configure Google Voice to forward calls to your cell, home, or any other phone when a call is placed to the Google Voice number. However, you can't forward it to the tablet's phone number since it doesn't have one. But, you can forward it to Google Chat. Doing this forwards the call to the Groove IP app and you can receive calls on your tablet.
Groove IP is available on Google Play. There is a free and a paid version. The paid version is $4.99,. It allows you to use the app over a mobile data connection and other feature that may be of interest to you.
---