---
November 17, 2012 6:37 PM
Imagine that you are waiting for a train and instead of wasting time playing some game about disgruntled birds on your phone, you use it to do your grocery shopping. When I first heard of this idea my first thought was that, while the mobile phone is great for a lot of things, doing online shopping on it isn't that pleasant to do on the small screen. Also, when I shop I like looking around to see if there is something new I want to try. Well, a company in South Korea has taken a new approach to online shopping and it has been a huge hit.
The idea was to bring the store to the customer instead of getting the customer to come to them. They installed large life size displays that looked just like the grocery store aisles. The customer simply browses the shelves and snaps a picture of an item they want. It is added to their grocery list and is delivered to their house after they arrive home.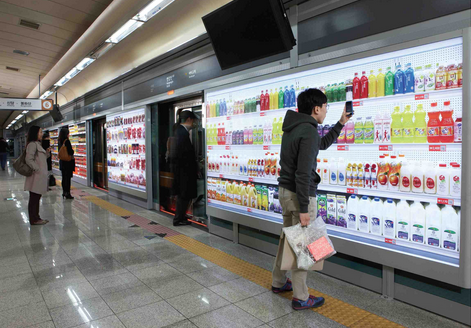 This new way of shopping really seems to be catching on. Tesco was able to increase online shopping 130 percent in about a month and the number of registered online customers grew 76 percent in the same time. I'm not sure I would want to buy things like meat and  fresh vegetables this way, but I can see it being a very attractive alternative for the very busy city dweller.
November 16, 2012 6:03 PM
They say old habits die hard, and I am sure that many users of Microsoft's new OS, Windows 8, are finding that old adage very true this week. I can't tell you how many times I went to click the Start button only to remember that it's not there! At first I thought this would not bother me, but it really does. I honestly can't see any reason why they didn't leave it there unless it was to frustrate their customers just a little more.
Well,  I finally had enough of it and went in search of a solution. An number of developers realized that this was going to be a problem and created Start Menu replacement programs so that people like me could continue to use their PC in the same way they have been for the past 15+ years. I checked out a few and settled on IOBit StartMenu8. I didn't know if it was the best one out there, but it is almost identical to the Windows 7 Start menu and it also let's you to deactivate the hot zone that Windows has. And, of course, one of my favorite features – it's free.
However, a couple days later I started to have a problem with my left arrow key. It just stopped working. After going through the normal troubleshooting steps and replacing the keyboard, I decided to Google the issue. It turns out that others that had installed IOBit StartMenu8 had the same issue. Once I uninstalled it, the problem went away. This led me to continue my search. This time I settled on Classic Shell. It has many of the same features as the IOBit product and it doesn't cause my arrow keys any issues.
If that one doesn't work for you, here are a few others you can check out:
---
October 31, 2012 7:06 PM
It looks like there is a new king when it comes to the world's fast computer. Oak Ridge National Laboratory (ORNL) just deployed a computer called Titan that claims to be able to do 20,000 trillion calculations per second. I don't know about you, but that blows my mind. If you are having trouble comprehending exactly how fast that is, think of it this way, if you could travel 20,000 trillion feet per second, you could go to the moon and back about eight times in one second.
When the Top500 super computer rankings come out in a few weeks, it is expected that Titian will be crowned the fastest and second place will go to the previous victor, Sequoia, which lives at Lawrence Livermore National Labs. This means that the US will hold the top two spots after years of competing closely with Japan and China. The Titian is made up of 18688 AMD 16-Core CPUs and 18688 NVIDIA Tesla GPUs. Combining the two types of processors together in a super computer has resulted in what is being referred to as a hybrid super computer. The result is a super computer that can run on a fraction of the power required by the traditional all CPU super computers. Of course, the term "fraction" is relative.The yearly power bill for this device will be about $10 million.
---
October 30, 2012 6:47 PM
I remember when USB first hit the market. It was so new that there weren't many devices, and the ones that were available were so expensive that most USB ports went unused. That is no longer the case, and USB is arguably the most important port found on today's computers. Pretty much everything from your keyboard to your phone plugs into a USB port. The USB port has become so prevalent that most new cars even have them.
Apparently some folks felt that this technology was being under utilized and invented a number of USB devices we never knew we needed. Here are just a few that you will soon learn you just can't live without:
USB Necktie Cooler
USB Foot Cooler
USB Butt Cooler Cushion
USB Eye Warmer
USB Remote Control Cockroach
Honest, I am not making any of these things up. You can check them out at everythingusb.com. Don't get me wrong, there are some pretty cool and useful USB devices at this site. So, even if you aren't in the market for a remote control cockroach, the site is still one you should checkout.
---
October 30, 2012 6:42 PM
A couple of years ago when people would ask me if they should get an Android or an Apple iOS device the answer was easy, at least it was for me. I always said iOS. However, just a few day ago I was asked by my cousin whether I would recommend an Android phone or an iPhone5 for her. Without hesitation I told her to get an Android. Since she already has an Android and she is happy with it I couldn't think of no reason for her to switch.
In the past my rational was that Apple had a more mature proven OS and a healthy amount of apps to go along with it. Now that Android has been around for a while the bugs have been worked out and it is proving to be a very reliable OS.While Apple still had the edge when it came to apps, that no longer seems to be the case. Both Apple and Google Play are claiming to have over 700,000 apps available for download. This means that one of the obvious advantages for Apple had seemed to disappear. So how does one decide which OS is right for them. Here are a couple of things to think about when you need to make the choice.
If you currently have and iOS or Android device and you are happy with it then you may want to stick with that.
If you prefer a safe environment over a flexible one then apple is the winner.
If flexibility is more important then Android would be your choice.
If you only buy apps when they are on sales then Apple is the one for you. Several Apple apps go one sale each day while you will only find a few Android apps on sale.
When all else fails, flip a coin. Many cellular providers allow you to return a device within a couple of weeks if you don't like it. Within that amount of time you should know if you made the right call (please excuse the pun).
---
October 28, 2012 6:17 PM
I have Windows 8 installed and, as I mentioned is a previous post, I am finding that I like it more than I expected. But there is one thing that really bugs me about it. As intuitive as the new user interface is, one thing that is not intuitive at all is how you shut the darn thing down. Maybe it's just me, but I don't think I should have to move my mouse to the upper right corner, select setting, then select power and then click shutdown. I'm sorry, but that is ridiculous. There is a keyboard shortcut that allows you to get to a shutdown window by pressing alt-F4 from the desktop. While that is faster, I want a one click solution, and I found one. All you have to do is create a shortcut for the shutdown /s /t 0. There is a nice step-by-step guide over at the Laptopmag blog.
---
October 27, 2012 5:49 PM
People that have multiple PCs on their desk either need a KVM (Keyboard, Video and Mouse) switch or they have to have a keyboard, mouse and monitor for each PC. Or, they could use a Virtual KVM. This is the method that I prefer. It allows me to control multiple computers with a single keyboard and mouse. I still need a monitor for each PC, but I prefer that anyway.
The app I use is called Synergy. You can download it at synergy-foss.org. Once you have downloaded it, you need to install it on every computer you want to use a single keyboard and mouse on. When you install it, you select either server or client. The computer that has the keyboard and mouse attached must be the server. Once the software is installed, you can define where the other computers' monitor are in relation to the server and configure the clients with the IP address of the server.
Once the program is installed and configured, using it is as simple as moving your mouse past the edge of the server's screen, and it will appear on the screen of the computer next to it. Whichever system the mouse is on is the system that the keyboard is active on.
Another very cool feature is that this is a cross-platform program.This means that you can use it even if one computer is a Mac and the other is running Linux or Windows. Also, this software is freeware, but the author does ask you to make a donation. Seeing how this is about the best solution like this and that you would have to spend at least 30 bucks for a hardware solution, try to find a couple of bucks and donate.
---
October 26, 2012 6:12 PM
I went ahead and ordered Windows 8 the first day it was available. I have never installed a new OS the first day it was out, especially a Microsoft OS. So why did I do this? Two reasons. The first is that curiosity got the better of me and the second is that it was only 15 bucks. Microsoft is offering some crazy deals on Windows 8, including an upgrade price of $14.99 if you had recently purchased a new PC. But you need to hurry because these deals end January 31st.
So after playing with it for a short time, I have to say that I am surprised. I fully expected to dislike this OS but I don't. The user interface allows me to interact with it in a manner that is similar to what I am used to with a tablet or I can choose to use it the same way I did with Windows 7.
I have a dual screen setup on the PC, so I tend to have the tablet-like interface running on one screen and the traditional Windows interface on the other screen. I played around with a few of the apps that you can download from the Microsoft apps store and found the installation to be as seamless as you can imagine.
I found it odd that some of the apps were for services that I would normally just use a browser to access, such as Ebay or Youtube. However, after trying them I found them to be a more pleasant experience than the normal browser experience. I also tested a number of traditional programs and all seem to function without issue.
I think many users will end up using the traditional interface, but there is a large segment that the tablet-like interface is perfect for. These are people that want to use the computer primarily as a consumption device. Tasks like email, shopping, viewing video and the like. In other words, people like my parents. The rest of us may find that we enjoy the new interface, but will be pulled back to the traditional interface when we need to get work done.
---
October 24, 2012 10:32 AM
Google recently announced a new laptop called the Chromebook. While this isn't the first appearance of the Chromebook, it is the most impressive so far. One of the most impressive things is the price. $250 gets you a dual core, 11.6 inch (screen) laptop. That is pretty cheap, less than the new iPod touch. At first look, the question isn't why would anyone buy one, but rather why wouldn't everyone buy one? But before you run over to Amazon and pre-order one, it is important to understand what the Chromebook really is and perhaps even more importantly, what it is not.
It is not a Windows laptop. You can not run windows applications on it. It uses the the Chrome OS as its operating system, which allows you to run Chrome applications. There are thousands  of chrome apps currently available on the Chrome app store. There are apps to meet pretty much any need you might have and many of them are free. To get a look at them, just install the Chrome browser and hop over to the Chrome store.
Another important difference is that this laptop has very limited storage capacity, 16 Gb to be exact. That is the the same amount of storage as many tablets and about the 10th of the amount of storage of a Netbook. It doesn't have a lot of memory because many of the apps you use with it actually run from the internet so they don't need to be installed.
So, is this the right device for you? The best way to find out is to not buy one. That's right I said "not." Instead, just install Google Chrome on your PC and go to the Chrome store and try out some of the apps. Everything you can do on the Chromebook you should be able to do with Chrome on any PC. I would say that if you are really interested in this device, try to do everything would want to do with it using Chrome. If after a few weeks of doing this you find it works for you, then head over to Amazon and order yourself one.
---
October 23, 2012 6:10 PM
Unless you have been living in a cave somewhere, you probably weren't surprised when the iPad mini was announced Tuesday. It has created a lot of excitement on some of the blogs, and I am sure people are already devising plans to get a good spot in line on November 2nd. I am sure these devices will be a huge hit and the demand will be larger than the supply, at least for the first few weeks. But I just can't help asking if we really need a 7 inch iPad.
I have an iPad and a Nexus 7 so I have some experience with both form factors. I do have to say that I prefer the size of the Nexus over the iPad. The 7 inch form factor just feels right in my hands. However, I have talked to many people that don't like screen any smaller than the iPad. I think this is a personal preference, so Apple is right to offer consumers a choice.
There are some that are disappointed with the mini iPad, but most of the appointment is around the price. With a number of 7 inch tablets available in the $200 range, many analysts expected the iPad mini to come in around the same price. However, the starting price is $329 for the 16 GB model, and the prices goes up to $659 for the 64GB with cellular connection. A recent survey showed the many people feel that a 7 inch tablet should cost about $247. Based on that, Apple may have missed the sweet spot on pricing. Bu,t Apple has never been one to follow industry pricing.
Others were disappointed to find out that it did not have a retina display. While I can't say I am disappointed, I am very surprised. With the lack of a retina display, the resolution is sitting at 1024×768. While that may seem sufficient for a 7 inch screen, it falls short of its competitor's devices such as the Nexus 7 that has a 1280×800 screen.
In the end, the price and screen resolution won't stop many people that really want the device from getting one. However, I don't think this device will affect the sales of other 7 inch tablets that are in the $200 range, nor will it pull many people away from their Kindles.
---