---
August 31, 2010 6:50 PM
What if every computer was your computer? How convenient would that be? Imagine that any computer you logged into had your desktop, your files, your music. I'm not talking about any computer in your house or any computer in your office, but any computer in the world. How would that change the way you work, surf, and live.
The move towards this idea has been seen over the last few years with services like Dropbox and Google Docs. Dropbox is a service that lets you store files on the Internet and access them from any computer. Google Docs takes the idea one step further and lets you create and edit text, spreadsheets and drawings via a web browser and then store them on the Internet. The term being used for these features is"Cloud Computing."
These services are nice, but they don't turn any computer into MY computer. To do this, the OS would have to be moved to the "cloud." That is where icloud comes in. icloud is a service that moves the OS and many applications to the cloud. The free version gives you access to all of its features, but limits you to 3 GB of storage.
I took this service for a ride and was surprised at what it offered. It includes the type of applications that one would consider essential such as a word processor, spreadsheet, presentation, calendar and email apps. In addition to these basic apps, this service is packed with a wide enough variety of apps that you could use it for most of your day-to-day computing needs.
The service has a social aspect to it as well. It allows you to see if other icloud users you know are logged into the service and makes it easy to share files with them. All you have to do to share a file is upload it, right click it, and pick Share. You can choose to share it with another icloud user or post it to a public link so that friends that don't have an icloud account can access it. You can also choose to share an entire folder or photo album.
All in all it is a pretty cool service. I am not ready to pitch my laptop and move over to this service completely, but it has potential. Take a few minutes to check out this service and perhaps take a glimpse into the future.
August 29, 2010 10:41 PM
The next time you get to the airport just in time to make your flight only to find out that it has been delayed for at least an hour, you have a choice. You can stand around the counter in hopes that your presence will result in reducing the delay or you can whip out your iPhone and watch a movie.
When the iPad was launched, the Netflix app was being called the killer app and, while it was cool, I didn't find myself using the app often. I mainly used it when I was showing friends the iPad. Shortly after they released the iPad app, they promised that an iPhone version was on its way. Now that they have delivered, I can say it was worth the wait.
The video and audio quality are excellent, and the interface is as easy to use as the iPad version. However, it is not a shrunken down version of the iPad app. You can not manage your DVD queue from the iPhone app like you can on the iPad. This a surprise as I think most people would use the app for that more than to watch movies. Don't get me wrong, if I had to choose between being able to manage my DVD queue or watch streaming movies, I would take streaming movies any day.
The best part is that it works over 3G so if you are in a 3G area you are all set. The down side is that AT&T isn't offering unlimited data plans anymore and many subscribers are now capped at 200 MB or 2 GB.  I'm not exactly sure how much bandwidth Netflix uses on the iPhone, but on the iPad it is about 2.5 MB per minute.
Just for fun I tried to watch a movie in a non-3G area. It worked fine, that is if you like watching 3 seconds of video and then waiting 5 seconds before seeing the next 3 seconds. Do yourself a favor and stick to Wi-Fi or 3G when using this app.
I have some travel coming up shortly and while I am still not excited, at least I know what I will be doing while I wait for that flight.
---
August 27, 2010 6:22 PM
This week Google added a new feature to Gmail. You can now call pretty much any phone in the US for free. The feature is found under the chat menu. Look there and you will find a new item titled, Call phone. Click that and a dial pad like the one below pops up.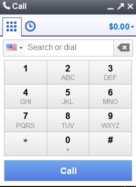 I used this new feature today for a business call. I knew I was taking some chances, but figured it would be a good way to run it through the paces. The person I called asked what the load noise was that he heard while answering the phone. I didn't hear it, but I assume it was some type of audio setup glitch. A few minutes later he mentioned that he heard a little bit of echo. I plugged headphones in and he said the echo went away.
There seemed to be a faint buzz on the call, but after a few minutes I stopped noticing it. At one point during the call the audio stuttered for a few seconds, but that may have been a processing problem on my end.  For the most part, the call worked fine and since cell phones have done such a good job of lowering expectations when it come to call quality, I was pretty pleased with the experience.
If you have a Google voice account, this feature is tied to it. This allows you to retrieve your Google voice call history and your Google voice number is sent as the Caller ID. If you don't have a Google voice account, the feature still works fine. In my testing it sent a 760 area code number as the caller ID.
All in all it is a pretty cool feature, but since it currently works only on a PC, I will most likely just keep using Skype from my iPhone.
---
August 23, 2010 10:06 PM
We all know that virtual computing is all the rage lately. I have been using virtual computing in one form or another for over 10 years now. The concept makes since especially with today's powerful servers. There are many reasons that visualization is attracting more customers. For me, one big draw is that I can use a virtual system to test new software before loading it on a production box. Occasionally, I find a piece of software that I want to test when I am on the road and don't have access to my Virtual server. That's when Sandboxie comes in handy.
Sandboxie is a small program that installs on a Windows PC and allows you to run programs within a isolated space. This allows you to run a program and prevent it from interacting with other software on your system. In addition to using Sandboxie to run untested software, you can also launch a web browser within it. This allows you to surf the web within a secure environment which can help prevent malware from infecting your system should you stumble across a malicious site.
So next time you are about ready to download and install a piece of questionable freeware, do yourself a favor and download Sandboxie first. Then you can feel a little safer while you test the software and decide if it is really something you should load on your system.
---
August 18, 2010 8:50 PM
Next time you are on Facebook, you should try the new video chat feature. The video service, called 6Rounds, has brought its service to Facebook and changed their name while they were at it. Now it is simply called Rounds. 6Rounds offered an extension for Google Wave and now that Wave has ended its short life, the service needs a new home and what better place than Facebook?
Rounds offers more than you would expect. First off, it allows live video chat without having to download and install any software. If you have ever tried to walk your parents or grandparents though installing video streaming software so they can see live video of the grandchildren, I am sure you can appreciate this. But it doesn't stop there. While you are chatting, you can bring up a YouTube video or Google map within the session for both parties to view. If watching videos and chatting aren't enough for you, you can also fire up a game that you can play together.
The service offers other little features that are more fun when you discover them on your own, so I'm not going to spoil that for you. Head over to Facebook and start a Rounds video chat to see for yourself (yes, the pun was intended).
---
August 12, 2010 7:54 PM
I love my iPhone. It does pretty much anything I need from such a device. The only thing I missed was the fact that ATT didn't allow you to tether it to your PC for the longest time. They now allow you to do it but you have to pay an extra $30 a month and select a data plan that is not unlimited. I didn't want to let go of my unlimited data plan so I had to pass on the tethering option as well.
There are other options out there. I could always jailbreak my phone and use one of the non-approved apps that let you tether. I really am not opposed the jailbreaking, I just didn't take that path. I decided to take a hard look at the times I had needed to be able to tether and determine if I could find an alternate solution. It basically came down to three situations. The first is when I need to transfer files to and from an FTP server. The second was when I need to download a program I needed to install on my PC. The final situation is when I need to email a document to a co-worker. With my needs firmly in mind, I headed to the app store to see what I could come up with. Here's what I found.
The first app is FTPOnTheGo ($6.99). It is an FTP client that allows me to connect to most FTP servers and transfer files. If I need to transfer a file from my PC I can copy it to the iPhone via iTunes. It also allows me to copy anything I download to my PC using the same method.
The second app is called iDownload ($2.99). It allows me to download files to my iPhone from a website. Once downloaded I can transfer the files to my PC via iTunes.
The third app I already had I my iPhone. DocsToGo ($14.99) allows me to email documents. This is only a small part of what this app does. It also allows you to create and edit Word, Excel and PowerPoint files. Just as the other two apps do this one also allows you to transfer files to and from a PC via iTunes.
With these three apps I am able to complete pretty much any task that I would have used tethering for and all total they cost less than one month of tethering.
---
August 9, 2010 9:50 AM
If you didn't happen to find yourself in Las Vegas at the end of June, you probably didn't attend Cisco Live. Cisco Live is the yearly conference that Cisco holds to showcase its products. During this conference there are multiple technical sessions that attendees can attend. They cover pretty much all of the technologies that Cisco is involved in. These sessions are great, well they are great for the people who are actually lucky enough to make it to the conference. But don't get too depressed if you weren't able to make it to the conference. Cisco hasn't forgot about you and has arranged for you to attend some of the sessions offered during the conference. Not only that, but they want you to attend these so badly that they aren't even going to charge you, that is unless you want more.
Cisco has posted a number of the sessions for free on what they call Cisco Live and networkers virtual. There are three three types of access you can get. The first is free. This gives you access to over 30 technical sessions. They cover a wide range of topics and should give you a good idea of the content that is available with the Premier access. Premier access is going to set you back $395.00, which may seem like a lot until you start to compare that to the cost of going to the conference in person. It seems more affordable when you realize that $395 is less that a single day of Cisco training at a Cisco training center. With Premier access, you can access any and all of the sessions that they have posted online. If you find that there are only one of two sessions that aren't part of the free session but you really want to have, you can always go with the third option, and that is the a la carte access. This allows you to purchase individual sessions at $45 a pop.
Even if you have no intention of buying either of the fee based plans, head over there and check out the free sessions. In today's knowledge based economy, passing up free training is like walking pass a $10 bill laying on the street and not bothering to pick it up.
---
August 5, 2010 9:28 PM
A while back I was helping my sister move her files to a new computer. Her old computer had Microsoft Works on it, and she had used it to store her recipes. The new system only had Word which cannot open Works files. This meant I needed to convert all of the Works files to Word format. This was one of the many times I was glad I had stumbled upon Zamzar a few years ago.
Zamzar is a very simple website that does one thing, but does it very well. It converts files from one format to another. Not just Works to Word format, but pretty much any of the common (and not so common) file formats that you may run into. The site can handle six types of format categories which are image, doc (text), music, video, ebooks, and compressed files.
To use the service simply upload the file (the free version of this service is limited to 100MB per file). Next you select the file format you want to convert the file to. Enter your email address; this is needed in order to retrieve the converted file. Now, simply click Convert. You will receive an email that contains a link to the converted file once the conversion is complete. The amount of time it takes for the conversion to complete will vary. In my experience, the files are normally completed within five minutes, but larger files may take longer.
---
July 31, 2010 5:31 PM
In the last post I talked about the $150 Android tablet (Angen Gentouch) that Kmart is selling but isn't in stock anywhere. Well, as fate would have it, I got lucky and got my hands on one. As promised in the last post, below is my review of this product.
First, I want to make sure we are all clear on what this device is. It is a $150 Android tablet. Let me say that again a ONE HUNDRED and FIFTY dollar tablet. I feel I need to shout that because some are bashing this device without taking into account the price. You really can't expect much in a tablet that is so cheap. Now that we have set expectations a little, let's look at how this thing fared.
Overall I was surprised by the device, some of the surprises were good and some were not so good. I have reviewed each component of the device separately and have offered a  rating for each component. You need to understand that this rating is based on what I hoped for from the device. It is completely subjective and only rates my satisfaction with the product. 10 does not mean perfect, it means "all that I had hoped for."
Display
The display is adequate. The text is completely readable and it does an OK job with video. The bulk of the video I watched so far is from YouTube and it did a very nice job of delivering that. There were no audio syncing problems and the video was pretty smooth. I would give the display a 7 out of 10.
Processor (Speed)
They claim the processor runs at 800 mghz and, from what I can tell, that seems about right. It takes about 50 seconds for the system to boot. Once booted, it sometimes lags as I would expect. The lag is not bad and I am not sure if it is always caused by the processor or the fact that the touch screen did not except the input. It surfs that web at a completely acceptable speed. As I said before, it had no problems downloading and playing YouTube videos. I'll give it an 8, but I may be a bit generous.
TouchScreen
First off, I am used to the extremely responsive iPhone and iPad touch screen. The touch screen on this device is disappointing. I first tried to use just my fingers and was constantly having trouble pressing the screen so it would respond as I desired. Once I started using the included stylus things got better, but I still have to give the touch screen a 4 out of 10.
Apps Installation
It comes with a number of apps loaded and that's a good thing because presently you can't install Apps from the Android Market Place. It seems to work, but never downloads the file. The company says they are aware of the problem and will be releasing a patch within 48 hours – that was over 4 days ago. You can still load apps if you can get your hands on the .apk file. If you can copy the .apk file to the SD card, you can run the installation from there. All of the programs I have tried to load that way worked just fine. However, until they fix the market place problem, I have to give this a 2 out of 10 when it come to the installation of apps.
Battery
I can't give any definitive numbers but, based on my usage, I am guessing you will get about 2 hours of battery life which earns itself a 4 out of 10.
Bottom Line
Should you buy one? To be honest I am still not sure I am going to keep the one I have, but the more I use it the more I think I will. It has a lot to do with what you want/expect it to do for you. If you are looking for something that will take the place of a netbook or iPad, you may want to pass. However, if you are looking to be able to do some light web surfing, check email, and play a few games, then this might just do the trick for you. For me, it makes the perfect device to have ready on the coffee table for those times that I want to surf while watching TV and my wife has the iPad.
---
July 29, 2010 7:43 PM
I have a feeling if I were to ask you what manufacturer was going to come up with an iPad killer, you wouldn't say Augen. As a matter of fact, you are probably saying who the heck is Augen? Even though most of us have never heard of this company, they are causing somewhat of a stir in some corner of the Internet.
Let me start at the beginning. Sunday morning I was eating breakfast and going trough the Sunday ads like I do most every Sunday. The Kmart ad finally made its way to the top of the pile and on the front page I see they have a 7 inch Augen tablet on sale for under $150.00. I read the brief description and it says it runs on Android. I have been waiting to get my hands on an Android device for awhile, so I figured this might be a low cost way to check it out. I didn't expect much as I had never heard of Augen and, on top of that, it is being sold at Kmart. Not the first place you think of when you are looking for tech items. So, I headed out to pick one up and that's when things started to get interesting.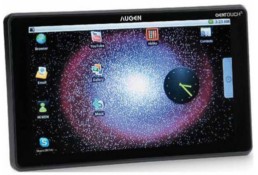 I guess lots of people went to pick one up. The problem was that Kmart never received their shipment. This started the wheels turning on the web. All of the sudden this device that, had it been in stock may have been written off as a little known, little desired device, all of the sudden became a mystery. Threads about this device started showing up on forums, blogs started to get posted, and the mystery grew. To add to the mystery, if you went to Augen's website, the only thing it said about this device was, "Coming Soon." Since then, the web page has been updated and you can get some the details on the device.
I can't help but wonder if this was all planned to create interest in a device that may normally not gotten much or was just a typical supply chain screw up? I don't really know, but it seems that the fact that Kmart didn't have the device in stock may end up to help them sell more than if they had. That, of course, is assuming they ever get them in stock. I have my rain check, and I am checking back every few days. If I get one, I will be sure to share the rest of the story with you.
If anyone out there happened to get their hands on one of these, leave a comment and give us some details or, if anyone tried to find one and couldn't, let us hear your story.
---