Dec 24 2009 9:49PM GMT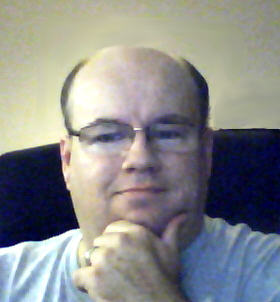 Profile: Dave Bateman
In the last post we discussed that the Cisco Meet-Me conferences lack the ability to announce the name of the caller and allow the caller to be rejected from joining the conference. In this article we are going to start looking at the steps required to add these features to a Meet-me conference by leveraging Unity.
Warning: To implement this feature, the Class of Control has to be modified. If this is done incorrectly, you could cause calls to fail including emergency calls. If you do not have the proper training and are not qualified to make these types of changes DO NOT proceed.
The key to this trick is that callers join the Meet-Me conference through a Unity auto attendant. This way we can use Unity's supervised transfer feature to record the caller's name and confirm that we want the person to join the conference. So the first thing we need to do is make sure that callers cannot directly join the Meet-Me conference. This is pretty simple: just place the Meet-Me number in a partition that callers do not have access to. However, in order to start the Meet-Me conference, that initiator must have access to the Meet-Me number. This means you will need to make sure that the calling search space for anyone that is going to start a conference has access to the partition that the Meet-Me number is in. I typically recommend that the partition is named MeetMe_PT.
The following steps show how to create a Meet-Me number and assign it to the MeetMe_PT. Keep in mind that it is assumed that the MeetMe_PT already exists.
1. Within CM Administration navigate to Call Routing>MeetMe Number/Pattern.
2. Select Add New.
3. Enter the desired Meet-Me number in the Directory Number/Pattern field.
4. Enter the Description.
5. Select MeetMe_PT from the Partition drop down list (Figure 1).
6. Click Save.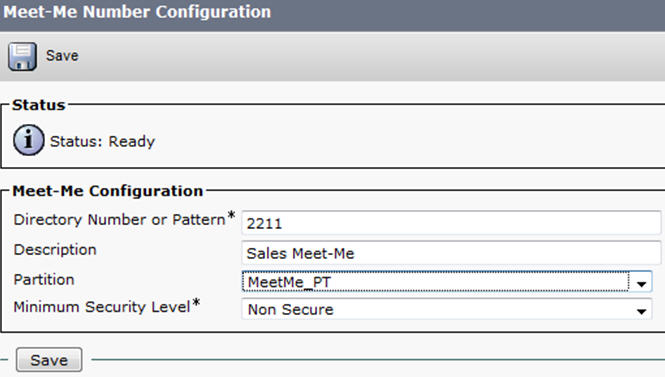 Figure 1
In the next post we will look at how to configure it so that Unity can access the MeetMe_PT partition.