---
January 24, 2012 8:34 PM
The recent pullbacks of the two controversial anti-online piracy bills — SOPA and PIPA — don't mean that users can continue indefinitely to download their favorite content whenever and wherever they are. But they also don't mean that copyright-conscious content firms will be getting every penny and page view coming to them.
Proponents of tough anti-piracy laws will be back with more specific language about what defines a site that hosts online content and which punishments will be enforced for sites that host content "illegally." Once that is settled, content providers can begin focusing on true pirates, not everyone who might have a rogue video posted on their server.
Assuming that eventually happens, the big issue seems to be users' desire for online content and what they are willing to give up for it, whether it is a credit card or personal information or risk being able to download it at all.
While these fights are going on, lawmakers for the European Union are attacking another hazard of online life: privacy. EU officials are proposing privacy protections for data and individuals that are even more strict than existing EU laws. Opponents of these proposals say such stringent measures will hurt business and innovation.
I think it is interesting that the U.S.-based businesses (primarily entertainment firms) behind SOPA and PIPA are a lot more concerned about prohibiting unauthorized access to content than they are about protecting the privacy of their customers, whose data are mined by the terabyte every day in order to find more ways to get them to view all of that content.
What users should be fighting for is for more control over their online lives, and that means tougher privacy laws.
What do you think?
January 24, 2012 4:48 PM
Each week, we scour the World Wide Web to give you a quick punch of last week's biggest news stories and interesting blog posts. This week, we're taking a look at whether computer science should be mandatory education, the new Wi-Fi coverage in the London Underground, and two very creative data center solutions that conserve energy and allow for more choices in data center build sites.
---
January 20, 2012 3:53 PM
Research in Motion (RIM) must feel like the belle of the ball this week, especially after a year of major foibles, like the big BlackBerry outage. After Boy Genius Report mentioned that Samsung might be looking to purchase the BlackBerry developer, RIM's stock price jumped by 9%. There have been whispers of Microsoft sniffing around RIM as well.
While some BlackBerry Messenger users would rather cut off an arm than put down their beloved CrackBerrys, this rumbling about who will buy RIM seems a little irrelevant among the other smartphones' features available today. I'm about to horrify BlackBerry users, but sorry, guys, BlackBerry apps just can't even come close to what's out there for iPhones and Androids. I understand that using a BlackBerry is akin to taking your grandpa's Cadillac cruiser out for a spin. It has a certain flair, but wouldn't you really rather sport something a little — I don't know — fresher?
RIM has stated that the BlackBerry's software — BlackBerry OS 10 — will be released at the end of 2012 to new hardware. In smartphone years, that's a product lifecycle away. Heck, we might even have the iPhone 5 by then. RIM will need more than a BlackBerry software upgrade if it wants to keep a foot in the game.
"If Samsung (or any other Android partner) were to integrate RIM's enterprise services, like BlackBerry Messenger, into their offering, they would achieve instant differentiation in the increasingly monochrome Android space.  Not to mention gaining a brand which, despite its recent misfortune, still enjoys a loyal following and has seen recent gains in developing markets globally," said Craig Cartier, a Frost & Sullivan analyst.
As I've said in the past, I'm an unabashed Applephile, so you can probably guess that I'm not using a BlackBerry. But I would definitely agree with Andy Patrizio that this is make-or-break time for RIM.
Let's hear from the BlackBerry users in the group: Are you worried about losing your precious BlackBerry to the likes of Samsung or Microsoft? Am I being too hard on BlackBerry for its lackluster smartphone featuers? Do you think a buyout will change RIM's strategy or commitment to quality?
The comments are waiting to hear from you.
---
January 16, 2012 10:25 AM
Recently, I was with my son to open an account at the local branch of my once mighty but now struggling Mega Bank. The customer service rep ran through the "product" options we had for creating his account and linking it to our main accounts. This product was free but required a minimum balance, or this product didn't require a minimum balance but was not free. And so on.
These products used to be called services back in the day, when banks made enough money on their own investments that they didn't have to wring every last nickel out of their customers in order to stay solvent.
But since when did banks ever really "get it?" Their latest foray into the real world is with Twitter. I'm not sure about you, but banking and health care are the two areas where customers should avoid communicating through Twitter. Data privacy and effective communication would be the first reasons to avoid it. As it turns out, a research firm recently looked at banks on Twitter and concluded that the social media platform is not a good tool for customer service.
One comment on the New York Times story summed it up best: "Or, perhaps banks just struggle to help customers. Scripted responses, failure to listen and trouble getting customers to the right people to help them are all standard when dealing with banks — face-to-face, phone, email, website — Twitter is just the newest arena for failure."
---
January 13, 2012 8:43 AM
It's a very special time of the year and no, it's not just Girl Scout cookie season. We just completed our annual poll on IT salary satisfaction. Being kind of a data junkie, I've dived into our readers' responses with gusto and have been delighted in reading them. You've been painting quite the compelling picture about your support of strategic innovations.
We asked how much time in a given month is being spent on strategic innovations such as business and IT integration, long-term planning, and IT product and services development. The majority of midmarket CIOs and senior IT executives reported spending only 10% to 25% of their time on those crucial activities. Only 20% of our midmarket respondents spend more than 50% of their time doing strategic planning.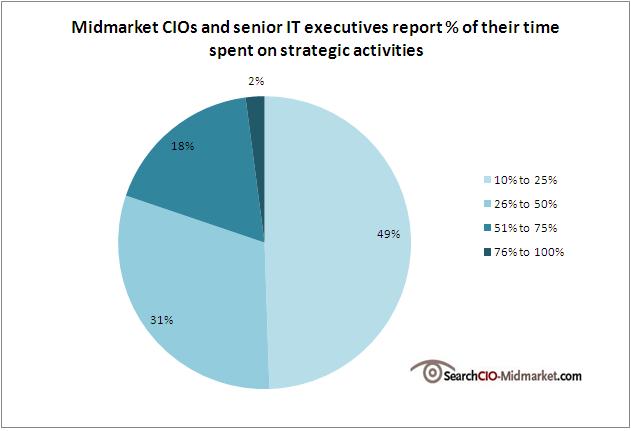 It begs the question: What exactly is filling your days? The biggest challenge for most CIOs is in becoming a trusted partner with the rest of the senior leadership team. This statistic seems to reflect that CIOs and senior IT executives are still struggling to build those relationships and set themselves as valued partners in steering the company toward profits.
What's the secret? One of our survey respondents, Chadd D. Carr, CIO at Advanced Concepts Research Group in Gainesville, Va., had an interesting take on the ideal strategic relationship. "Perhaps the most important is the support and commitment from leadership. Operating within a technology-aware organization allows me to forgo the usual hurdles relative to aligning IT spending with the organization's business objectives, and focus in on securing and enabling the IS needed to sustain strategic advantages."
So, what are CIOs and senior IT execs spending time on? Boring, guts-no-glory activities like project management. By far, our midmarket respondents spent more time managing projects in 2011 than they did in 2010. Budget crunches and shrinking IT staff caused senior IT leaders to roll up their sleeves and get their hands into the mix.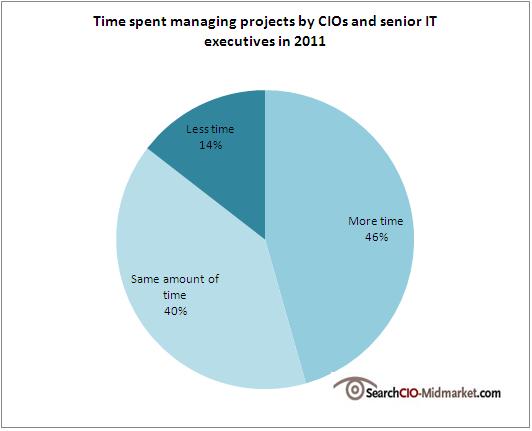 But this trend could have disastrous results for the IT talent pool. "I think many of the CIOs have been asked by their executive management teams to carry a disproportionate share of the burden in these lean times. In support of keeping their organizations afloat, many CIOs have been asking their staffs and themselves to do more with less and for less money. Most have done a fantastic job for an extended period of time. If they believe that when the economy picks up, their own organizations will not 'make them whole,' it seems highly likely they will move on to an organization that will provide better opportunities for personal and professional fulfillment," remarked Ken Desforges, director of information services for the city of Diamond Bar, Calif.
Desforges' predictions are supported by our CIO/IT Strategy Group poll on IT salary satisfaction. Many of our respondents reported being excited and driven by their role in strategic innovations, indicating that strategic innovations play a big part in their job satisfaction.
Over the next few weeks, we'll be sharing the data on SearchCIO-Midmarket.com and our sister site SearchCIO.com, and some of the findings will surprise you. Don't miss Editorial Director Scot Petersen's discussion about IT job satisfaction between midmarket senior IT executives and midlevel IT directors.
---
January 10, 2012 4:47 PM
A question for all of you midlevel IT managers and directors out there: What's got you down? According to new data from the CIO/IT Strategy Group poll on IT salary satisfaction, your subgroup in midmarket-size companies is the least satisfied with compensation.
Almost 31% of you were "somewhat dissatisfied" with your compensation — the largest slice of the pie (see charts). "Satisfied" was the next group, at almost 26%. "Not at all satisfied" came in just under 10%. So, more than 40% of you are not happy with your pay. The question is, are you just not getting enough money or are you working too hard for the money that you do get?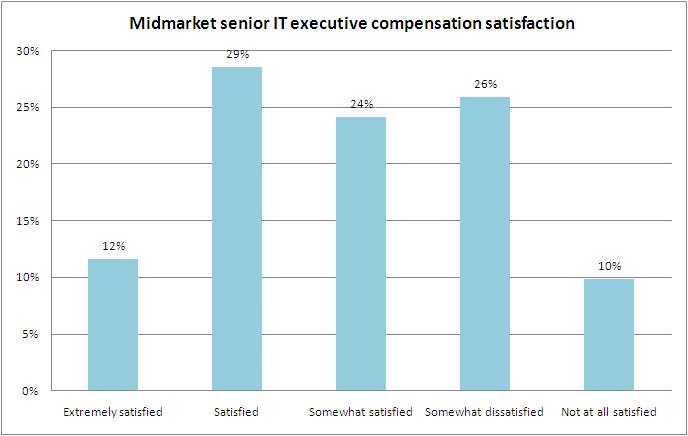 Senior IT executives in the midmarket are not much happier. More senior IT respondents are "satisfied" or "somewhat satisfied" (53%)  compared with their direct reports (45%), though 26% still say they are "somewhat dissatisfied" — which is the second highest count.
Midlevel counterparts at large enterprise and small business register as a little more satisfied with their salary than midmarket directors. What to make of all this? It could be a kind of middle child syndrome. Because you really are in the middle of the middle-sized companies. Enterprises get all the money, but perhaps small business directors are more satisfied because they have more control over their jobs.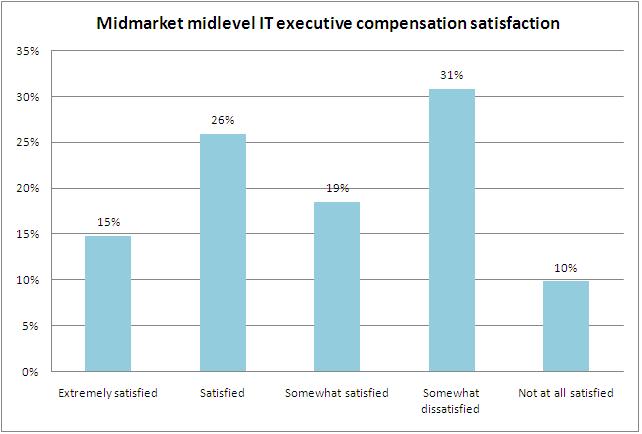 There's a lot of data to discuss. Read more about it in our reports coming out starting next week. In the meantime, if you have any thoughts to share, please email me at spetersen@techtarget.com.
---
January 9, 2012 9:08 AM
Welcome to Q1 and the year of big data. Now that you're back in the saddle after a rousing holiday season, we've primed the well with our weekly dose of news from around the blogosphere, including the scoop on new releases of Linux and Hadoop, who exactly is still using Internet Explorer 6.0, and opinions on whether big data analytics give you the biggest bang for your strategy buck.
---
January 6, 2012 3:27 PM
I'm starting to feel like the girl who cried wolf about social media policies, but in at least one instance, the wolf has indeed attacked, in the form of a patient's medical records being shared on a Facebook wall.
A medical health center employee allegedly posted a photo of a female patient's medical record that included the patient's name and date of admission. The employee of Providence Holy Cross Medical Center in Santa Clarita, Calif., also allegedly accompanied the photo with commentary on the patient's sexual health concerns in his Facebook wall. When questioned about it, the employee is reported as defending his posting, indicating that the name was not identifiable and saying "It's just Facebook. … Not reality."
This is nothing new. Last year, a little over 100 miles down the 405 from Santa Clarita, five Oceanside, Calif., nurses were fired for discussing patient cases on Facebook. There have been numerous slips and ill-advised social media gaffes that have ended up in terminations, akin to reputation-fouling personal attacks.
Obviously, for Health Insurance Portability and Accountability Act-regulated industries, this is an absolute nightmare, but it should serve as a warning for all CIOs across verticals. It's disturbing that this employee earnestly believes that information shared on social media doesn't count somehow. It is absolutely within the rights of an employer to protect its own reputation, including taking action to cease the relationship with individuals who initiate public speech that is harmful to the organization. It all comes down to communication, though. When was the last time you updated your social media policies? What's more, do you require that each and every employee reads and signs your social media policies on a scheduled basis?
Unfortunately, much of what the public understands about the U.S. Constitution comes from Hollywood — they mistakenly believe that they have guaranteed free speech as some kind of Teflon-coated protection from all things. I suspect that the misguided Facebook poster at Providence Holy Cross didn't understand that it only means he won't go to prison, but his continued employment is totally on the table.  It's not certain whether his employer has its social media policies locked and loaded, but I'd be willing to bet that it will after this incident.
Sadly, it won't be in time to stop the patient's privacy from being violated.
---
January 3, 2012 9:55 PM
I got a kick out of SearchHealthIT.com's 2012 technology trends not to watch. Since the site launched in late 2009, it has written extensively about electronic medical records, personal health records and a few others. Now, it seems, many of these trends are showing signs of slowing growth.
Victims of hype? No. More likely, victims of expectations that were set too high for very complex technology initiatives. In the world of the CIO, we see this all the time. So in that spirit, here are a couple of trends I think will retreat in 2012.
Bring your own device (BYOD). This will be the year of BYOD backlash. Certainly, many companies are already allowing employees to use their own iPads, etc., for day-to-day work. But I sense that there will be some more serious thought put behind it this year. For one thing, companies may be all for iPads but will start to buy them and hand them out as company issue. Kind of takes the fun out of it, doesn't it? Likewise, a good percentage of IT or security managers will revolt outright and ban the use of outside devices or make users register their own so usage can be monitored.
Big data. Raise your hand if you are sick of hearing about big data. Just remember that you cannot buy "big data" products, as much as vendors would like you to know they are the big data source. Big data is not even a set of technologies; it more closely resembles a strategy toward business intelligence. Watch this space this year for more information about how to create a BI strategy that can embrace all the data you have at your disposal. Until then, consider the benefits of "small data."
---
December 22, 2011 4:26 PM
People often ask us how to become a CIO. Happily, our expert Scott Lowe has offered to detail exactly the path he took — and the many steps required — to become a CIO:
This month's topic here at SearchCIO-Midmarket.com is career management. It happens to overlap with what has become a period of significant change in my own career path. Recently, I left my CIO role and this week, I shared with you the lessons I learned along the way. Here's my story of the steps I took to become a CIO and the experiences that supported my CIO career.
In 1994, I had just completed two years at a community college as a computer science major and had planned to transfer to a four-year institution to complete a Bachelor of Science degree. However, at the urging of my father, I applied for a job with a title of telecommunications technician for a New York state agency charged with supporting the efforts of K-12 school districts. I quickly grew to love what I was doing and made the decision to forgo — for a time — that computer science degree. I discovered that the job title was a bit misleading, as I was responsible for designing both voice and data networks, managing servers, developing and maintaining complex databases and directly supporting users. It was certainly a "jack of all trades" kind of job. I learned that I liked being a generalist.
During this period of time, I set a personal goal to become an IT director by the age of 35. It was sort of an arbitrary deadline but seemed reasonable. Four years later, I moved to my next job, where I managed the systems and network and services department for a college. Here, I got my first real taste of management and worked for someone that was willing to help me develop in this space.
Bear in mind that I was 24 years old; now, at the ripe "old" age of 38, I can say that I was a kid and I did what many kids of the male variety do … I followed a girl. I moved to the Washington, D.C., area. The girl is now history, but what I gained in that transition has been incredible. This was during the dot-com days, so moving around was more accepted. My first job in D.C. was not a good fit; I was bored, and it showed. After less than a year, I moved to a financial services firm on a contract basis, where I learned the ins and outs of working in a large-scale hosted environment. Although I've worked primarily in small settings, this "big shop" mentality really helped me build robust environments later.
By the time the contract was over, I had secured my first senior IT management position for a nonprofit association. I managed a team of two. We spent the next two-and-a-half years building custom content management systems for state agencies and creating communication solutions for the association membership.
My goal was to become an IT director at 35, but sheer luck helped me make it happen seven years sooner.
I also got married. My wife and I had our son in December of 2003. Although I'd been through a number of job changes and had moved a lot, having a child was, by far, the most impactful event of my life. We did it again in February of 2005, when our daughter was born. Why do I include these events? Because these life events have had more of an impact on my career than all of the planning in the world ever could! I mean that in the most positive way possible; my wife and kids are the most important things in my life.
My wife made the decision that she wanted to stay home with our children. Living in the D.C. area on one salary was simply not an option. Since I loved working in higher education, I chose an IT director position at a small private college in upstate New York, just 30 miles from my hometown. I learned how to manage a larger team of 15, to delegate better, undertake larger projects and work across a larger organization. I made another move to a CIO position for a small, private college in Missouri in 2006. Although a small organization, the work was more complex and I engaged with the organization in a much deeper way, managing technology and undertaking and leading major, non-IT focused organization-wide projects.
Unfortunately, as is often the case, financial challenges and crises in leadership reared their heads in the organization. For the first time in my career, I felt "burned out."
My stress level was off the charts. I realized that, with that state of mind, I was about to become a CIO who wasn't helpful to the organization or to my team. I saw no light at the end of the tunnel and felt that it was no longer possible to achieve my goals at work. The organization needed someone that could better meld with the emerging culture, and that wasn't me. It was time to go. Luckily, I've built a solid history as a consultant, trainer and writer, which can sustain my family while I decide on my next CIO role. — Scott Lowe
---