---
December 2, 2016 5:13 PM
This week, Cyber Monday sales hit a new record with consumers spending $3.4 billion on online shopping. In Searchlight, Senior Executive Editor Linda Tucci spoke with research analysts to find out how digital savvy "omnishoppers" are transforming the U.S. e-commerce scenario and what that means for IT leaders.
In this opinion piece, Brown University's Sandra Smith highlights the key skills that technology professionals must develop to become "high impact" business leaders.
O.C. Tanner CTO Niel Nickolaisen offers a strategy for IT organizations that can help prevent them from getting crushed by legacy systems and the pace of technology change.
At the recent Gartner Symposium in Orlando, SeacrchCIO caught up with Otto Berkes, CTO at CA Technologies and former CTO at HBO. In this video, Berkes emphasizes the need for setting attainable goals and focusing on innovation to aid digital transformation.
The December issue of our CIO Decisions e-zine is out! Read about why more companies are using AR and VR technologies and what impact these emerging technologies can have on digital business management. Also in this issue: MIT Media Lab's Moral Machine project and Oral Roberts University CIO offers pointers on how IT can overcome the "IKEA effect".
In this four-part webcast series, mobility consultant Bob Egan explains the impact of mobile technology on business operations, the benefits of investing in mobile security, how to establish a mobile security framework and why businesses should make mobile security and mobile information management a top investment priority.
Donald Trump winning the U.S. presidential election raised questions about how opinion polls are conducted. Features Writer Jason Sparapani sat down with Harvard political scientist Gary King to find out what pollsters can do to improve future election predictions.
Over on Total CIO, Sparapani spoke with King to find out why stable voters matter more than opinion polls when it comes to elections and why organizations should exercise caution when shopping for survey research outfits.
Senior Executive Editor Linda Tucci reports from the 14th annual MIT Sloan CFO Summit, where the CFOs at Blue Apron and Redfin provided pointers about how to deal with the startup mindset.
Also from MIT Sloan CFO Summit: Senior News Writer Nicole Laskowski writes about the differences between the  "consumer internet" and the "industrial internet," as highlighted by Jeffrey Bornstein, SVP and CFO at General Electric Company, at the event.
At this week's CTO Summit in San Francisco, Calif., Xavi Cortadellas, head of innovation at Gatorade, talked about what steps the company has taken to adapt to digitization.
At the recent ISSA International Conference in Dallas, SearchCompliance Senior Site Editor Ben Cole met with Delta Risk's Stephanie Ewing-Ottmers and Chris Evans. In this video from our SearchCompliance site, Ewing-Ottmers and Evans offer their advice on infosec training best practices to help protect business data.
Want to protect your organization's sensitive data from threat actors? A panel of CFOs at the recent MIT Sloan CFO Summit highlighted how hiring a CISO and implementing network segmentation can help.
In this GRC news roundup, read about how a Trump presidency could affect compliance; the recent ransomware attack on the San Francisco Municipal Transportation Authority and how "dronejacking" may be the next big cyber threat.
Please follow @SearchCIO, @SearchCIOSMB and @ITCompliance to get updates on new stories throughout the week.
December 1, 2016 11:41 AM
Digital transformation
,
Digitization
,
innovation
If a 50-year-old sports drink company can embrace technology-driven innovation, you can too.
At this week's CTO Summit in San Francisco, Calif., Xavi Cortadellas, head of innovation at Gatorade, discussed how the company is adapting to digitization by expanding its reach and shifting its focus from solving a sports drink problem to solving an athlete problem.
"From a science point of view, there was nothing really to be done with the product … so, we needed to start with a clear approach that would help us evolve the brand for the next 50 years," Cortadellas said.
Gatorade's innovation strategy centers around the development of its new digital platform, Gx, that is using technology to deliver mass personalization to athletes and fulfill their individual hydration needs.
Described by the company as a real-time hydration platform, Gx provides instant feedback on hydration level, fluid intake and fluid balance. It does this by using a sensor-filled "Digital Sweat Patch" to monitor fluid and salt levels and a smart cap bottle that gives visual feedback on fluid intake. Gx also offers different drink formulas depending on the individual's hydration needs.
Athletes can receive real-time hydration reminders on their mobile devices before and after a sporting event. The real-time data collected from the platform can then be analyzed on a smart device to discover trends and figure out how an athlete can perform better on the field.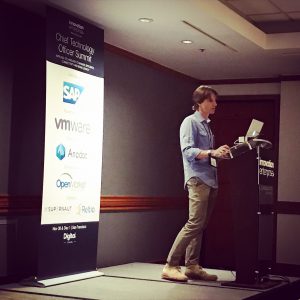 Launching online to consumers in 2017, Gx basically gives Gatorade a foothold in ecommerce, Cortadellas noted, which opens up a massive potential revenue stream and redefines the company's relationship with customers.
The sports industry is one example of the increasing need for personalization and customization in today's digital, customer-first world, but this trend is not new. Every industry is experiencing this shift.
Gatorade just found a way to change with the times.
Cortadellas admits that bringing technology-driven innovation to a product-based, traditional retailer  has been a challenge, but the key, according to him, is recognizing that — no matter what industry you're in — technology-driven innovation needs to be personal and meaningful for the user.
One more pointer: Not everything needs a boost from innovation-driven technology, Cortadellas said. Small pilot and testing programs help you determine where technology can help bring business and customer value — and where it's not needed.
---
November 23, 2016 4:09 PM
In a surprising turn of events, Microsoft has announced its plans to join The Linux Foundation, despite the companies' less-than-friendly repertoire over the years. Senior Site Editor John Moore explores what this means for open source technology and CIOs.
At the recent SIM Boston Summit, SearchCIO caught up with two IT leaders to get their take on pertinent CIO topics. In the first video interview, Mikhail Papovsky, CEO at management consulting firm Abraic Inc., details the top challenges facing today's CIOs. Then, Bhavani Amirthalingam, VP of information technology and business transformation at energy management company Schneider Electric, discusses developing an IoT business plan that works for IT and the business.
Perkins School for the Blind is working towards a more accessible future by taking advantage of cloud computing. Features Writer Jason Sparapani explores how cloud factors into the delivery of bus stop information to people with visual impairment and where the school plans to go from there.
There's a new CIO at Facebook — Atish Banerjea, who joined the social media company last month. Martha Heller, CIO recruiter and president at Heller Search Associates, explains why he's a good choice.
At the SIMposium conference in Connecticut, executive coach Michelle Lederman delved into three leadership tenets of the relationship-driven executive. Here, Assistant Editor Mekhala Roy details those tenants and the importance of overcoming the bad-boss syndrome.
Also from SIMposium: The massive DDoS attack on domain name server provider Dyn is the latest example of just how much damage can be caused from IoT-related attacks. In this IT Compliance Advisor blog post, read how that attack — and others — is a wake-up call for IT professionals to up the ante on IoT security.
Please follow @SearchCIO, @SearchCIOSMB and @ITCompliance for our new stories throughout the week.
---
November 18, 2016 6:08 PM
This week, SearchCIO was at the MIT CFO Summit. In Searchlight, Associate Site Editor Brian Holak writes about General Electric Company SVP and CFO Jeff Bornstein's advice on how embracing change helps build successful business leaders. Also in Searchlight: Facebook and Google ban fake news; Samsung to acquire Harman International Industries.
MIT Media Lab's Scalable Cooperation Group is working on a project titled Moral Machine, a crowdsourcing platform that aims to get people talking about machine ethics. Senior News Write Nicole Laskowski talked with Edmond Awad and Sohan Dsouza, research assistants who developed the site in June, to find out more about the project.
In this Q&A, academic, author and analytics expert Tom Davenport briefs CIOs on how to get started on artificial intelligence, the technology that topped Gartner's list of top 10 technology trends for 2017.
Contributor Mary K. Pratt talked to Brad Hardin, global CTO of construction and engineering company Black & Veatch, to find out how the company deployed Microsoft HoloLens to bridge the geographical gap between its employees and job sites spread across the world.
Todd Kimbriel, State of Texas CIO, knows that legacy IT systems can be a barrier to innovation, but 58% of the State's 4,130 business applications are legacy systems. Pratt talked to Kimbriel to learn about his game plan for remedying the situation.
In our updated Essential Guide on IT metrics, learn about the need for a "metrics-driven pipeline" for developers, ways to measure cloud ROI and tips to overcome cloud performance issues.
In this GRC news roundup on our SearchCompliance site, read about the future of Dodd-Frank compliance regulations and how tech companies like Twitter, Facebook and Google are urging President-elect Trump to back encryption and cut down on online government surveillance.
Please follow @SearchCIO, @SearchCIOSMB and @ITCompliance to get updates on new stories throughout the week.
---
November 12, 2016 9:12 AM
This week, the news of Donald Trump winning the U.S. presidential election made headlines. In Searchlight, Features Writer Jason Sparapani talks to experts to find out whether Trump's unexpected win signals the defeat of big data and analytics. Also in Searchlight: Yahoo hack could kill deal with Verizon and WhatsApp launches two-step verification for beta users.
At the recent Gartner Symposium in Orlando, Fla., SearchCIO staff wasn't just taking notes about Gartner's technology predictions for 2017. In this Symposium roundup, we highlight snapshots from our Instagram posts during the event and brief about the major themes, predictions and sessions.
At the Cambridge Cyber Summit last month, experts talked about the evolving nature of cyber threats and highlighted insider threats as a growing cyber concern for organizations. Over on our SearchCompliance site, read about the steps that an organization should adopt to thwart such threats.
Please follow @SearchCIO, @SearchCIOSMB and @ITCompliance to get updates on new stories throughout the week.
---
November 7, 2016 11:04 AM
Here's what you missed last week on SearchCIO and SearchCompliance:
Microsoft Teams is poised to take on Slack. What does that say about the nature of work and the future of messaging in enterprise terms? In this week's Searchlight column, Executive Editor Linda Tucci explores those questions and digs into the topic of enterprise collaboration. Also in Searchlight: CenturyLink's $34 billion deal; Google's official rejection of EU antitrust charges.
This year's SIMposium conference in Connecticut was loaded with strategic advice and case studies for CIOs and IT executives to soak in — and Executive Editor Linda Tucci was there to report it all. First, Pfizer CIO Jeffrey Keisling disclosed a leadership trait that would help up-and-coming IT leaders get ahead. Then, in a two-part story, executive coach Susan Cramm urges CIOs to train the business to become technology proficient and details a step-by-step process for how IT can empower the business.
In this installment of Conference Notebook, Editorial Director Sue Troy reports from the recent Gartner Symposium on how Gartner is redefining how we think of Mode 1 and Mode 2 by emphasizing the symbiotic nature of the relationship between the two modes. Also from Gartner Symposium, Features Writer Jason Sparapani explains how non-IT higher-ed workers are becoming more technology-proficient — due to the ease of use — and are often a step ahead of IT on new apps and tools. Plus, Sparapani describes the important difference between two similar words: digitizing and digitalizing.
On the Total CIO blog, Senior News Writer Nicole Laskowski reports from the recent EmTech event, detailing how to sell the business on the idea of AI and talking about the evolution of AI technology.
In our latest issue of our CIO Decisions ezine, we explore Facebook's venture into the enterprise collaboration market with Workplace and why cooperation between business and IT remains vital to enterprise success.
Over on SearchCompliance, Editorial Assistant Christian Stafford runs down the latest GRC-related news, starting with how new privacy rules passed by the FCC could influence AT&T's plans for its acquisition of Time Warner.
Please follow @SearchCIO, @SearchCIOSMB and @ITCompliance for our new stories throughout the week.
---
October 28, 2016 6:03 PM
This week, Microsoft announced a Windows 10 "Creators Update," among other immersive computing features. "Windows 10 is the most ambitious upgrade to an operating system that Microsoft has ever developed," the company said. In Searchlight, Associate Site Editor Brian Holak asks analysts what this update — and the company's renewed focus on AR and VR — signify and what it means for CIOs.
Site Editor John Moore interviews IT leaders and organizational experts to find out how CIOs are working toward keeping pace with the changing work culture and how they are collaborating with the business side of their organization.
Best practice insight and technology company CEB recently collected IT budget data from about 150 companies worldwide. Here, CEB's Andrew Horne highlights the five different trends in IT spending that the company unearthed from analyzing the data.
At the recent EmTech conference in Cambridge, Mass., AI was the talk of the town. Senior News Writer Nicole Laskowski reports on the "AI at work" session, where Tom Davenport of Babson College and Vikram Mahidhar, senior vice president of AI solutions at RAGE Frameworks, shared their thoughts on artificial intelligence and how the enterprise should prepare for getting "serious about the application of AI."
"We are in a war for talent, we want to get the best people we can and we can't wait forever," Joel Jacobs CIO at The MITRE Corp. said at the recent SIM Boston Technology Leadership Summit in Newton, Mass. Jacobs was on a panel discussing "The Fight for Talent: How to Mentor, Groom and Grow your Team". Over on TotalCIO, Executive Editor Linda Tucci gives an overview of what panelists had to say about IT talent management systems.
Tech-talk was not all that was happening at the Gartner Symposium last week. Features Writer Jason Sparapani writes about all the exciting things happening in-between session. Read to find out what "special event" attendees got to enjoy during the conference this year and look at the photos that Sparapani took at the event.
The EU-US Privacy Shield framework, which replaced the Safe Harbor law, went into effect on July 12 this year. Over on our SearchCompliance site, Contributor Caron Carlson details how it differs from the Safe Harbor law, how companies can self-certify, penalties for companies that do not comply by the framework principles and how the Privacy Shield principles strive toward raising consumer privacy standards.
Please follow @SearchCIO, @SearchCIOSMB and @ITCompliance to get updates on new stories throughout the week.
---
October 21, 2016 6:10 PM
This week, SearchCIO was at the Gartner Symposium/ITxpo in Orlando. In Searchlight, Features Writer Jason Sparapani provides a bird's eye view of some of the predictions from Gartner analysts, the themes that surfaced at the sessions and what CIOs had so say.
At the Symposium, Gartner analyst Mark Raskino said that CEOs need CIOs' help when it comes to leveraging digital products and services. Raskino also talked about how the chief executives want CIOs to focus on digital business innovation, as reported by Sparapani.
In these CIOMinute videos, O.C. Tanner Co. CTO Niel Nickolaisen discusses various aspects of mobile security. The best approach to minimizing mobile security risks is to begin with weighing in the associated risks and identifying the risk sources, he said. If your organization has an upcoming ERP update or is thinking about a replacement, then you may want to divide business activities into two broad categories, Nickolaisen said, speaking from experience. He also talks about the differences between mobile-only apps and enterprise apps and how development approaches vary for the two.
At the recent Predictive Applications and APIs conference in Cambridge, Mass., a panel discussion titled "Will predictive IoTs save us or kill us," examined the various aspects associated with organizations trying to analyze their IoT data. Senior News Writer Nicole Laskowski highlights what experts had to say on the subject.
On our SearchCompliance site, Etay Maor, executive security advisor at IBM, discusses the steps an organization should take to combat the growing threat of ransomware. He also talks about how connected devices can be the next victim of ransomware attacks.
In this GRC news round-up, read about how security agencies in the U.K. unlawfully collected citizens' data for years; the buzzword: regtech and Facebook's decision to sign up for the EU-US Privacy Shield framework.
---
October 7, 2016 5:28 PM
This week, government officials, cybersecurity experts, IT executives and academicians met at the Cambridge Cyber Summit to discuss burgeoning cyber threats and attacks. In Searchlight, Senior News Writer Nicole Laskowski writes about the security and privacy debate that ensued. Also in Searchlight: Google Pixel unveiled; did Yahoo scan user emails?
We have three new essential guides for you! Have questions on blockchain? Our essential guide on the technology delves into its various aspects including implementation, trends, use cases, benefits and concerns, to help CIOs and IT executives better understand the key concepts of blockchain. This essential guide rounds up SearchCIO's coverage of the 2016 MIT Sloan CIO Symposium and will help you learn the strategies and best practices that industry veterans recommend you should adopt to thrive in the digital economy. As CIOs, you should keep yourself up-to-date with new and emerging technologies. This essential guide delves into technologies like augmented reality, virtual reality, robotic process automation, 3D printing and blockchain that are talk of the town.
The October issue of our CIO Decisions e-zine is out! Executive Editor Linda Tucci explores robotic process automation, the hot new technology. Contributor Mary Pratt writes about Lucas Metropolitan Housing Authority's transition to the cloud and Laskowski talks to Nationwide Mutual Insurance's Guru Vasudeva to find out about his IT department's lean management system.
"Where we're heading is, as the volume grows and as the consumption grows, cloud is not really the place you want to be," said New Balance vice president of IT Ravi Shankavaram, at the recent SIM Summit in Boston. Read why Features Writer Jason Sparapani says this comment spurred a "different sort of cloud buzz."
Lyft envisions a future where private car ownership is non-existent and where it will operate a fleet of driverless cars. On TotalCIO, editorial assistant Christian Stafford writes about Lyft CTO Chris Lambert's gameplan to achieve this vision. Lambert was speaking at a recent event at Northeastern University.
Over at our SearchCompliance site, this round-up of GRC news highlights the arrest of a former NSA contractor who was charged with the "theft of government property and unauthorized removal and retention of classified materials;" Snap's photo and video-capturing glasses raises questions about privacy issues; MasterCard's new facial-recognition payment-authentication app and presidential hopefuls talk about their cybersecurity plans.
Please follow @SearchCIO, @SearchCIOSMB and @ITCompliance to get updates on new stories throughout the week.
---
September 30, 2016 6:29 PM
CIO
CIOs are becoming business technologists — and that's a good thing, according to speakers at this year's SIM Boston Technology Summit. This week's Searchlight delves into the act of becoming a business technologist — what it takes and how it can benefit CIOs.
Improving customer experience comes in many shapes and sizes, but more and more organizations — everything from football organizations to small municipalities — are tapping mobility to achieve new heights. In this feature, Site Editor John Moore explores how mobile, social and AR are a part of the New England Patriot's — and other organizations' — digital transformation strategy.
The consensus from the recent Gartner Catalyst Conference in San Diego: encryption isn't foolproof. In this installment of Conference Notebook, Features Writer Jason Sparapani explains how making the data unreadable to unauthorized users doesn't protect it from everything. In another Conference Notebook, Editorial Director Sue Troy catches up with HP Inc. CTO Shane Wall at the company's recent Global Partner Conference in Boston to discuss three big macro trends that are shaping the company's long-horizon strategy.
Procrastinate much? Stop! Now is the time for action, according to organizational agility expert Joseph Flahiff. In this tip he talks about stepping up to the plate and becoming a change agent at your organization.
What's the best IT spending strategy for fast-growing startups? In this feature, Brian Morgan, CTO at platform startup Catalant, offers his advice for optimally shaping IT investments.
In this two-part tip, Dan McMahon, director at the management consulting and IT sourcing firm Pace Harmon, explores today's IT vendor governance. Part one dives into the changing vendor governance responsibilities at leading companies; part two lays out the challenges and best practices in regards to adapting to a rapidly changing business environment.
Over on SearchCompliance, contributor Jeffrey Ritter discussed aligning governance and compliance processes in a recent four-part webcast:
Part 1: How compliance functions and information governance processes have evolved in the digital age
Part 2: Records management and compliance business processes can be a revenue-driver
Part 3: Three case studies exploring the intersection of information governance and compliance
Part 4: Strategies for generating revenue with smart compliance records management
Also on SearchCompliance, ICIT Fellow Robert Lord answers questions about the exploitation of protected health information on the deep web and gives advice on protecting these valuable records.
Please follow @SearchCIO, @SearchCIOSMB and @ITCompliance for our new stories throughout the week.
---