---
February 20, 2012 5:26 PM
Each week, we scour the Web and bring you the most tantalizing tidbits that hit our radar. This week, we're looking at the nasty reality of personal privacy violations, the price of insider trading and a hot new transistor that's the size of a single atom.
• Remember Google's vow to do no evil? If you use Safari, you have been the victim of privacy violations. Google has bypassed Safari's default privacy setting with regards to its third-party cookies. Whoops?
• Speaking of macolytes: Just remember, kids, friends don't let friends leak Apple insider secrets.
• Are you ready for the Nook 8GB tablet? Time to dig out that BYOD policy and update it again.
• Every CIO is familiar with Moore's Law, but a new transistor made from a single atom might beat that principle very soon.
• Google is still king of the Web, according to last month's Web traffic ranking, which also reveals that U.S. Internet users hit a whopping 36 hours online last month. We're more surprised that there are people still using MySpace.
• If your CMO has been making noise about starting a Facebook storefront, you might want to point out the deserted Facebook storefronts that already litter the social media network's Main Street.
• Are we just going to have to accept online privacy violations as a way of life?
February 16, 2012 8:21 PM
Now that you've locked in your carefully worded 2011 performance appraisal, for most companies, it's the best time of the year: the annual pay increase. Well, if you're lucky enough to get an annual pay increase, that is. We've all heard people bragging about getting raises in the double digits. It's a weird sort of humility to hear these stories, thinking back to your own annual salary increase and wondering if it's not unusually modest.
Last November we asked IT professionals some very personal questions about their job satisfaction, salary and compensation, and overall IT zeitgeist. From the compensation survey data, we've learned that overall, 2011 IT salaries remained flat or were slightly depressed compared to 2010, but that salary was only a small part of overall job satisfaction. Our courageous respondents were extremely honest about the state of their careers, including revealing what they received for their 2011 annual pay increase.
The majority (59%) of CIOs and senior IT executives in midmarket companies received an annual performance increase of 2.0% to 4.9%. Another 8% received an annual salary increase of less than 2%. When we looked at the compensation survey data from last year — specifically, the average salary for senior IT executives in the midmarket — there was a 2.9% overall increase compared to the average salary for senior IT executives who took the same survey in 2010. And this average salary increase is not solely a trend in midmarket companies: We looked at the raises reported by all respondents in every size of organization, and found that 63% of consultants, IT managers and CIOs alike received an annual salary increase of 2.0% to 4.9%. In fact, midmarket companies were slightly more generous —  14% of senior IT executives at midmarket companies received an annual salary increase of 10% or higher, compared to just 10% of all survey respondents.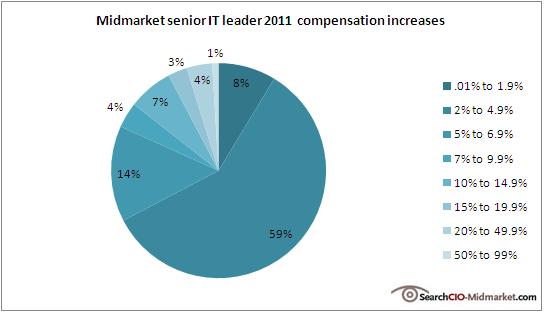 According to many CIOs we spoke with, salary doesn't matter as much as their feeling of accomplishment and the chance they have to play with shiny, new technologies. Hopefully the cold hard truth will help decrease the mental tickle when your friend over at Hot Tech Company X mentions his 33% annual salary increase.
The 2011 compensation survey data seems to suggest that it's not what you do that's important but how you do it. High earners in midmarket companies were less likely to spend their time managing IT projects and more likely to work building IT relationships with other parts of the business. It might be something to consider when formulating your 2012 salary goals.
---
February 14, 2012 4:54 PM
You start spending enough time around CIOs and you can really feel the changes swirling around them.
On the one hand, CIOs and senior IT executives must drive business growth strategies through technology. On the other hand, they are being asked to do more in areas that have nothing to do with technology.
I spoke recently with Mark McDonald, group vice president for Gartner Executive Programs. He puts the CIO second only to the CEO as the center for innovation and "amplification."
George Westerman, a research scientist at the Cambridge, Mass.-based MIT Center for Digital Business, told SearchCIO.com's Christina Torode, "I've seen a CIO take over the HR function and the cafeteria functions."
Helping sort through this is a new columnist coming to our sites: Harvey Koeppel, executive director for the Center for CIO Leadership. He will define "the drivers of the dramatic changes that we are seeing from both business and technology perspectives … [and] what leaders should be focused on to ensure that their investments are returning maximum value and creating increased competitive advantage."
We welcome his unique point of view as a former CIO (of Citigroup) and thought leader for the Center for CIO Leadership. And more than ever, we welcome your input and comments on your experiences as a CIO and how you are adapting to the new rules of business and technology. Please write me at spetersen@techtarget.com.
---
February 13, 2012 5:25 PM
Each week, we scour the Web and bring you the choicest cuts for your approval. This week, we're looking at data privacy and security in the form of denial-of-service attacks, smart chatting and two free mobile apps suffering from major personal data security issues.
Your team is your first line of defense with your company's data privacy and security, yet your employees are sharing company secrets — intentionally or not — via IM clients. Check out this primer to ensure that sensitive information stays out of chat logs.
We all know that meetings are a critical part of managing a team, but they can be enormous time-wasters too. Here's a great drill-down of a best practice for the weekly status meeting.
What does the term distributed denial-of-service attack, or DDoS, really mean? We predict that "Anonymous" won't appreciate Forbes calling its work "digital graffiti."
Blogger Ian Thomas argues that we might be jumping into big data before we've gotten our storage strategies in line.
Hackers have broken into the Google Wallet app on Android devices. Google is addressing the personal data privacy and security breach, but when you start hacking into the world of finance, everyone gets a little testy.
If you're worried about personal data privacy and security, be careful with your free mobile apps. It turns out that the free Path iPhone app was grabbing its users' contact data and uploading their data to its own servers. What? You mean a free service is taking advantage of its users somehow? Color us shocked.
---
February 9, 2012 10:52 PM
There's a certain sense of technology entitlement among my Millennial peers. If you don't believe me, walk into any college classroom on any college campus and you will see the majority of the students there either glued to their smartphones, surfing the Web on their new MacBooks or scrolling through their shiny tablets. Most are blatantly ignoring the lecture in order to be in constant connection with the Internet world; cutting oneself off from Facebook for an hour seems more dangerous than failing that upcoming midterm.
This entitlement apparently carries through to Millennials in the workplace, and was further confirmed by the Cisco Connected World Technology Report. Among a number of intriguing findings, there were only a few that actually shocked me. The most surprising was that more than half (56%) of college students either would reject a job with strict social media policies or would attempt to find a way to circumvent those policies. The fact that college students would reject or risk a job because they wouldn't have access to their precious social network was at first concerning.
After some thought, however, the Cisco report makes sense. Millennials have lived the majority of their lives consumed by technology. By the time most of us were in high school, it was mandatory to pass in a typed paper, and when we were in college, emailing assignments became the norm. We're a generation that has seen computers transform from massive machines that dominate a desk to handheld devices that can do everything but read our minds. Most of us taught our parents how to write a text or open an email account. Young people not only have witnessed the Internet revolution, but also were among the key figures leading the charge — the most obvious example being Mark Zuckerberg, founder of Facebook and 27-year-old billionaire.
There's a long list of things I would consider deal-breakers when scoping out a real career post-graduation, but harsh social media policies probably would be towards the bottom (although most Millennials in the workplace seem to disagree). However, senior executives should realize that strict social media policies could drive away some of the brightest, most qualified young people, as shown in the Cisco report. Young people realize that the office is not the classroom. They know that they can't waste hours on social media, but they don't want to give up their precious social networks completely. CIOs want Millennials in the workplace to stay productive, but I can assure you that the 30 seconds we take to check our Facebook every hour will not impact our work.  We're accustomed to networking and actually working simultaneously. Sure, we have a lot to learn in the business world, but there's also a few things we could show you. Just don't be concerned by the fact that we constantly have a tab open for Facebook.
---
February 9, 2012 5:16 PM
I'm writing this blog post on my second monitor. It's a 21-inch widescreen. I also have a third monitor, a 24-incher that actually belongs to a second computer — and sometimes I use my iPad as another auxiliary window to the world. And to think that just a few years ago I was satisfied with just a single 14-inch laptop screen! According to this week's story in The New York Times, I'm multitasking on multiple monitors. But am I really? Is adding a second monitor like driving a car while talking on a cell phone?
Most of the time, I'm using one monitor to read source material while actively working in the second. Adding a second monitor can be like two hands washing dishes: The left hand might be scrubbing and the right hand might be rinsing, but you're still doing one activity.
However, for other workers, working on two monitors might mean having a project open on one and their email and Facebook open on the second. In that case, true attention-splintering is taking place. A famous 2005 study found that email distraction can cause a decrease in functional IQ, akin to a whopping 10-point decrease overall. That's worse than the impact of smoking marijuana. Ironically, the study was sponsored by a Hewlett-Packard, a major vendor of computer monitors.
Regardless, an easy way to increase employee retention is to give them excellent tools to do their job. If adding a second monitor is the thing that makes a worker — like me — happy, it's a no-brainer. Whether it's a productivity tool or a detriment to overall creativity is up for debate.
Out of curiosity, how many monitors do you have on your desk right now? What's the ideal scenario for productivity? The comments are waiting to hear from you.
---
February 2, 2012 9:24 PM
Last August, I sat at VMworld 2011 with 19,000 other IT literati and heard CEO Paul Maritz assure us that we were in the post-PC era. But are we really?
Certainly there isn't much argument about how remote desktop virtualization increases worker productivity by giving them access on multiple platforms.  Furthermore, desktop virtualization reduces company costs and upkeep.  CIOs are definitely paying attention to the benefits of virtualization.
The main problem with this description is that it discounts the PC entirely and smacks of absolutism. CIOs live in the real world, and there are always differing use cases in every business. With judicious application, it's possible to have your benefits of virtualization without damaging the productivity of some workers, especially around specialty-use cases and ergonomics.
Specialty-use cases come up when you have highly specialized software, as engineering or science professionals do. These highly technical workers have applications that simply don't work, or work poorly, in a virtualized desktop environment. Overzealous rollout of a remote virtual desktop where the goal is 100% coverage creates an absolute — one that works counter to the company's overall productivity.  Crippling your engineers in order to fulfill an unrealistic goal? Not good for the business. CIOs need to remember that achieving 90% to 98% coverage is fantastic, and that those stubborn last percentage points are desktop users who actually might be better off being left alone, post-PC era or not.
Smart CIOs are mindful of the physical well-being of their workforce. Everybody loves a lighter, thinner laptop, and everybody loves a sleek tablet device. However, for workers who are not highly mobile, smaller screens and slick, tiny keyboards are a recipe for eyestrain, backaches and carpal tunnel syndrome. CIOs need to make sure that the IT departments they run are aware of use cases and are not making one-size-fits-all decisions. Certainly, use cases cannot be allowed to get too complicated, but a few standard configurations based on role will make employees more productive and prevent long-term problems for their health and happiness.
What do you think? Is this really the "post-PC era"? Is 100% remote desktop virtualization adoption even feasible? Is it pointless to cut the cord for each and every worker? Is it possible to extract some benefits of virtualization without going all the way? I'd love to hear your thoughts in the comments.
---
January 31, 2012 3:08 PM
Last week I wrote about the transformation of banking services into products. This week I want to discuss different types of services–shared services.
One of the first technology news stories I ever worked on in my career was titled something like "Mainframe at your server." The phrase recalls the bygone days of client/server, when hardware was king. Today's adage, however, is "mainframe at your service."
The February edition of the Enterprise CIO Decisions ezine on the topic of shared services is an important one, as the promises of virtualization, cloud computing and centralized IT become fully realized in enterprise computing. Yet IT executives don't have a set definition of what shared services are. For some, the concept is all about pooling resources through virtualization; for others, shared services are a means to an end, that end being cost savings and efficiency.
But in reality, shared services are about moving from the server to the service. "It's a fundamental shift," says Jake Hughes, chief technical architect at Seattle Children's Hospital, in the ezine. "Instead of HR saying, 'That is my server and that is my storage,' it is their service and they have no idea what's on the back end. It is no longer any one person's or any one business unit's storage because we may move that storage 10 times in one week, depending on the needs of the overall organization."
Experts agree that the goal of a services-oriented IT environment is to make services readily and easily accessible to end users. That in itself is what will really revolutionize IT.
---
January 30, 2012 3:52 PM
Each week, we scour the Web and collect all the best and brightest links to start your week off swinging. This week, we're looking at the latest credit card hacks, how Apple tricks its employees into keeping corporate secrets and a successful corporate social media campaign that will please all the Gen-Xers in the crowd.
• Honda managed to hit a whopper of a successful corporate social media campaign with its Ferris Bueller revamp for the Super Bowl. Alas, Cameron is nowhere to be seen.
• With a $50 device bought off eBay, hackers can lift credit card info from the cards inside your wallet.
• Move over Seattle and Silicon Valley, the hot new tech cities include San Antonio; Greensboro, N.C.; and St. Louis.
• How serious is Apple about maintaining corporate secrets? Way serious. It creates fake projects for new engineers to work on until they can be trusted.
• Does your corporation have a corporate blog? The corporate blogging trend is on the decline, according to a recent study by the University of Massachusetts Dartmouth. Don't worry, you can still get your blog fix right here.
• In an effort to become one of the top tech cities, should a local government sell stock to raise money for a broadband network? What the Green Bay Packers and rural England can teach the world about raising capital for technology improvements.
• Fresh Yahoo CEO Scott Thompson is wasting no time cleaning house. The Internet company has announced it is whacking 10 of its big mobile apps, like Yahoo Deals and Yahoo News.
• Twitter announced that it was going to allow country-specific censorship of Twitter posts last week. The proposed #TwitterBlackout on Saturday, however, really didn't do anything (as one might have suspected).
---
January 27, 2012 2:22 PM
Three days ago, we all learned of some changes to Google's privacy policy. With the new changes, it will take what it knows about its users and "combine information you've provided from one service with information from other services." With that proclamation, the blogosphere exploded with cries of J'ACCUSE! and the implication that this was proof that Google had defied its own promise to not be evil.
First, maybe I'm pessimistic, but I'm kind of shocked that Google hasn't been combining its information about users all along. I mean, it's 2012, right? Facebook basically knows enough about me to successfully predict what I'm going to wear tomorrow, yet we all grudgingly accept Zuckerberg's evil empire and go on with our status updates. But Google makes one tweak with how its own products manage a user identity and everyone is up in arms? Face it, the war was over a long time ago when it comes to online identity. You want to be mad at a company, it's not Google — not this time, anyway.
A single Google privacy policy across Google's products is nothing but a good thing. It protects its own users. I understand that some people prefer to have their services broken up into manageable pieces, but for the majority of users, it's a good thing when Gmail talks to Google+. And there were already Google-wide preferences before, so it's not like this change is completely off-book for Google or its users.
Of course, there's the new Google Personal Search, which I'll admit is a little disarming, but then again, I am somewhat surprised that there are still people who believe that the stuff you put on the Internet is somehow hidden from the world. This naïveté might have been appropriate in 1996, but at this point, how can people not understand how the Internet works?
If the idea of people seeing your Facebook timeline in their Google searches is unnerving, turn it off. Google has provided a handy way to opt out of Google Personal Search. Pick "Do not use personal search results" in the Google Search Settings and you're golden. Then stop worrying that the Google privacy policy means that Google is the evil empire. I've seen the face of evil, and man, it sure is not Google.
---