---
May 23, 2012 1:40 PM
Browser wars? What browser wars? A recent news story reported that Google Chrome has overtaken Microsoft's Internet Explorer as the most used browser on the Internet. My first thought was, "What took so long?"
Actually, if you look at the historical record (below; data available from July 1, 2008), at least according to StatCounter, you will see that Chrome first surpassed IE on March 18 of this year, 32.71% to 32.5%. Since then, the two have been playing leapfrog for first place. (Mozilla Firefox maintains a distant-though-solid third place.) Chrome and IE each hit their high (34.55%) and low (29.4%) points, respectively, on the same day, May 13.
The browser wars used to be a big deal, when the PC was king. But no longer, with mobile applications becoming a common method for using the Internet, and with PC sales struggling to maintain any semblance of growth. Still, I was writing and editing stories about Netscape Communicator when the browser wars really meant something — when IE's penetration was like 90%, and when IE essentially put Netscape out of business and sparked the landmark antitrust action against Microsoft. (I also have a theory that the ruling against Microsoft was one of the triggers of the dot-com meltdown and ensuing recession, but that's a story for another day.)
Microsoft, despite its inevitable decline in browser market share, has to feel some vindication by this point. Company officials said all along that its actions with IE were about embracing and extending Windows, and that competition and other market forces would win out. They have. Market forces have won out. And the better browser won.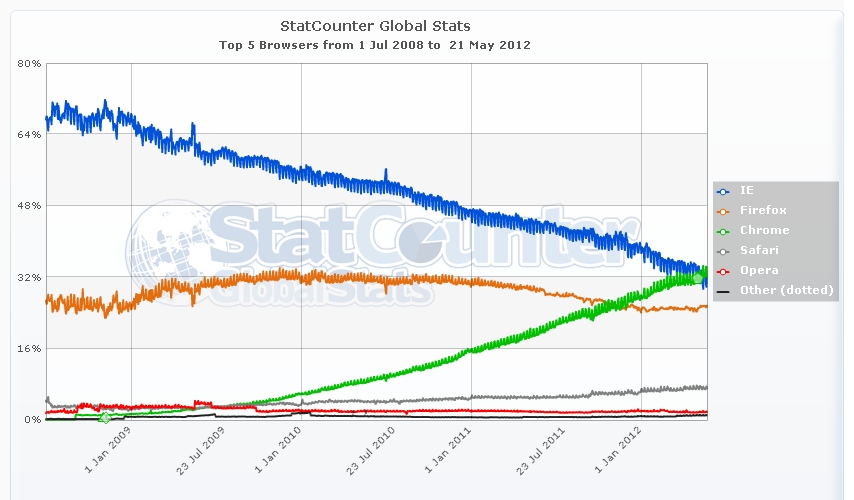 May 17, 2012 4:40 PM
Millennials (sometimes called Generation Y) are in high demand, especially in the IT world. These talented young employees tend to be cheaper than seasoned IT professionals, often fresh out of college and full of bright ideas about cutting-edge technologies. With so many organizations chasing these young employees, however, CIOs are up against some stiff competition for Millennial talent.
While researching this week's tip on retaining Millennial employees, I spoke with Lisa Orrell, author of Millennials Incorporated and Millennials into Leadership. She feels that recruiting young employees should be at the top of every CIO's priority list. "The smart companies are very actively recruiting and getting their infrastructure in place to hire more and more young people," she said.
If you aren't having luck recruiting Millennials, you might be overlooking one key resource: your current Millennials, who often feel that their co-workers are an important factor in their job satisfaction. "Take young employees that you would most want to clone and train them to reach out to people who are already employed," suggested Scott Degraffenreid, an analyst who specializes in corporate referrals, retention and recruiting.
In addition to helping to find new employees, this should also satisfy the young employees already in your IT department. Not only will they contribute to finding new talent, but they will also typically choose other young employees who would be a good fit for your team.
Donald Shandler, author of Motivating the Millennial Knowledge Worker, has seen success with this tactic. "Millennials want to work with people whom they consider friends," he said. "A lot of companies have incentive programs for Millennials to attract others, which works out well."
Millennial Jeremy Baumgartner, a systems engineer at SRC Technologies Inc. in DePere, Wis., agrees that his coworkers are the best part of his job. "It's nice that I know literally everyone that works there. When we're working together, it's a lot more relaxed environment than most corporate places," he said. "We like to tell clients that it's the people that sets us apart."
---
May 14, 2012 5:17 PM
In April, Dell's summit in Copenhagen was emceed by Mads Christensen, who is apparently Denmark's version of Rush Limbaugh — well-known for shocking audiences with bigoted, misogynistic remarks. During his banter, Christensen unleashed a flurry of comments that were decidedly hostile toward women in technology. For instance, noticing that most of the 800-member audience (which included founder Michael Dell) was male, Christensen said, "The IT business is one of the last frontiers that manages to keep women out," and asked the few women present why they were even there. So much for breaking glass ceilings.
Danish IT reporter Christiane Vejlo reported the shocking events as they played out.
After the break Mads Christensen shares with us his whole "show" about the bitchy women who want to steal the power in politics, boards and the home. "Science" he calls it and mentions that all the great inventions come from men. "We can thank women for the rolling pin," he adds.  And then the moderator of the day finishes of by asking all (men) in the room to promise him that they will go home and say, "Shut up b—-!" (via Elektronista)
Dell's official Twitter presence in Denmark said, "[We] are sorry if some were offended. Dell works for women in corporate life." Got to love the hostile workplace non-apologies that did not actually accept any responsibility for hiring Christensen.
While I am absolutely sure that Michael Dell, as well as Nicolai Moresco, Dell's Danish director, had very little involvement in the hiring of Christensen, this is a publicity nightmare for the company. It's important to note how Dell has responded to complaints — which is to say that it kind of hasn't. Moresco told Vejlo that Christensen "did a good job" and  then later echoed the Twitter feed, apologizing that women were offended but continuing to assert that it was all meant to be good, clean fun.
Obviously, there were women in the audience in that Dell summit in Copenhagen — women who either worked for Dell or were invited to attend. They had to sit there and pretend that they were entertained by the promise of a hostile workplace. They had to go home knowing that Dell's senior IT leadership approved this message. When they complained to the CEO, he essentially shrugged and said, "I'm sorry that you feel that way."
The editorial team here at SearchCIO-Midmarket.com has been discussing women in IT a great deal lately. We've grappled with how to discuss glass ceilings without making women feel like special cases or unique snowflakes, while also addressing the very real problem of a hostile workplace, which is usually not as overt as that which played out in Copenhagen. Many of the successful IT leaders are uncomfortable drawing attention to the fact that they are also women as well as senior IT leaders. I can respect and absolutely understand that, especially given the barely hidden resentment that was echoed in Christensen's "jokes."
When we think about a hostile workplace, it's usually not one big event but, rather, death by a thousand cuts. Just as with the debate over booth babes, it's important that we keep talking about women in technology. They ARE different. They DO have to deal with these issues and face an entire audience of men laughing at a man suggesting that women should stick to their rolling-pin innovations. We have to stop trying to blend and disappear in an attempt to break through glass ceilings. These are unacceptable attitudes, and whether one is male or female, we should all be appalled. Continuing to sit by and laugh at the "jokes" means that we are as complicit in creating a hostile workplace as the rest of these jokers.
---
May 11, 2012 2:22 PM
Have you been following the sordid tale of Yahoo CEO Scott Thompson's resumé killers? In an effort to secure seats on Yahoo's board, Third Point founder Daniel Loeb's corporate investigators were digging for any dirt they could find on the CEO. They found a reference to a double degree on Thompson's resumé indicating that he had earned accounting and computer science degrees from Stonehill College in Massachusetts. With more digging, they learned that not only did Thompson's academic record not include a computing degree, but also that Stonehill had offered only a single intro-to-computing class while Thompson was attending.
Loeb has since called for Thompson's dismissal, while Thompson claims that he never falsified his resumé because he didn't actually submit one to Yahoo. I would believe this story, but it turns out that Thompson's been claiming a computer science degree for a while now. One thing they teach you in computer science is that the Internet never forgets. Just ask David Edmonson, former CEO of RadioShack, who claimed he had two college degrees when he actually had none. Or you can talk to former Bausch & Lomb CEO Ronald Zarrella, who claimed he had an MBA from New York University but only took a few classes as a night student. And then there's the former CFO of Veritas Software, Kenneth Lonchar, who lied about having an MBA from Stanford. At least Thompson really does have an accounting degree.
Over half of resumés received by HR contain at least one lie, according to the Society for Human Resource Management. Only 35% of HR professionals actually verify a job candidate's degree, according to the same survey. This morality play serves as a good reminder that falsifying academic credentials — or anything, really — is the deadliest of resumé killers. Not only can it severely harm your professional reputation, but — in the case of Veritas Software, at least — it can severely impact the company's stock price.
Speaking of resumé killers, would you fire an employee if you found out that he had falsified his credentials? The comments are anxious to start a discussion.
---
May 10, 2012 3:46 PM
We've scoured the Web looking for the top notes for your executive lunch break. This week, we're digging into mobile and smartphone news, including the most popular mobile device and the risks your BYOD users are facing with the latest Android malware attacks.
The majority of U.S. mobile users now own smartphones, according to Nielsen Wire, and of them, the most popular mobile operating system is the Android.
Happy birthday to SMS technology, which turned 20 this week. Seems like only yesterday we were writing out "you are" instead of "ur".
John Herrman is terrified of Samsung's latest Android news for several reasons, one of which is that it's a little overinvested in its mobile users.
If you find typing on the slick iPad 2 keyboard annoying, you're not alone. Check out this technique for speeding up text editing on the iPad's native keyboard (via Subtraction).
Infamous torrent site The Pirate Bay has officially scolded the hacker group Anonymous for cyberattacks on its behalf. That's saying something when a very sketchy torrent site takes the high road.
The latest Android news that you can't afford to miss: IRCbot malware has joined the party and is targeting the most popular mobile device. How's your mobile device security policy looking these days?
---
May 8, 2012 7:37 PM
Competitive advantage is not that new a business term — it was popularized by Harvard Business School professor Michael Porter in the 1980s — but it has never been more important as a business philosophy.
That is, it has never been more important for CIOs to think about competitive advantage as a business philosophy.
Today, every bit of technology usage amounts to some sort of competitive advantage. It's a factor in big data and business intelligence, outsourcing, and cloud.
Now technology for competitive advantage is starting to count as a benchmark for CIO success, writes SearchCIO.com Senior News Writer Linda Tucci. Gathering competitive intelligence has become a daily task for George L. Reed II, CIO at Seven Corners Inc., a privately held global travel insurance provider in Carmel, Ind. "You learn who's taking risks," he said.
Fortunately, this is the right time for CIOs to come to their CEOs bearing competitive intelligence, which would lead to new ideas — or as Michael Porter might say, what not to do.
---
May 3, 2012 4:39 PM
When it comes to retaining your IT talent, it's about more than benefits and job security — workplace culture matters too. It's the intangible (and sometimes tangible) practical lessons in keeping your IT talent happy that make the difference. For instance, Phil Libin, CEO of Evernote, revealed that there are no obvious markers of seniority at the company — and no phones.  What's more, all employees "get professional housecleaning twice a month." And we've all heard the tales of Google's all-you-can-eat cafeterias and giant slides at the Googleplex.
In the midmarket space, however, we're a little less likely to have free housecleaning and giant, human Pong games during lunchtime. The practical lessons of the innovators, however, are definitely echoed and adopted in smaller IT shops. Paul Harder, the winner of this year's SearchCIO-Midmarket.com IT Leadership Cultural Innovation Award, has a line on the secret of building a positive workplace culture, even within the very tight budget of a nonprofit organization. His practical lesson in building workplace culture is all a matter of empowering his IT talent. "I look at myself as trying to enable them to get their job done, and then empower them to do it. Otherwise, I pretty well leave hands-off. I make sure that from a 10,000-foot view that everything's getting done, but I'm not even going to come close to micromanaging them," he said.
Speaking of personal freedom in workplace culture, Mauricio Vicente, our IT Leader of the Year (and a finalist for the Cultural Innovation Award) said, "I give them creative freedom. I work with a very talented group of individuals who surprise me every day with their own feedback and how they execute the ideas that are brought to us by the different layers of the organization."
One thing that Harder and Vicente have in common with the culture meisters at Google and Facebook: the concept of personal autonomy.  Former Facebook designer Joe Hewitt summed it up nicely after he decided to leave the social network company last year. He also singles out autonomy as a facet of workplace culture. "Management gave me the freedom to work on my own ideas, and just like with real startups, some of my projects never made it out of the lab, while others shipped and were huge successes. The brilliance of Facebook management is encouraging everyone to take initiative, take risks, and wear as many hats as you can. I wish more tech companies operated like this."
Of course, being an awesome company doesn't prevent brain drain from happening, but it seems to be the key to making sure that your open recs have hundreds — or thousands– of qualified applicants, all eager for a chance to join your team. And what CIO doesn't dream of that?
---
April 30, 2012 6:48 PM
My favorite stories from the first SearchCIO-Midmarket.com IT Leadership Awards:
Nicole Bradberry, CIO of Rise Health Inc., for making something out of nothing by leading her team to create a custom Web application to manage electronic health records.
"The service we wanted to create focused on preventive patient health care that would result in savings for our customers. To do this we needed to give our employees access to actionable data from multiple sources, and that type of solution didn't exist," Bradberry said.
Kevin Soohoo, director of IT at Air Systems Inc., for thinking globally and acting locally by saving energy and making the business more profitable to boot.
"And when it came down it — IT and energy use — we really wanted to think outside the box. Things like servers or virtualization, obviously many people are doing it and are getting great results in terms of energy savings and footprints. What we really wanted to do was take it another step further, which was going down to the end-user level and saying, 'End users, in their cubicles, they're using energy. They're using energy on the computer. They're using energy on their printers. They're using energy on other things in their cube, like their radios and heaters.' We really wanted to try to see if we could impact that and manage that, at the same time trying to balance the users' comfort and not inconvenience them," Soohoo said.
Paul Stamas, vice president of IT at Mohawk Fine Papers Inc., for reinvigorating a business in danger of being overrun by technology, by taking advantage of cloud technology to make the business run better.
"Even though the world is against us, in terms of paper, we're going to have the best year we've had in 80 years, going to twice the EBITDA [earnings before interest, taxes, depreciation, and amortization] that we had the previous year," Stamas said.
Steve Mallard, IT manager and teacher at the Tennessee Technology Center at Shelbyville, for taking the time to make IT matter to the lives of students and his school.
"My father told me to stop and listen to people. To hear them as they speak and to listen to what comes from their heart and soul. He was correct in every way. You can truly tell who people are if you stop and listen to them beyond the audible sounds. Being a teacher and consultant for so many years, this has become an asset and skill handed down to me."
---
April 27, 2012 2:12 PM
We're currently working on more stories for our series on Millennials — those workers under the age of 30. One of the things that has struck me most is that their concept of personal and social media privacy is very different from that of Generation X or baby boomers. From the McCann Worldgroup's Truth about Youth study: "Given a list of things (including cosmetics, their car, their passport, their phone and their sense of smell) 53% of those aged 16-22 and 48% of those aged 23-30 would give up their own sense of smell if it meant they could keep an item of technology (most often their phone or laptop)." People in the Millennial generation (called the Facebook Generation by some) have almost never been alone because their friends are always by their side through their devices. So, in some ways, removing their smartphone or laptop would mean essentially killing their friendships.  This finding absolutely ties into their desire for a flexible mobile device policy.
What's even more alarming is Millennials' sense of social media privacy: While they admit they are seriously concerned about their own sensitive information being broadcast over Facebook, 63% of Millennials still use social media as a primary form of socializing, according to the Euro RSCG Prosumer Report — This Digital Life. Only 36% of the baby boomer generation answered similarly. In the same survey, 66% of respondents age 18 to 34 agreed with the statement "Young people today have no sense of personal privacy; they're willing to post anything and everything about their lives online." Millennials are also worried about their own social media privacy: Fifty-one percent are concerned that their friends and family "will share information about them online that they don't want to be made public."
From HIPAA violations to proprietary information breaches, it's no wonder that the Millennial workforce is worried about social media privacy. Still, they clearly can't release the hold social media has over them. We may simply need to define the concept of personal privacy — whether we like it or not.
---
April 24, 2012 5:46 PM
It's one thing to get excited about new releases of Windows, iPhones or even HTML. It's another to get jacked and pumped about IT governance frameworks. But in the case of COBIT 5.0, you should.
The latest version of the "Control Objectives for Information and Related Technology" specifications brings important business objectives together with what has been an IT-specific set of objectives. This is important because we have found out that IT and the business cannot function in their own silos.
In the new framework the ISACA security organization has integrated COBIT 4.1 with ISACA's Val IT and Risk IT frameworks, the Information Technology Infrastructure Library (ITIL), and other standards. In short, says Brian Barnier, principal analyst and advisor at ValueBridge Advisors LLC, COBIT 5.0 is about "increased focus on business — as opposed to control — objectives."
Another intangible benefit of COBIT 5.0 is that IT managers can finally have more control over how IT and the business function together. At a time when CEOs are demanding more business acumen from CIOs, COBIT gives IT executives more business levers to push than ever before.
---