Sep 1 2014 7:43AM GMT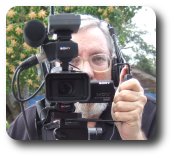 Profile: Robin "Roblimo" Miller
Tags:

Step away from that monitor. Put that keyboard down. Now. I mean it. You spend entirely too much time messing with that computer and wandering the Internet. It's time for us to put away computerish things and deal with Real Life — for a few minutes, anyway, seeing as this is the Labor Day season, generally regarded as the end of summer. And you know what? There are many inexpensive ways you can improve your life. Real life, that is.

Let's start with water. I live in a Florida town next to the Gulf of Mexico. This means our tap water supply is what I call 'beach town water,' which has a distinct and, to me, slightly unpleasant taste. Our water is safe. It could just taste a little better. So I have this low-cost Instapure Filter mounted on my kitchen tap. I got it at Lowe's, but Amazon and other online and offline retailer carry it. It's about the cheapest faucet-mounted water filter there is — which you should expect if you look at the title of this blog. Cheap or not, this is all the filter I need. If your water supply has problems beyond taste, there are fancier filters you can buy.
No matter which filter you choose, if you fill your own carry-with water bottles instead of buying bottled water

in little plastic bottles, you are saving both the environment and your money. Use filtered water to make coffee, and the extra flavor will make you a more productive worker — and a happier one, too. I am continually astounded at how much better a little device that cost less than $20 has made my life. Well worth it!
Staying with water for a moment, how about a shower head improvement? Specifically a hand shower? This is one of the things that, if you've never had one, you don't know what you're missing, but once you have had one, you won't know how you got along without it. The make and model don't matter, as long as it has several different spray options, which just about all of them do.

And don't worry about installing a water filter or a hand shower if you're a renter. If and when you move, it is the work of moments to reinstall the crummy fixtures your landlord supplied — and take your filter and hand shower with you to your new place.
Now for something completely different…
My balance got pretty bad after my heart attacks. I can no longer safely ride a two-wheeled bicycle, and due to an old Army training injury running and even extended walks hurt my knees something fierce. So I obviously needed a trike. Not the kid kind, and not necessarily the old-people kind, but one of the sporty-looking recumbent "tadpole" trikes that are, in a way, the human-powered equivalent of a sports car an old man buys in hopes of feeling young again.
If you scroll down to the bottom of that page you'll see that these things are $1000 and up, which puts them far beyond my reach.
This is why Craigslist founder Craig Newmark is my hero. I looked at the "bicycles" section of my local Craigslist for more than two months, with a little less hope every day, when suddenly… Lo! And behold! There it was: A Trident Spike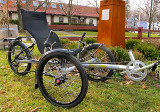 — worth close to $1500 new when you included its 21-speed drivetrain and slick accessory options — for $200. Was there a catch? There sure was. The biggest one was the seat, which was missing. And the rear derailleur wouldn't shift. And the tires were flat. But I figured I couldn't go wrong at $200 (once I checked to make sure the thing wasn't stolen), especially since Tom, the man who owns Trident, sold me a new seat for my used Trident Spike at a drastically reduced price. The shifting problem? A frozen cable. Some lubricant and a little working things back and forth took care of that. Nice.
The reality was, I went way RIGHT, not wrong. I could have settled for a Sun or Trailmate old-people's trike good for leisurely 5 MPH riding, but I held out for what I really wanted. And now I have it, new seat and all, with about $450 total invested in the thing, and at least half of that will be covered by selling the two "upright" bikes I bought in poor condition and restored before my balance started getting flaky.
So I have not talked about computers this week. It's the Labor Day holiday. A whole lot of Americans get a three-day weekend. And even those who don't get to take off three days in a row get to do a little grilling, have time to enjoy sybaritic showers, enjoy iced tea made with filtered water, and get to roll around on our bikes — or swim or jog or play with our children or whatever.
All too soon, we'll be back at work, worrying about budgets and all that sort of thing. But first, it's time to kick back.
Happy Labor Day!