Apr 5 2013 11:08PM GMT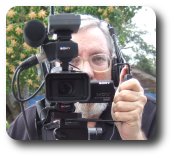 Profile: Robin "Roblimo" Miller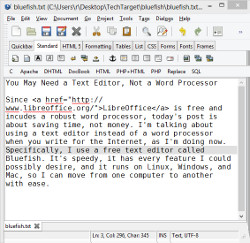 Since LibreOffice is free and incudes a robust word processor, today's post is about saving time, not money. I'm talking about using a text editor instead of a word processor when you write for the Internet, as I'm doing now. Specifically, I use a text editor called Bluefish that is just as free as LibreOffice. It's small, it's speedy, it has every feature I could possibly desire, and it runs on Linux, Windows, and Mac so I can move from one computer to another with ease.
Please note that Bluefish is not a "does everything for you" editor like Dreamweaver and others purport to be. But if you're writing plain text, HTML, CSS or a whole lot of others (check the list on the left side of the page), and you know what you're doing, Bluefish is a great tool.

Note that I said "great tool" and specifically noted that Bluefish doesn't do your work for you. Think of yourself as a skilled carpenter. Obviously, you know how to cut wood. But you can cut wood faster with a power saw than with a hand saw, right?
Bluefish is that power saw — if you're writing or programming for the World Wide Web.
There is a feature in Bluefish that was added specifically because I asked for it. You see, text editors (including Bluefish) are programmed by programmers, not by writers.
Programmers don't care about the number of words in an article. Writers do, because we are often paid by the word. And, naturally, when a programmer proudly presents his shiny new editor to a reviewer (who is almost by definition a writer), the first question the reviewer asks is almost always, "Where's the word count?"
Ah. A sudden silence.
When I asked that question on the original Bluefish email list, the answer was, "Hmmm… let us get back to you on that one." And get back the developers did, with three different word count methods. A bunch of us looked at them, poked them, and tried them in our normal work. We chose the one we liked best, and by Thursday Bluefish had a pretty good word count tool built into it.
I used to use this anecdote — about Bluefish getting a word count tool between Monday and Thursday — as a way to show how open source software was better than proprietary software. Think: if you needed a new feature in Microsoft Word, and asked Microsoft to add it, would they? In this decade? Probably not. But the Bluefish developers took on the challenge. Wow.
So I like Bluefish. Its rate of development has slowed in the last couple of years, but that's because Bluefish is mature, stable, and as full of features as a program should be.
I like my word processor.
But think: A word processor is built to put words on pages. Even when you look at it on your computer screen, you see (virtual) pages. What if you are writing material that's going to appear on the WWW, not on paper? Do you need or even want virtual paper on your screen? No way. You want something that looks like Bluefish. And works like Bluefish. And works on all the operating systems you are likely to use — again, like Bluefish.
So I use Bluefish. And maybe you should, too.