Aug 1 2014 1:41AM GMT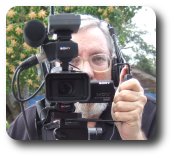 Profile: Robin "Roblimo" Miller
Tags:
I'm personally in favor of Net Neutrality — that is, having all Internet content providers pay the same rates to the broadband ISP oligopolists. And I say oligopolists because there are hardly ever more than one or two available to any given American, and often there is only one. So if you're a content provider, like the company that runs this blog, you have no choice but to send your data to and through one of those 'last mile' providers. And if they want to soak you for that privilege, uh oh! There's not a lot that can be done about it. Meanwhile, of course, the end users (me and you and maybe even a dog named Blue) are paying a monthly fee for Internet connectivity. Say what? Are the ISPs trying to get money at both ends of the pipe? Yes they are. Grrr….

Back in May, from US News & World Report: "The Federal Communications Commission voted 3-2 along party lines… to approve proposed net neutrality rules with its Republicans members dissenting, beginning a fierce 120 days of public commentary about how to regulate the Internet."
On April 30, same publication: "Netflix users will soon be billed extra as the company pays to create more programming and purchases faster connections from Verizon and Comcast, but other groups may also raise prices if Internet providers become emboldened and seek similar deals with companies. The Federal Communications Commission's net neutrality proposal would not regulate those peering agreement deals to directly connect a service with a broadband network, but its Chairman Tom Wheeler could enable companies to pay for premium online traffic speeds as part of his proposed net neutrality rules."
So it looks we're getting stuck with the bill.
Meanwhile, check this quote from The Verge a few weeks ago: "Netflix filed a comment with the FCC yesterday strongly condemning the commission's new net neutrality proposal, which would allow internet service providers to offer so-called "fast lanes" to companies that can afford them. 'No rules would be better than rules legalizing discrimination on the internet'" Netflix writes in a lengthy reply to the FCC. Netflix argues that the new rules will turn the goal of an open internet 'on its head,' making the internet look more like the convoluted and stagnating cable TV landscape than the innovative and quickly developing platform that we've come to see the internet as."
The "fast lane" thing is what Net Neutrality is about. Ideally, within technical constraints that may dictate priority for some data packets over others, all Internet content providers should be treated the same by carriers. That's how it is for telephone providers and other common carriers.
So why aren't Internet companies considered common carriers? First, let's look at the definition of the term from Wikipedia: "A common carrier in common law countries (corresponding to a public carrier in civil law systems, usually called simply a carrier) is a person or company that transports goods or people for any person or company and that is responsible for any possible loss of the goods during transport. A common carrier offers its services to the general public under license or authority provided by a regulatory body. The regulatory body has usually been granted 'ministerial authority' by the legislation that created it. The regulatory body may create, interpret, and enforce its regulations upon the common carrier (subject to judicial review) with independence and finality, as long as it acts within the bounds of the enabling legislation."
That's just the first paragraph. You may want to read the rest. I did. It sounds to me like Internet providers *should be* common carriers, but it would take both the FCC and an agreeable judge or two to make it so. (One can hope…)
And now, what marketing people call "a call to action" – in this case, I'm not going to write one, but give you a link to a Gizmodo article titled How to Yell at the FCC About How Much You Hate Its Net Neutrality Rules.
They say they're going to run this piece every until September 10, the last day the FCC will accept comments and replies to comments about the Open Internet and why we want to keep it open and a level playing field and all that.
Meanwhile, the FCC claims it still wants to hear from you. Here's a direct link to a comment form for proceeding number 14-28, which is the one all this is about.
It only takes a few minutes to fill this out and submit it.
If we fail, at least we tried, and we can still (as always) pressure our elected reps — and if we don't like how they're handling things like Internet regulation, work to throw them out of office and replace them with better representatives.
Or, as the Declaration of Independence said (slightly paraphrased):
"Power to the People!"