Dec 16 2013 9:53PM GMT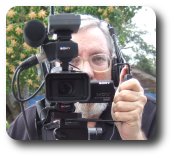 Profile: Robin "Roblimo" Miller

You've read articles about how PC and notebook computer sales are dropping. So have I. And there are corresponding articles about how smartphones and tablets are selling like crazy. I'm willing to go along with this trend and make a tablet my next computer purchase, along with a keyboard for it. I'm so ready for a tabputer (a word I just made up, but probably isn't original) that my wife laughs at me when I try to touch my current laptop's screen as I would my phone or tablet screen, and how (or so she says) I look puzzled when nothing happens.

First, a warning: the little 7″ and 10″ Android laptops you see on Amazon and elsewhere for less than $200 do not have touchscreens, so using them can be frustrating. You're better off buying a tablet and getting a Bluetooth keyboard for it. You'll spend about the same — possibly a bit more, maybe a bit less — but you're more likely to end up with a device that works without a lot of fiddling.
But real, Android-ready laptops are starting to hit the market. HP has a hybrid tablet/laptop that, as I write this, sells from the HP corporate site for $429.00. Time.com's reviewer doesn't like it much. And, frankly, it doesn't sound like the HP hybrid gives you much more utility than a sub-$300 tablet plus a Bluetooth keyboard even though it costs a whole lot more.
There's also the Lenovo A10 for about $249, but if you live in the USA, they won't sell it to you. It's strictly for people in Europe, the Middle East, Africa, and Asia/Pacific countries. Grrr.

A ZDNet article titled
Where are all the Android laptops?
talks about a dual-boot Windows 8/Android laptop. This seems cumbersome to me, especially considering that the good points of an Android device are simplicity, speedy booting, long battery life, and thousands of free or really cheap applications all in one place, namely Google's Play store. If you have all that, why do you need Windows? And if Windows is important to you, why bother with Android?
Let's say you already have a laptop or netbook running Linux or Chrome OS. You can install Android on it if you like. The point? To some people, "because you can." To others, because there are Android apps they like. And thinking of apps…
…I use Google Drive and I'm happy with it. I use Google's Chrome browser and GMail, too. I'm sure they're spying on me, but my life is pretty boring, so if Google has nothing better to do than to watch my online antics I pity them. But people who are worried about Google's potentially evil corporate habits or are locked in to Microsoft Office for some reason can run MS Office online for ten bucks a month through any popular Web browser. So yes, you can use MS Office on your Android (or iOS) device, no problem.
Or — better yet — you can put free OpenOffice on your Android. It's called AndrOpenOffice. (There is no Android port of LibreOffice quite yet.) There are other office-type suites for Android, too, most of which offer at least some interoperability with Microsoft Office.
Printing? I have an HP all-in-one, and with the HP ePrint and all-in-one utilities for Android I print from my (Android) phone and tablet as easily as from my Windows/Linux laptop or desktop. Other printer makes? There are so many out there that I'm going to leave it up to you to see if yours will work with Android. In my case, I chose the HP in large part because it works with Android, Linux, Windows, and Mac, not with only one or two of these popular operating systems.
An article titled What Android laptops need to succeed ran at pocketnow.com in October. Almost at the end, writer Joe Levi said that the features Android laptops need to succeed are "USB support, multi-screen, and a laptop-friendly user interface. It's not a long list, but each must be done well, or the entire solution is simply incomplete."



Possibly. He talks about using a laptop as a true desktop replacement. I'm not so picky, and I'm willing to sacrifice a fair amount of functionality in return for long battery life, fast bootup, thousands of available free or low-cost apps, and simplicity in general. And surprise! As I've said before and will probably say again, I can get that in a touch-screen tablet today, for a very reasonable price, and add an external keyboard for only a few dollars more.