Nov 14 2013 12:17AM GMT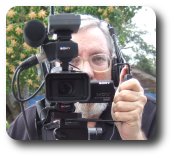 Profile: Robin "Roblimo" Miller

I use two computing devices most of the time: a big old desktop PC for video capture and editing, and an Android phone for mobile web-browsing, checking email on the go, and as an electronic replacement for the paperback books I used to carry with me nearly every place I went. Now and then I carry a sub-notebook with an 11″ screen. But what would I do if I decided to replace my little notebook? I'd probably get a tablet. As will my daughter Katina, who needs to replace the now-broken laptop they've been using to run her husband's business when they work from home instead from their office.

I was just starting to write this blog post when Katina called. Her HP laptop broke, and the cost of a new motherboard was going to be $150 or more. It was a scarred machine after several years in a household with small children, so she was thinking about replacing it. What about a tablet? she wanted to know if she could use a tablet instead of a notebook, since tablets are more portable than notebooks.
We looked at various tablets, and decided a 9″ Nook might be the best choice for Katina. It costs $149 online or from major retailers including Barnes & Noble and Walmart, both of which have locations convenient to Katina's home. Not only that, one of Katina's teenage daughters has a Nook that's at least two years old and still works well. It's fine for homework, and they use the HP Android ePrint app to print homework (on their HP printer), which means that Nook is not just a toy, but a serious learning tool. And while the older Nook doesn't have Bluetooth, the new ones do, so Katina can use a Bluetooth keyboard with it. (The kids are okay with on-screen tap-typing, but us grownups learned to type on mechanical keyboards and don't like screen-tapping.)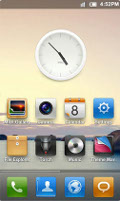 What about productivity apps?
It turns out that Tina's husband Chucky has been using his Android phone to make customer estimates and take pictures of potential jobs (he builds cubicle farms), and uploads his mobile info to Google Drive. Tina has used Microsoft Office on her laptop, but she already uses Kingsoft Office on her Android phone, and both she and Chucky have recently been experimenting with Evernote, which is totally Android-friendly.
The Nook doesn't have a camera — which was a factor in the selection of the Nook for the teenage household members, since most of the trouble teenage girls get into with smart phones and tablets seems to start with cameras. And Tina and Chucky both have phones with good cameras, as I do myself.
Camera aside, it looks like Android does everything Tina and Chucky need a portable computing device to do — and at a fine price, too.
Other reasons tablets are taking over from laptops
I won't tell you which Florida city this is from, but it's one that has some very smart people running its IT department.
When it came time to put computers into their cop cars, they almost immediately decided *not* to use laptops. Why? Because a laptop's expensive guts are under its keyboard, so a drink spilled into the keyboard means instant (and expensive) ruination. If you have a tablet-type computer locked to the dash or center console, with a keyboard attached to it by a strong cord, not only does an officer sitting in his or her car have a lot more positions to place the keyboard for comfortable use, but if a cup of coffee spills into the keyboard, it only takes a second to replace, and isn't horribly expensive.
And what about a keyboard with light-up keys? It costs a little more, but wouldn't you love that feature if you were a cop typing in reports in a dark car? You bet!
Now let's think about children. They can mess up a laptop *way* faster than a police officer can. Isn't it better to have them mess up a $35 keyboard than a $300 laptop? again, You bet!
Not necessarily a Nook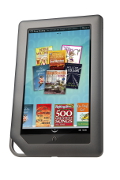 We decided the Nook was a good choice for our family's purposes in part because one of us already has one and likes it. I also have a sub-$100 7″ Nextbook tablet that's okay, but I'd kind of like to have one with a little more screen resolution and to hand the current one off to one of the smaller kids, who will surely be delighted with anything hand-held that plays games — and in whose hands we do *not* want to risk a $149 item when we have a used $70 one that will give just as much pleasure.
This is Cheap Computing in action: you choose the lowest-cost computer that will do what you need, not the most expensive — or necessarily the cheapest — one.
Note that we're talking about wi-fi tablets. We have phones, and our whole family is gradually migrating to Virgin Mobile or other pre-paid cell providers, since they cost a lot less than old-line cell companies. We know how to use micro-SD cards, and to plug in USB hard drives, so we don't need our tablets or other computers to hook to our phones; shifting SD cards or external hard drives is super-fast file transfer, plus we have Google Drive and other cloud storage utilities we can use.
Between cloud storage, SD cards, and portable hard drives, there is hardly any reason to have a notebook computer any more. And desktop computers? Chucky has one at his office, and I have one for video editing and ergonomic typing. That's it. 10 years ago, even 5 years ago, our extended family had four or five desktop PCs and that many laptops. Now we're all moving toward pocket-sized or at least hand-portable computing devices.
And as we go, so goes the nation. Indeed, so goes the world.
People in Africa, India, and many other places are skipping the PC and even the notebook stage, and going straight to smart phones and tablets.
The market for PCs and laptops is shrinking. But the market for hand-held and pocket computers (mostly Android) is growing like crazy, as is the market for cases and other accessories for small devices. So while the big computing companies may be watching their markets get smaller, markets for weavers and other artisans who make cool add-ons for our computing devices are growing. That's kind of nice, isn't it? I can't speak for you, but I'd rather give my money to someone making good-looking cell phone cases than to a company that forces workers to stay at their stations for 12 or 14 hours a day for hardly any pay.