May 12 2015 6:21PM GMT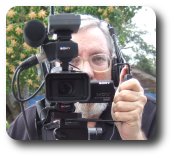 Profile: Robin "Roblimo" Miller
Tags:
The University of Washington (state, not D.C.) Office of Admissions has a question for you, which it immediately answers without your help: "Want to become a millionaire? Graduate from college!" This is probably closer to true for 18-year-olds than it is for me at age 62. And I came of age at a time (late 1960s) when most good jobs in the U.S. did not require a degree. Today? Most of the better white-collar jobs require a four-year degree. But what kind of degree? From where? And are there ways to get into a high-end career without a degree? Yes. To a degree.

Let's start with a chart from the federal government's Bureau of Labor Statistics that tells us that if you have a four year degree (or higher) you are more likely to have a job in the first place than someone without one. This doesn't mean a four year degree guarantees a job, just that it makes you less likely to be unemployed than if you didn't graduate.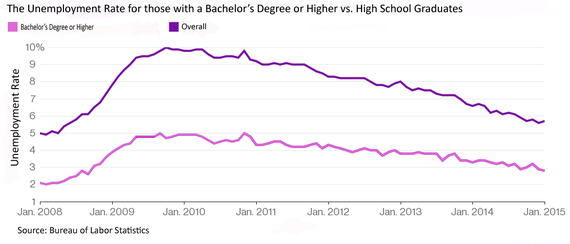 Except… according to Foote Partners, a group that puts out a well-regarded quarterly IT Skills Demand and Pay Trends Report, people with provable IT skills who do not necessarily hold degrees in the field have seen an average salary increase of 10% over the last two years, and an increase of 1.1% in the first quarter of 2015 after "flat growth in the last three months of 2014."
So things are looking up on the IT salary front. And, says Foote Partners, the difference between pay for certified skills (a la A+) and non-certified skills (you can demonstrate your ability but don't have paper creds) has dropped to the point where, right now, it might not be worth taking those Microsoft or Red Hat tests — as long as you know your stuff.
BUT there's a caveat I like to add when talking about certification exams: If your employer is willing to pay for the certification, by all means get it.
The same holds true for education. I know a young man who had hoped to become a motion picture director, but one day found himself (by accident, no doubt) with a wife and a couple of kids, and no job in sight that would make use of his degree in cinematography. So he studied like crazy through Khan Academy and other free online knowledge-sharing sites, then took the tests needed to become a Microsoft Certified Professional. Bam! Suddenly he had an actual IT-type credential to wave in front of HR people with one hand while he waved his four year degree (in an irrelevant field) in the other.
This got him a job. And once in that job, with a large company, he signed up for every computer-related training course they would pay for, which meant that two years later he was an okay programmer and was making enough money to support a wife and (by then) three kids.
This path took a lot of self-motivation, because no one will make you study if you're taking free online courses. It helps to be fairly smart, too. But that he was, and he also had a fair aptitude for dealing with fiddly little parts that helped him learn to fix computer hardware (again, on his own) without a lot of stress.
What about people who don't have enough motivation and aptitude to become IT admins (and possibly programmers) on their own, but don't want to go to college?
The oil patch is hiring hot and heavy. And if you *do* want to go to college and are willing to work outdoors under rough conditions after you graduate, US News and World Report says engineering jobs in the mining and petroleum industries are at the top of the pay scale for new grads. And, as it also says in that US News article:
"Engineering, physics, computer science, and mathematics boast strong earning potential and low unemployment rates, which can help you reap the highest return on your education investment, says Katie Bardaro, a lead economist at PayScale, an online salary database."
Analytical fields. Or we can say it this way: "You need to brush up on your math if it's a weak subject for you, because most high-paying jobs take decent math skills."
Plumbing is often held out as an example of a high-paying career that doesn't require college. So is operating heavy equipment, and both can be learned at least in part through paid apprenticeships instead of by going to school. Truck driving? Maybe hyped a little too much, but I know people who went to three-week truck driving schools and now earn decent money driving, although they typically work long hours and may be away from home for days or even weeks at a time.
We also hear about an increasing number of manufacturing tech jobs. But aren't they really becoming computer jobs where you wear a nametag on your shirt and trundle your laptop and tools around a factory floor instead of working in an office environment? Absolutely. But a combination of IT and mechanical skills can earn you more than either skill on its own. A 2 year community college degree is usually all the education you need to become a 21st century manufacturing technician, and while your income may not be as high as you could make as a chemical engineer, it will probably be decent. AND a free 'kicker' tip: Manufacturers often team up with community colleges to offer education that leads to near-guaranteed employment after — and sometimes before — graduation.
Now let's look at a government-generated chart that supposedly shows you the monetary value of a four year degree, which seems to bear out what the University of Washington people say.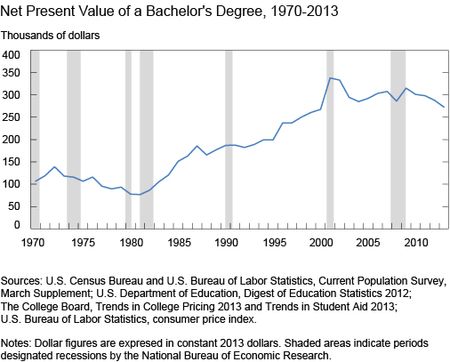 But how does the self-study route compare with a traditional college education? There don't seem to be enough people doing this to come up with meaningful statistics. I am a self-taught writer, for example, but I got help, encouragement, and training along the way from (among others) Ray Bradbury; Charles Finney; and editors Clinton Macsherry of Baltimore City Paper and Mike Bowler of the old Evening Sun. And writers often learn their craft through critical reading, saying, "I like this," and, "I *don't* like that."
The same thing is also common in IT, and is a huge reason for you to spend some time debugging and programming FOSS code. New computer science grads need real-world experience (and usually some mentoring) before they are competent unless they were already adept sysadmins or programmers before they went to college to extend their skills or at least get a diploma to help them climb over the HR hiring wall.
So now I am going to come to a no-conclusion conclusion: the best higher education value depends on your personality, background, desires, and motivation. What might be the best education or certification value for that guy over there may not be the one that suits *you* best. My formal post-secondary training came courtesy of the U.S. Army. This might suit you, and it might not. And one thing the Army and college both offer is networking. You meet people who can help you find a job, who you may help in turn. This is hard to quantify, but can be a big advantage in real life — and you might also want to look at computer user groups and other occupational get-togethers as a way to make valuable contacts. This is validating the old, "It's not what you know but who you know," truism, which is not only a truism but is often just plain true.
To close this blog post (and probably confuse you even more), let's read a U.S. News article titled Is a College Degree Still Worth It?
Let's also have one more chart. This one shows, somewhat surprisingly, that it takes a lot less time to earn the money you invest in a Bachelor's Degree today than it did before, say, 1980: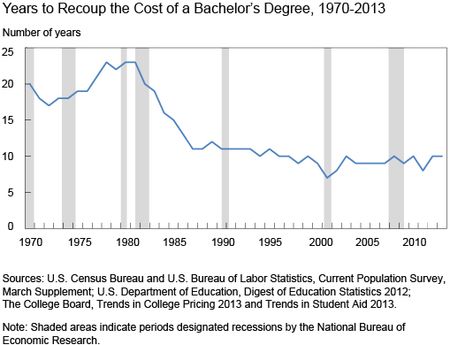 And now, after getting all this conflicting advice, it's time for you to make up your own mind about what you should do when it comes to education and (possibly) certification.
Good luck!