Aug 13 2013 7:54PM GMT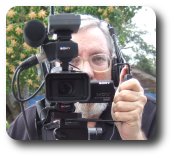 Profile: Robin "Roblimo" Miller


Linux is less likely to crash than Windows. It runs on less robust hardware. In many ways it's easier to use, especially for people skilled with computers. (That would be you, right?) But not all software written to run on Linux is perfect — or even necessarily 100% usable. I've battled with the idea of editing video in Linux for over a decade, now, and it is finally becoming possible. Sort of. And there's hope that it may get better. The most "complete" video editing programs for Linux right now are supposed to be flowblade, KDEnlive, LiVES, Shotcut, and OpenShot. These programs are all free both in the sense that they cost $0.00 to use, and in the sense that you are free to do with them as you wish in ways you cannot with proprietary software.

The first thing that hit me in the face when I started my Linux video editor trials was that these programs are not necessarily usable in an underpowered computer. Linux itself has a well-deserved reputation for needing less hardware oomph than Windows, but OpenShot was not usable when I tried it in my Acer subnotebook, with its 1 GHz uP. It wouldn't even play an MTS (common digital HD format) clip without major stuttering. It was fine on my big desktop computer. But one of my fondest hopes for Linux video editing was that I would be able to do it in the field, so to speak, on my little notebook computer.
Oh, well.
Despite the fact that it wants as much computer power as my favorite Windows video editor, OpenShot seems to be useful. Using it, you can trim a video clip, cut it in the middle and trim both of the resulting sub-clips, and string clips together, then add narration or any other kind of audio you want to your movie project, then create either static or animated titles.
Not only that, OpenShot may soon become not just usable but usable as a professional video editor. A Kickstarter fundraising campaign with a $20,000 goal has netted over $45,000 is pledges so far. This means faster development, possibly faster than any open source Linux video effort, ever.
If you haven't tried OpenShot yet, you should. I'm just starting to work with it myself, and I find it to be on a level with Windows MovieMaker. And sound editing capability? Perhaps it's there and I just haven't found it yet. There are a few basic "effects," but no useful utilities like background noise removal or the ability to synchronize video and sound in clips where they don't quite match — which is a common problem with Google Hangout and several other remote video utilities. Ah, well.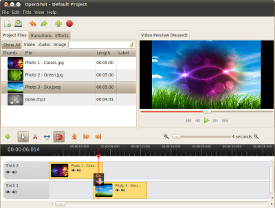 Today is one thing. The future is something else. OpenShot has that nice Kickstarter war chest, so it has plenty of future promise. KINO once showed promise, too, but sort of petered out. I hope the same doesn't happen to OpenShot.
This week has been rough on me for personal reasons (my health is not good) but by next week I hope to have at least one sample OpenShot video and one video made with another Linux video editor to show you.
Of course, if you have any videos of your own to show off or you have suggestions or comments about video editing in Linux, I'd love to hear them. You can either comment directly on this blog post or email me at robin@roblimo.com.