Sep 27 2013 11:13PM GMT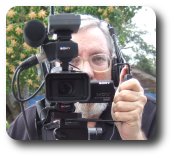 Profile: Robin "Roblimo" Miller

My last post was titled Goodbye, Contract Cell Phone Plans. It was about the joys of prepaid cellular service, and how it saved me all kinds of money. About four hours after I uploaded that post, my HTC phone died. A snickery person might say it died because someone dropped it onto a hard floor while standing on a ladder, but I was the only person in the room so that's not possible. Or is it? (Blush.) In any case, Virgin Mobile is replacing it under warranty. Sadly, since my particular phone model is backlogged right now, that's going to take a week or two. Despair? No way! I found a "good enough" Kyocera Event phone on Virgin's website for $49.95, and almost ordered it. But my Cheap Computing instincts kicked in before I did, so I shopped around for that model phone. And I found it for $39.95. All right!

The place that had the Kyrocera Event phone for $39.95 was Best Buy. And, wonder of wonders, they actually had it in stock at a retail location near me. So I went over and grabbed one, and less than an hour later, by using Virgin's online activation system, I was back on the air, checking out library ebooks and doing all the other things people do with cell phones.
When the warranty replacement for my "real" cell phone shows up, I'll probably switch to it and put the slightly smaller Kyocera on the shelf for emergencies. The HTC EVO 3D has a better video camera, although it's no better when it comes to stills. And the HTC's screen is bigger, which is nice for reading. But bigger is less comfortable in a pocket. On the other hand, I have a couple of double-sized batteries for the EVO, so I can run it for up to five days, including getting GPS directions, which is one of the bigger cell phone battery drains around.
When I get the warranty phone, I'll see. It'll be nice to have a spare, anyway — especially since my wife is on Virgin, too.
So: If you want a basic, low-cost Android phone, get a Kyocera Event from Best Buy, hopefully while they're still on sale. Even at $49 or at the $59 "regular price," we're talking about a nice little phone. Add earbuds and you have decent sound. Get a car charger from Amazon for next to nothing, and unless you go hiking or kayaking in the boonies, you have all the battery you need — with unlimited text and data (3G, which is usually "good enough," especially if you live — as I do — someplace that has little or no 4G anyway) and five hours of talk time, which is plenty unless you're a serious yakker, from Virgin Mobile.
And then, a second phone problem cropped up…
No sooner did I get my new cellular phone activated and charged than a battery in on of my home landline wireless handsets did. $19.99 for a new one. I'd already replaced the battery in the other handset, which is my wife's, so it gets lots more use than mine. But I replaced it a year or two ago, and the whole set was over five years old. I spotted a new two-handset V-Tech cordless set at…. you guessed it… Best Buy for $29.95. $19.95 for a battery — for a set near or even beyond its useful life. Or $29.99 for a new set. The new set seemed like a winner, so I drove the 0.8 miles to Best Buy to get one, having first checked that they had the thing in stock.
Here's the URL.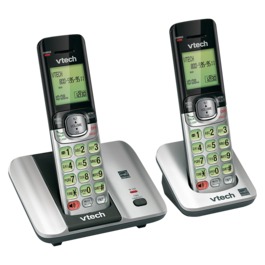 And when I got there, the shelf was bare… of $29.99 V-Tech 2-handset cordless phone sets. Since I'm a modern American, and had my new Kyocera Event cell phone with me, I went to Best Buy's website right there in the store, and lookie there! Still in stock, still $29.95, for immediate in-store pickup. I was pulling out my wallet to buy one when a your sales guy, Tony, asked what I was doing. He said, "Follow me. I'll check the store computer. Sometimes we have them in back for online sale but not out front for store sale."
That sounded exceedingly dumb, but it was Best Buy, which is working hard to commit retail suicide, so I wasn't surprised. Young Tony found the $29.99 set (they had five in stock), got his manager to authroize the price, and that was that.
This is a pretty minimal phone set, with no built-in answering system or anything, but it's all I need. And if all you need is a basic two-handset cordless phone rig, you want to get one for yourself.
Back in Ben Franklin's day, an earned or saved penny was meaningful. In our time, $5 is meaningful, and I have saved a bunch more than that this week, courtesy of Best Buy, just by keeping my eyes open and doing a few minutes' worth of shopping. If you do the same, you might save even more than I have this week.
To update old Ben, we might say, "Saving $100 is like getting a $120 raise — when you add income tax to the equation."
———————-
PATRIOTIC BONUS: Donate $25 to the USO and get a free American flag. This is another great deal. And tax-deductible, too. Even if you don't need the flag or you're reading this too late to get it, donating to the USO is still a good idea.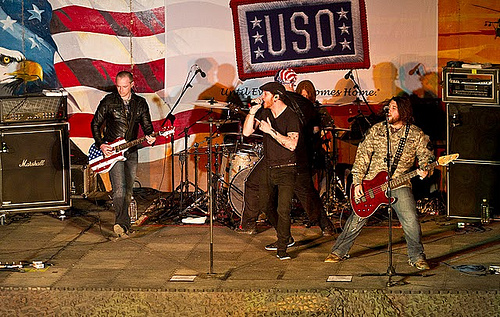 A note about recommendations: These are products and/or services I use myself or that friends and relatives use and like. I am not paid to make these recommendations, nor do I receive any commissions if you take my buying suggestions. Prices are valid when I post them, and I can't guarantee they'll stay the same. Find better deals? Please post them in the comments section. That's why it's there. 🙂