Oct 17 2013 9:28PM GMT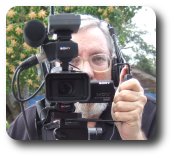 Profile: Robin "Roblimo" Miller
The other day a young friend was telling me how her cell phone had become annoying. "Someone is always calling me or sending we a text or something," she said. How awful! Getting bothered 24 hours a day, every day of the week. "How about turning your phone off when you don't want to be disturbed?" I asked. "But won't I miss calls?" she asked. "No," I said. "People who have something important to say will leave a message. And texts will be in the system and will appear when you turn your phone back on." The girl looked puzzled. "Yes," I said. "The off switch is possibly the most valuable control you have on any electronic device. Use it wisely and often, and you and your devices will be happier and will probably live longer." I couldn't help adding, "Yes, if you turn your electronics off when you are not using them, both they and you will live long and prosper."

It is easy to get into the habit of leaving your computing devices on all the time. I was in that habit for many years. It was convenient as [bleep] to walk into my office, sit in my chair, and go to work instantly without waiting for my computer to boot. I even suspended my laptop most of the time instead of turning it off while I carried it around.
And my phone? Well…. I got my first cell phone in the mid-1980s because I had a limousine and wanted my customers to be able to get hold of me. But then I went into partnership with another guy and we forwarded our main (listed) phone line to just one of our cell phones and split the duty. Oh, my! Suddenly I didn't have to be listening for customer calls 24/7. Now it was more like 24/3.5. Or 12/5. Or whatever our schedule was in a given week.
After you have been a Cell Phone Slave for several years it is wonderful to not have your phone ring all the time.
Then, as I become a successful writer and editor, I did less and less limo work, and kept my cell phone on less and less of the time. After a while I shut it off when I went to bed and only really listened for its ring when I was away from my home office. It was amazing how much calmer I became.
Another thing I learned was that even if my cell phone was turned on, I didn't have to answer it if I was driving in traffic or otherwise occupied. The people who really needed to get hold of me left voice mail messages, and the rest could either call back later or just leave me alone.


Text messages? Why rush? Why endanger myself by reading or responding to text messages or emails while driving? I gradually got into the habit of setting my Mental Switch to "off" any time it was not convenient (or safe) for me to take calls or text messages, even if I left my phone on.
And then there is air conditioning.
My wife and I live in a single-wide, one-bedroom mobile home built in 1960. It doesn't have central heat or air conditioning. Instead, the living room/kitchen are have one through-wall a/c unit, the bedroom has one, and the enclosed porch I use as my office has a portable air conditioner. I'm in my office right now, writing, so the office a/c is running. The other two are off. When my wife comes home from the beauty parlor, she might turn on the living area unit. But it's getting cool (even Florida cools down in October) so she may not want to run it. And the bedroom a/c? We haven't had it on at all the last few days and nights. And in the hottest parts of the summer, we turn it off most days unless one of is taking a nap in the bedroom.
Not air conditioning unoccupied rooms saves money. So does turning off unused computers, although not as much.
Do you know people who have lights and a/c or heat running all the time? And two or three TVs blaring 24/7? If you own stock in your local electric company, you should thank these people, because they are making you money.
Me? Not so much. I am not a very good electric company customer, because I have "off" switches on just about every piece of electronic and electrical equipment I own, and I am not afraid to use those "off" switches.
Again, not so much with the computers (or with newer LED or even CFL bulbs), but turning devices like air conditioners off not only saves electricity but makes the devices last longer.
I don't know about you, but I like having my electric bill as low as possible, and I like making my apliances and computers last longer even more than I like saving electricity.
And all this is due to the magical mystery On/Off switch — which I'll bet almost all your electronic and electrical devices already have.