---
November 21, 2014 10:15 PM
Dell
,
HP
About 10 years ago my wife decided to go shopping on Black Friday. She came home from the local mall frazzled and upset. The crowds were huge, she said, with lots of pushing and shoving. And super deals? She didn't see many of them. They had all been snapped up by wormy early birds. And more...
October 20, 2014 7:01 PM
Acer
,
Chromebook
,
Dell
,
laptop
,
toshiba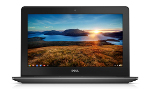 My wife and I have a daughter, Tina, who...
---