Apr 30 2014 9:21PM GMT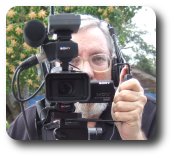 Profile: Robin "Roblimo" Miller

Have you seen those little capacitive styluses you can use to tap your smartphone or tablet screen? They're a lot easier than fumbling with your fingers, and they cost next to nothing. You should get some. I did. And my wife likes them at least as much as I do. The ones pictured here are the ones I first bought from Amazon, but after that I bought some others from Amazon, Tiger, and NewEgg. They all seemed about the same to me, and they were all so cheap that they weren't worth comparison shopping.

I have a friend who can get crazy about this sort of thing. I bought the stylus equivalent of Bic pens, and they are all the same to me: I tap on the screen of my touchscreen device, and I get the desired result. Not [name redacted]! He gave me a full discourse on how some capacitive styluses work better with this screen or that one, and how how ergonomics vary from make to make.
I may be insensitive, but I can't tell the difference. I am happy with my 9-for-$4.72 (at this writing) styluses, shipping included. Due to my inconclusive comparison shopping, I now have styluses all over the house, near at hand, with a few to carry in computer cases and purses.
Our biggest problem with these things is a tendency to lose them. So we buy cheap. If we're going to lose something, it is better to have that "something" be worth less than a quarter than worth $2.
Now I'm going to talk about water. My local water supply, in Manatee County, Florida, is what I used to call "beach town water," which means it may be safe and all that, but it is not tasty due to proximity to an ocean. Coming to Florida from central Maryland, which has some of the best-tasting municipal water in the country, may be a factor. In any case, I never much liked the taste of the water here.
So I tried a Brita filter, then a PUR one. Neither unit lasted more than two of their crazy-overpriced replacement filters. Finally I spotted a little Instapure filter in a back corner of my local Lowe's store.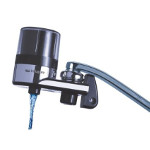 If you see a Waterpik filter, it's the exact same thing. Either one sells for about half the cost of a PUR or Brita filter (or less) and lasts longer. That's what my wife and I have used for some years now to keep our Florida water from tasting like… well… Florida water. And maybe some of the antibiotics and other strange stuff in tap water gets filtered out too. We're fine with that — even though we have no real health doubts about our tap water.
Now we need water bottles. Good water bottles that fit in the car or bicycle cupholder cost anywhere from $5 to $10 or more at Walmartyr or Targot (or whatever they call those huge stores). That seemed like a little too much to me.
And then one day, I was in my local Dollar Store. Lo! Behold! They had good-looking water bottles for only (you guessed it) a buck apiece! Nice ones, too, with tops I can open with my thumb, but that seal well enough that there are no leaks. And get this: the whole top unscrews so you can put ice cubes in your water bottles, same as the $10+ ones at the sporting goods store.
I bought five of the things, and I'm glad I did. In just a few months I was down to two, and the Dollar Store didn't have the ones I liked. But Lo! (Again!) They had some, and my wife picked up all they had, which was like six. That should last us for a while.

Or should I buy a case of 48 for $48? It would be a multi-year supply, plus good little gifts for grandchildren and sporty friends.



Whatever. Between the faucet filter and the $1 bottles, we have the equivalent of the bottled water a lot of people pay $1 or more for, then throw the bottles away.
This relates to computers because I have one of these bottles on my computer desk right now, just to the left of my little Acer subnotebook, which is now blinding-fast because I spent a few bucks — around $50 — for an SSD drive. But I already wrote about that: why some judicious upgrading may make a computer you already have so much faster that you won't want to buy a new one.
And my $1 water bottle has such a great cap that even if I knock it over, I won't drench my SSD-equipped notebook computer!
Yes, we try to avoid spending. But when a sub-$1 stylus makes our smartphones and tablets easier to use, and a water filter and some $1 water bottles give us the veritable equivalent of our own Poland Springs bottling plant (but with better tops on the bottles), we should spend.
Maybe not a lot, but a little. Because quality of life has a value, too, which we may not measure in money but is still meaningful to us.