Jun 14 2013 5:08PM GMT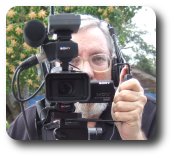 Profile: Robin "Roblimo" Miller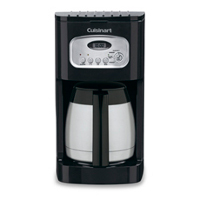 I don't know about you, but before *I* go near that keyboard I need my coffee. And the better the coffee, the better I work, so I recently went on a coffee maker research binge. My venerable (and not exactly cheap) Cuisinart drip machine was starting to get a little worn out. I'd had it so long that the part of the machine where the thermal pot sat was starting to rust. My first thought was just to replace this passable Cuisinart with another one just like it. But then I started thinking about getting something a little better suited for my one-coffee-drinker household instead of yet another 10-cup device, and that though led to… dum de DUM dum… research! …starting with a bunch of reading, then the purchase of a Bialetti Moka Express from my local Bed Bath & Beyond.

My wife is a tea drinker, but she is also a chronic coupon collector and is on nearly every housewares retailer mailing list there is. So we tend to have BB&B 20% off coupons around most of the time. They never expire, so when you want to buy something BB&B sells, it's usually less with the coupon than the Amazon price. In this case, I might have saved a little going with Amazon, but I wanted it *now*, and BB&B is only a mile away. Oh boy oh boy. I was like a dog in a Beggin' Strips ad so I could get the thing right away. Which I did. Oh boy oh boy. I ground some French Roast beans in my venerable grinder, and in 10 minutes (after first cleaning my new coffeemaker, of course) I had lovely latte-type coffee. Yum yum yum. It was GREAT. I mean, WAY better than drip coffee. Imagine the best better-than-Starbucks coffeehouse coffee with lots of milk because it is so strong and hot when you make it that a lot of moo-juice makes it just right.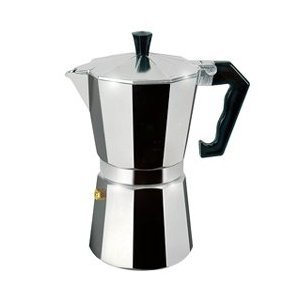 Six cups in the land of Italian home espresso fills my 16 oz. Thermos insulated coffee mug to just about 60% of its capacity. Obviously the "cup" Bialetti is using to measure is one of those tiny espresso cups you get in outdoor cafes in Paris or Rome or Veracruz. Six of those cups is, to me, a nice, robust, strong mug of coffee. Add milk and, as I said, it's just right. Some people add water to make the almost-espresso Moka coffee into Cafe Americano. This is all personal taste. When you start with super-strong, black coffee you can finish it off however you like. It will still have 72 times as much flavor as your drip coffee — or, for that matter, the coffee you make with one of those pricey (and highly touted) single-serve pod machines.
Note that I say "almost-espresso." This is because serious coffee snobs don't consider anything to be real espresso that wasn't made in a complicated and expensive machine. Fine. They can have their expensive (and typically hard to clean) machines, and we'll have tasty coffee without the expense and trouble, just as they have iFad tablets that cost hundreds of dollars while we have perfectly useful Android tablets that cost as little as $69.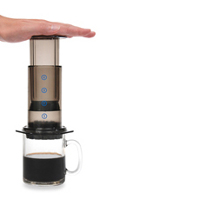 But what about the too-cool AeroPress? It's down in the Cheap Computing price range, and is an obvious relative of the French Press, but produces smoother coffee. I tried it — and found the coffee it made more like drip coffee than moka or French Press brew. So back to the store it went.
And what about a French Press? I'm not a fan. Others are. You should try French Press coffee. If you like it, you are good to go. A French Press, itself, can set you back as little as $8.55.
And now, let's talk about the one thing that irritates me about the Moka pot: Time. You put in the water and coffee and set it on medium heat and set your timer for 10 minutes. You'd better be back at the stove when the 10 minutes are up and the thing is gurgling, too, or your coffee will burn. Or if you wait even longer, the aluminum pot may discolor or something. I haven't tried waiting long enough to find out. Rather, I lean against the stove or sit in the kitchen reading a book for the last few minutes of gurgling.
Except I don't do that any more, because there is an automatic version of the Bialetti pot. In fact, there are several of them. The one I got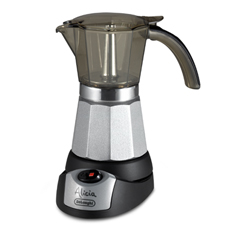 is the DeLonghi Alica. Sixty bucks minus the BB&B 20%. And yum yum yum. If anything, the not-quite-espresso coffee it makes is *tastier* than you get from the Bialetti Moka pot, and it's faster. And automatic. When it's done gurgling it shuts off and keeps your coffee warm for half an hour. Besides, I have a lovely stepdaughter named Alicia, and I am reminded of her every time I use my Alicia to make great coffee. You can also take your Alicia to work to make coffee without a stove. And even if you use an Alica at home, a basic Bialetti stovetop Moka is good for outdoor grilling, camping, and emergency use. Another trick is that if the plastic see-through top unit of your Alicia breaks, you can replace it with your aluminum Moka top. Good to know.
The only problem, now that I make my coffee with an Alicia or Bialetti pot, is that it's is so good that I'm tempted to drink more than I should; two 6-cup mugs of espresso (yes, purists, it really *is* espresso) is more than enough in a day, even if (like me) you are a hardened ex-Army, old electronics guy who learned to make and drink "spoon stands up in it" super-strong percolater coffee to get through the night.
AND IF YOU DON'T HAVE A COFFEE GRINDER: Buy Cafe Bustelo. It's in all the groceries where I live in Florida, typically for less than the Amazon price. Still great coffee either way, and Cuban abuelas (grandmothers) run thousands of pounds of it through their stovetop Moka coffeemakers every year. I'm personally partial to fresh-ground but I'm okay with the preground "bricks" of Cuban-style espresso.
And don't scoff: Yes, I can tell the difference, even if not that many years ago I not only drank, but *liked* 7-11 coffee. That's the thing. Once you start noticing the difference in coffee quality between different brands of coffee beans (let alone between fresh-ground and bought-ground coffee) and the difference between different preparation methods, you are lost. All someone like me can do at that point is steer you away from needlessly complicated coffee machinery and toward simple, elegant coffee makers that do their jobs well and don't cost very much.