Mar 28 2013 6:43PM GMT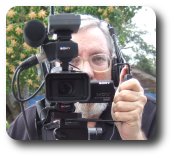 Profile: Robin "Roblimo" Miller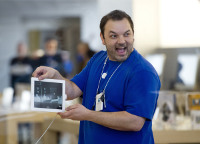 There are different levels of cheapness, and it's hard to use the words "cheap" and "Apple" in the same sentence. But not necessarily impossible. In this case I started by looking at a large infographic (at the bottom of this story) sent to me by dealnews, publisher of a "get stuff cheap" newsletter to which I've subscribed for a long time.

Said infographic tells us how long we need to wait after the release of a new Apple product before it starts to drop in price. If we wait two months, they say, we can save $49 on a MacBook Air 11.6″, and if we wait seven months we can save $199 on it. This means it's a little less brutally expensive than on the day it first went on sale. And so on, though most of Apple's product line.
Since Apple and Apple buyers live in a different reality from the rest of us, an Apple product on sale for a little less than list is a wondrous thing, and we should not sneeze at the idea of saving money however and wherever we can.
Yes, I know. For every Apple product on sale, if you think a little different you can find something that will do the job just as well for half the price. You can also point out that my old (but new to me) Jeep Cherokee is more practical off-road transportation than an Audi Quattro for less than 1/5 the price, but there are plenty of people who prefer the Audi — and no doubt own iPhones instead of Android phones, too.
But even Audi and Apple buyers like to save a buck now and then, which is why they need to know about Apple's Certified Refurbished Products outlet on eBay.
This is where you get a 64 GB iPod Touch for $229, reduced from $399. If an iPod Touch is a "gotta have it" item for you or a family member, this is worth a look. At least.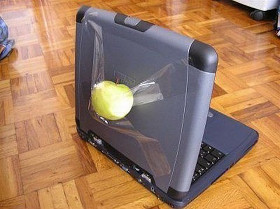 Some of us don't even consider Apple products, either because they're expensive, because we aren't in love with the way they work, or both. But again: Some wouldn't have anything else, and they have a right to be as cheap as the rest of us even though they like to stay in Apple's proprietary universe. Which is a fine place to be for a lot of people; don't get us wrong on that.
Here's the dealnews story from which we grabbed the infographic: Price Trends: When to Buy a Mac
Here's the readwrite take on the same infographic: How Long Should You Wait For Deals On Apple Products?
From the readwrite story comes the best advice in this whole schmear, condensed from the dealnews piece:
Dealnews offers another tip from its research. If you want the best price for Apple products, don't buy them from Apple! Instead, wait until a new model comes out, then haunt the MacMalls and Best Buys of the world and buy the previous version days or weeks after the new release. You can thank us — and Dealnews — later.
So you can. These are the best Apple money-saving tips I've ever seen. Please use them for good, not evil.
—–
—–
The dealnews Infographic: