Mar 18 2015 10:10PM GMT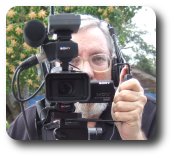 Profile: Robin "Roblimo" Miller
Tags:
I drop my phone at least a few times every week, usually from desktop height. And finally something bad happened from a higher than usual drop: a big crack in the screen, and the phone's protective case had a bashed-in corner. But all was not lost, In fact, due to the protective gear I had on my phone, hardly anything was really lost!

What looked like a crack in the screen was really a crack in the 'Optionz Premium Tempered Glass Screen Protector for HTC Desire 816.' The phone's screen was fine. The screen protector gave its life to save my phone. Greater loyalty than that, we cannot ask.
The other piece of protective 'clothing' my phone wore was a Nillkin Frosted Shield Matte Hard Back Case Cover Shell. That case was a disappointment. Yes, it protected my phone, but its outer coating was starting to peel, which was kind of lousy considering I only bought it last October. My friend Matt had warned me that a hard plastic phone shell was not likely to last, and suggested a soft silicone case instead. That's what I now have on my phone. It's sturdier than the previous case — and cost less. And it feels soft and protective. Nice!
The new silicone case came with a flexible clear screen protector. I have never had good luck getting those mounted on my phone screens without air bubbles under them. But I will try yet again, same as I did in October before I gave up and bought the glass screen protector.
Or maybe I'll just go without a screen protector. My HTC Desire 816 phone has a plastic screen, but it's the toughest-feeling plastic screen I've ever owned. We'll see.
Virus, Malware, and Theft Protection
I use a (free as in beer) program called 360 Security to protect my phone from viruses, trojans, and other malware. Does it work? I haven't noticed any malware problems, so I guess it does, It also does 'boost' and 'clean' things, and can be set to warn you if you're getting near the top of your data plan — something I don't worry about on my unlimited mobile data plan but might be important to others.
But wait! That's not all!
The greatest feature of 360 Security, which I've only tested and haven't, thank deities, had to use for real is called Find Phone. This utility not only tells you where your phone is, but can also lock it so that no miscreants can use it, and — most important of all — can erase all data on your phone so that baddies can't pry into your business.
I don't know about you, but in the wrong hands the data stored on my sub-$200 smartphone could lead to a loss measured in $1000s. I'm better than most about keeping critical info on an easily-lost portable device, but still…
Anyway, here's the Find Phone Help page. Check it out. If you're sane, and you have an Android phone, you'll probably say, 'I want that!' to yourself and will immediately download 360 Security. Besides all the rest, it has a pretty good privacy enhancement feature and an app manager that seems to be as good as any other I've seen, if not better.
360 Security is developed by Qihoo 360 Technology Co. Ltd., a Chinese company that is traded on the NYSE, so they're unlikely to disappear suddenly and leave you hanging.
So download 360 Security already. And the other security and 'cleaning' apps you have? You won't need them anymore. 360 Security does all they do, and then some.