Dec 20 2012 2:00AM GMT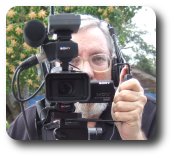 Profile: Robin "Roblimo" Miller
Tags: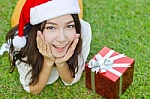 It's really close to Christmas. This time of year, being aware of price differences between a retailer's website and their physical stores is especially important because this is when you're most likely to shop online and then, for speed reasons, pick up your purchase at a nearby store instead of waiting for it to be delivered. But what if the price in the store isn't the same as the price you saw online? What should you do?

Obviously, if we're talking about a "gotta have" Christmas gift, you scrunch your eyes and pay the extra. But you probably also go away from the store that bit you for the difference between the online price and the bricks & mortar price feeling that they cheated you. Don't feel bad. I've had the same feeling more than once, both about computer and electronic items and other purchases.
For example, I wanted some knee and elbow protective pads. I shopped for them online, and found a set I wanted at a store we'll call Sorts Athoritee for $17.99. I went to said store, and found that most of the knee and elbow pad sets there didn't have prices on them. With the help of a sales associate, I found that the ones I saw online for $17.99 cost $34.95 in the store. For real? No kidding? Oy!
"The website is totally independent from the stores," a Sorts Athoritee sales associate told me. "The prices and merchandise are often completely different."
Good to know. I obviously won't shop as much at Sorts Athoritee's website in the future, will I?
The store where I've run into the most differences between web and in-person prices is K-Mart/Sears. Their site(s) don't do a good job of making it clear what items are stocked in their stores instead of only in a warehouse for online sale, either. Unless you check very carefully, you may make a drive to the closest Sears or K-Mart for nothing.
K-Mart/Sears is not alone. An increasing number of national merchants now have notes on their websites saying that this item, or that item, is sold and shipped by boogaloo deals or some other bogus company, not by the famous-name store itself. Target does this, Wal~Mart does it, Best Buy does it, and so do others. These stores have spent years or decades building up their brands, and now they're denigrating those brands to take in a few bucks in affiliate fees from the sub-merchants. I'm glad I don't own stock in any of these companies, because their managements don't seem to be thinking about their companies' long-term futures.
In general, Best Buy is decent when it comes to selling items in the store for the Web-advertised price. The mouse for my main computer started acting squirrely a few days ago. I went to the Best Buys site and settled on this one, on sale for $5.99. Their site said it was in stock at my local store, so I zipped over there and bought one.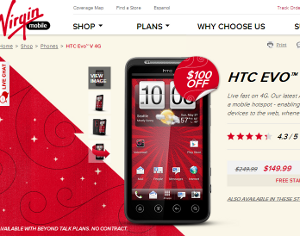 While I was at Best Buy to get my $6 mouse, a vendor associate told me about the wonderfulness of this HTC EVO V 4G cell phone and the no-contract $35/month Virgin Mobile plan I could get with it. As it happens, I have been thinking about replacing my 1997-era Motorola i335 phone and leaving Boost, which I was on because they only charged me a dime a minute — except they've creepd up to a quarter a minute recently, which is kind of like saying, "Miller, we don't want you as a customer any more. Go away."
So okay, Boost. Away I'll go. In fact, I think I'll go to Virgin Mobile, which my wife is on and likes a lot. They have a $35/month unlimited data and text plan that includes 5 hours (300 minutes) of talk. And I had been looking at exactly the $249 phone the person in Best Buy was pushing…. except I recalled seeing it for $189 on Virgin's website.
And then came a real kick in the pants: That phone — the exact same HTC EVO V 4G — was now only $149 online through Virgin. Naturally, I looked for online coupons that might cut the price down even more.
I see one for Radio Shack — for $169. And a couple of the deal newsletters I get mention the $149 price from Virgin. Amazon? Not even close: $249 with the Virgin plan, $149 with Boost, but Boost doesn't want me, do they? So Virgin it is. The phone I want at what seems to be the best possible price. A pretty good (for a cell phone) camera and video recorder, and a good monthly price for all the voice time I'm likely to need — and unlimited data and text bandwidth, which may be throttled if I use a bunch of it, but still a decent deal.
Why we shop instead of just buying… Look at the difference between the Best Buy price and the Virgin Mobile price for the HTC EVO V 4G: $100!
That's a bunch of money! People who nod their heads and buy what the people in the store tell them to buy without checking elsewhere get reamed — unlike those of us who have the Cheap Computing mindset.
————–
PS – There was a Dick's Sporting Goods next to my local Best Buy. They had a fine set of knee and elbow guards for $21. I bought them. Once again, I shopped instead of buying, and saved some money in return for a tiny bit of extra effort.