Jan 25 2013 12:26AM GMT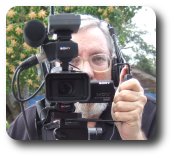 Profile: Robin "Roblimo" Miller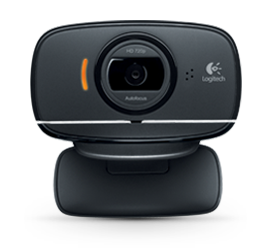 I do a fair number of remote video interviews (like this one) these days. They're getting to be rather common. One day you'll be called on for a video interview. Or you'll just decide you want to look your best in a video chat session or simple "talking head" video production. Assuming you already have a webcam and microphone, whether they're built into a laptop or clipped to the top of a monitor, you already have the equipment you need. Now what you need are these simple tricks that will make you look your best, even over a not-so-good Internet chat connection.

1) Lighting. More is better. But even more important, you want more light in front of your face than behind you. If your computer position is near a wall, you might want to shine lights on that wall, because diffuse light is "kinder" to the human face than harsh, direct light. And natural light…. if it's daytime, you have a wonderful light source outdoors. If you have a handy window, and light curtains or some other way to dilute the sun's rays, you can set up a near-perfect light situation without using artificial light.
2) Camera position. The most natural position for a laptop computer is on your lap or on a desk, with the built-in camera well below your eye level. This is not good. People watching the video feel like they're "looking up your nose." Set that laptop on some books. Or anything handy. But do whatever it takes (a lower seat, perhaps?) to get the camera roughly level with your face. If you have a webcam on top of a large monitor, you may have to raise yourself to its level. Or move your webcam mount to something alongside your monitor to get it at the right level.
3) SMILE! Even happy people tend to look a bit dour when they're looking at a camera and talking. If you consciously smile as you talk, you will look a lot better to your audience.
4) Look at the camera, not at your interviewer. In a remote video interview, it's natural to look at your monitor, which is where you see your interviewer. But when you do that, your audience and interviewer see you looking down, not at them. You have to remind yourself that the CAMERA is your audience, because it's the "eye" through which your audience sees you. Look at the camera and you are "looking them directly in the face." Look elsewhere and you might appear to be shifty rather than truthful.
If nothing else, look at the camera at least part of the time. This is the same as looking at the audience when you're giving a speech; even if you're reading from notes, you should make eye (camera) contact regularly so you audience feels that you're speaking to them, not to yourself or someone else.
If you have trouble with this, advises writer and speaker Alfred Poor, "print out a life-sized faceand have the camera look through one of the eyes. It helps to have a realistic target (though you don't need this crutch if you practice and concentrate)."
5) Think about your clothing. Don't wear a white shirt. And avoid pinstripes, tweeds, and other detailed designs. Moire patterns can be fun, but not when you want people to concentrate on what you're saying.
6) Don't fidget. Keep still. If you want to move, use your hands to help say what you mean. If at all possible, look at how your camera sees you (by looking at Skype Option-> Video settings or at a screen video recording of you on your webcam) and look at how much of your hand movement is in the picture. Keeping your hands near your face often works best.
7) BEWARE OF THE BACKGROUND! Do you have a messy office? Mine ranges from fairly neat to stuff-piled-on-chairs. And, since my office doubles as my workshop, I often have bicycle, computer, and car parts here and there. And video cameras and mics and cords. Before I let my office show in a still or video shot, I at least straighten up the area the camera will see. You should do the same.
8) Glasses. If you're going to do a lot of on-camera work, you may want to get a pair of glasses with a non-glare coating. If you can't afford glasses with costly non-glare coating, make sure your glasses are scrupulously clean, and light yourself well, ideally with indirect lighting from the sides — which can just be a pair of $12 hardware store work lights clamped onto nearby shelving, one on each side of you, pointed at a wall behind your desk or worktable. (This will give you better lighting in general and make you look WAY better than if you're lit poorly. For $24 plus a pair of bulbs, an unbeatable bargain.)
9) Aim your webcam properly. Look at the two shots of me to the left of this paragraph — one with poor lighting and lots of screen glare on my glasses (left), and one with little screen glare (right). And take another look at the video chat with Wayne Rash I linked to in the first paragraph, above — and again here for your convenience. See how our heads are at the top of the screen? They are not in the center of the picture. Amateurs typically put photo subjects' faces in the middle of the shot. Pros have the top of the head all the way at the top. They might even chop off a little hair and not worry about it. Watch your TV news carefully, and you'll see that their shots, too, have minimum headroom (as the space between the top of the subject's head and the top of the shot is called), not Max Headroom.
———————-
There are, of course, 17 trillion other things you can do to make yourself look better on a webcam or any other camera, but many of them cost money. Like a decent webcam. But you don't need a great one. I use a Logitch C525 you can buy for $42.50 including shipping (at this writing). A more expensive webcam won't look any better through a typical Skype or other Internet chat service connection.