Oct 23 2013 9:51PM GMT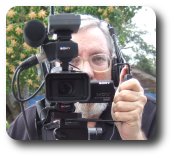 Profile: Robin "Roblimo" Miller

I have just gotten a new cell phone, courtesy of Virgin Mobile. It's a SAMSUNG GALAXY VICTORY™ 4G LTE. My old "good enough" phone, an HTC EVO 3D, committed suicide by throwing itself onto the floor, so Virgin sent me the Samsung as a warranty replacement. I intend to use my new smartphone as a "rough and ready" camcorder, too. I have a serious Panasonic video camera, and a serious Canon, both with good shotgun mics mounted on them, but there are times when I want to take a video shot but don't have them with me. That means I need low-cost, easily-carried accessories that can turn my pocket-sized smartphone into a passable camcorder. And they need to be cheap. (After all, the title of this blog is Cheap Computing.)

Blog title aside, I need cheap accessories because I live on Social Security disability plus a little freelance work. Sadly, since I really am disabled (heart problems) instead of faking it, I can't work but a few hours a day, which keeps my income low. On the other hand, I'm pretty good at living on the cheap, to the point where I can turn a $195 (on sale) Android phone into a useful camcorder for interview work with $25 worth of add-ons.
The first problem with all cell phones being used as camcorders is shaky hand-holding. YouTube will now help you with that, but I am not in love with the way they remove "shake" from video. Plus, believe it or not, YouTube is not the only way to share your videos with the world. So let's try to take smooth video from the start.
The best way to take smooth video is to mount our camcorder (or smartphone) on a tripod. Carrying a full-sized tripod defeats the purpose (convenience) of using a smartphone as a camera in the first place, so let's look at GorillaPods. They're nice, aren't they? I have owned and used GorillaPods for years with my hand-held camcorders. You can keep the three "legs" together and have a nice handgrip if there's no place nearby to set the phone-cam down and nothing good to attach it to.
There are cheaper alternatives to GorillaPods, though, especially when all you need to hold is a smart phone that weighs less than 6 oz. — such as the Case Star Octopus Style Portable and adjustable Tripod Stand, available (as I type this) from Amazon for $9.69, as opposed to nearly $30 for a GorillaPod. This is the Case Star version that also has a camera mount; you can get a cheaper one (under $7) if you are sure you will never mount a camera on it.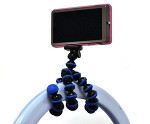 If your smart phone has a better camera than your laptop, the second you buy a Case Star Tripod Stand or a GorillaPod you also have a better webcam. And even a .3 MegaPixel webcam is good enough for close-up shots, and your smart phone probably has decent, if not spectacular, sound. It's also intensely portable; I don't know wbout your smartphone, but mine is a *lot* smaller than my 11″ laptop computer or even my 7″ tablet.
AND – if you use your cell phone's GPS for navigation, your little flexible tripod thingie can hang your phone from your car's rear view mirror, which puts it at eye level.
Now we need a wide-angle lens
Here's a secret for you: Professionals taking hand-held shots almost always use wide-angle lenses because they make a shot look steadier, just as telephoto lenses magnify shakiness. With an on-camera microphone, a wide-angle lens also lets you put your camera (or smart phone) and therefore your mic closer to your subject's face, which gives you better sound. This is especially important in noisy places like the convention show floors where I often interview people.
Let's face it: smart phone microphones aren't great. You need to be really close to your subject to get good sound. And that means a wide-angle lens.
You can get a clip-on "universal" wide-angle lens kit for your smart phone for $15 (price at the time this was written). Perfect lenses? Not a chance! Good enough to get close to an interview subject's face and make an okay video you're going to publish on the Web? Totally!
So there we go. A $10 flexible tripod and a $15 lens kit, and we're ready to go out and (assuming a little skill) make Web-quality interview videos with a rig that cost $25 (plus the smart phone, of course) — and will fit in the pockets of your favorite cargo pants.