Jun 1 2015 3:42AM GMT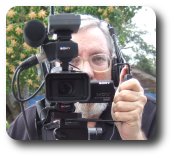 Profile: Robin "Roblimo" Miller
Tags:
When I say 'zero budget,' I mean working with your phone camera or a webcam. I make and edit videos for Slashdot, and a lot of them are done remotely, usually through Google Hangout. This means the video visual and sound quality are controlled by the interviewee, and it surprises me that in a world where video telephony has become common and easy, a shocking number of smart, high-powered people don't know the few simple things they should do to look and sound their best on camera.

First, get a decent camera. Webcams built into even most high-end laptops aren't as good as a Logitech C920 you can buy for less than $75. Think how much it costs to have a PR person set up an interview with a major website. $75 is nothing compared to the cost of even a minor public relations campaign — or compared to the cost of your time to set up an interview yourself. You might even want to get a better webcam than that little Logitech, although it's good enough for most interview-type videos. It's what I use myself, and I do enough video interviews that if I felt a more expensive webcam would help, I'd spend the extra.
Now, lighting. I have two main lights for webcam work. They cost me 9 $each at Home Depot, plus 100W daylight (6500K) flourescent bulbs that cost $13 for a box of 4. 6500K is the closest-to-the-sun light temperature you can find at discount retailers.
Now, the trick: Don't point the lights at your face. Point them at the wall you are facing, which is hopefully white. That will keep you from having a shiny look. And have two lights, one on each side. And behind you? That nice window? Wrong! You want to face the light, not have it behind you. If the light is behind you, you'll be dark. We don't want that. If you're looking out the window, fine. Then you probably don't need the "can" lights.
And you don't need to have your light be exactly even, side to side. If one side of your face is a little brighter than the other, it'll look natural. You don't want one well-lit and the other dark, but a little variance is fine.
For sound, I use these $17 earbuds with mic with my Android phone, and use them with my PC through a $2 Smartphone Headset to PC Adapter. These are WAY better than the speakers and mic built into most smartphones and tablets. And the mic is not only somewhat better than the ones in most webcams, but since it's closer to your mouth it will give you less (and probably NO) feedback, and our friend the inverse square law will help make sure the lawn mower across the street is barely audible (if you can hear it at all) in your video.
Want a better headset? You can spend amazing amounts of money on headphones and microphones. But the headset I currently use set me back less than $40, and I get compliments all the time about how nice my voice sounds. The two big tricks are its noise cancelling mic and USB input to my PC. These two characteristics, above all others, help you sound good over your webcam.
Two other things:
1. Wear simple "TV friendly" shirts or blouses, as in light blue or other pastels. If you're wearing a tie, don't wear one with a pattern over a checked shirt. I know this sounds ultra-basic, but the other night a long-time popular Tampa TV anchorman was wearing a tie and shirt with non-matching patterns. It was appalling.
2. Hair and makeup. Comb your hair (and beard, if you have one). Makeup? I never wear makeup on camera. Some men (and many women) do. A couple of makeup artists I know say they like Mehron Celebré Pro HD Make-Up. Naturally, you'll want to get the right shade for your skin tone. And as a rule, when it comes to makeup, less is better than more.
3. One last word: SMILE! When we're talking, especially about anything serious, we tend to look dour. If you consciously smile during an interview, you probably won't actually smile, but won't frown. And if you don't frown, you'll look happy and friendly — and we all like happy, friendly people better than we like unhappy, hostile ones.