Aug 8 2014 7:53PM GMT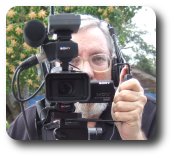 Profile: Robin "Roblimo" Miller
Tags:
BYOD, AKA "Bring Your Own Device" is a big deal in the world of companies whose employees use computers and smartphones in their work. It originally came about because many workers wanted slick, new iPhones instead of the old-style Blackberries or other devices their companies' IT departments issued. Computers weren't affected by BYOD-itis as quickly as phones were, in large part because many employers had apps that would only run on one operating system, which limited employee choice. Still, there were workers who wanted to use a MacBook Air and run Windows on it with the help of Boot Camp. And why shouldn't they do this? Security was one reason. But that seems to have been forgotten in this new world of Anything Goes in corporate IT.

I will admit that I was a BYOD guy long before the current outbreak of the concept, except that I was more of a "Bring your own OS and software" guy than a "Bring your own device" guy. My employers were fine with me loading Linux on the computers they supplied. Heck, they expected it; I was, after all, the editor in charge of the Linux.com website. And they were happy to make sure that any computers I got would run Linux. I like that in an employer!
Nobody at the company ever suggested that I should buy my own computers or cell phone. I never thought I should, either. To me, one of the bargains you made with a corporate employer was that you gave up some of your freedom in return for fringe benefits including health insurance and corporate-supplied computing gear. But one day, I was at a confab with a number of fellow employees and one of them whipped out an iPhone. This was early in the iPhone sales cycle, so it was probably a version 0.2 or something. But whatever it was, it was way flashier than the old Nokia (or whatever) I had. Quite the status symbol! And he'd bought it himself.
I was happy with a dumb phone not only while I was a salaried employee, but for several years after I was put out to pasture (with a decent severance package; no complaints). I was allowed to keep my corporate-purchased laptop, camcorder, and other reporting tools. For me, that was "Bring the Corporate Devices," which was the reverse of BYOD. I am famously cheap (note the title of this blog), and I wanted to get all the use I could out of equipment someone else had bought for me before dipping into my own pocket.
That was back in 2008. As you can imagine, even the most frugal person who uses computers, camcorders, and cell phones in their work needs to replace most of their gear in five years or less, so I have none of my old employer-bought equipment around — except for my last Nokia phone, which I found in a "this and that" bin while cleaning my office a few weeks ago.
As a freelancer, I need to stay reasonably up to date with both hardware and software. After all, if I didn't have a fairly new PC, how could I have tried Windows 8 so I could tell you what a loser it was? And without trying Ubuntu Linux and the lovely Bluefish text editor, how could I have told you how nice a pairing this OS and program make — so nice, indeed, that I'm using them right now. On a computer I bought myself, since I am self-employed and can buy whatever I like.
And now, back to security: As an employer, I would probably want to maintain control over the computers my workers used to do my business. A friend of mine who works remotely for a New York financial company uses only his company-supplied computer for company work. He is totally capable of doing his own IT support, but security is important to his bosses, so they supply his computers — and rotate them out every so often just in case. Billions of dollars are at stake! Checks and rechecks and checks on the rechecks are in order in this situation.
If I was a corporate employee, I would 100% totally expect my employer to supply the equipment I needed to do my job, including a decent smartphone.
Or, with the BYOD sentiment growing, will this soon be an unreasonable expectation? Will employers start asking to see an equipment list as part of a resume or job application? Will remote employees — who are already supplying their own workspace and utilities — be asked to supply their own gear?
This would not be a good development for remote workers (or workers who travel). But since employers are now squeezing workers every way they can, I'm afraid that this, too, may come to pass.