Oct 29 2012 11:34PM GMT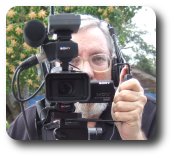 Profile: Robin "Roblimo" Miller

"It" in this case is the gee-whiz-it's-wonderful new iPad. Or maybe it's the Samsung Galaxy. Or the Microsoft Surface RT, which has something amazing attached to it in the TV ads: a keyboard. Amazing! Who would have thought you could attach a keyboard to a tablet computer and use it to write emails, books, and stuff like that? What a wonderful world we live in. Next thing you know, we'll have complete personal computers, with built-in keyboards, that you can carry around with you — like the ones for which I got a promo email a couple of days ago.

You can get either one of these full-featured, major-brand laptops for $599. These aren't scaled-up iOS or Android smartphones, but full-tilt desktop replacements with 64-bit Windows 8, a 500 GB built-in hard drive, a DVD read/write drive, and basically all the functionality you need to do everything from reading email to making a music video.
Want more storage? You can plug a low-cost USB hard drive into these laptops and add a terabyte or two. Or three or four, depending on how crazy you want to get. You can run all the free and proprietary programs you're used to having at your fingertips, and maybe some you never even heard of.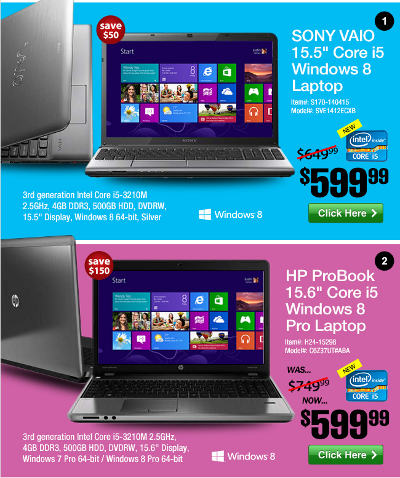 You get a webcam, so you can do remote video conferences or record your latest song for YouTube. And if you want more monitor space to stare at, plug in the monitor from the desktop PC you're replacing and have two monitors. Or buy a really big new one for your number two; there are lots of good ones for $200 or less.
Want more RAM than 4GB? Chances are, that's all you really need. But if you do need more, it's gotten cheap, too.
So we're saying you can now buy a full-featured, major-brand laptop with a 15.6″ screen and pretty good specs for $600. That's less than an unlocked Samsung Galaxy S III. It's less than an unlocked iPhone 4s, too — and a bunch less than an unlocked iPhone 5, assuming you can find one. (I couldn't.)
What you give up by choosing the laptop are a touchscreen, all-day battery life, and size/weight. Of course, if you want something tiny with an all-day battery, you probably already have a smart phone. If not, is there a reason you can't get one? And if you do, most cell carriers may not want you to tether your phone to a laptop, it is not terribly hard to do. For instance, and I am not advising you to do this, you can find instructions on the Internet that tell you how to tether popular phones sold by low-cost, non-contract carriers. Or you can do what my stepdaughter does. She has a low-cost, limited phone plan, plus a wireless hotspot she uses for all her devices at once, which is something that works best if you're in a metro area with good 4G coverage, which (sob) I am not.
Whatever you do, a little forethought about what you actually need your computing and communications devices for can save you a considerable amount of money when you purchase them, plus a bundle every month. Do you really need constant email and data communication? If not, why pay for it? Can't you wait until you're home or within range of a free WiFi network (almost every restaurant from McDonalds on up has one these days) to check your email? Are you really that impatient?
And maybe it would be better to cure the impatience than to cater to it. A book about meditation costs less than an iPhone and a monthly contract cellular plan. A lot less!