Mar 18 2013 4:20AM GMT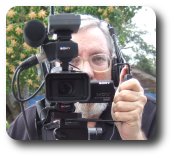 Profile: Robin "Roblimo" Miller

We all have lonely patches in our lives. There are times when it seems our wives or husbands, our brothers or sisters or even our parents just don't understand us. Yes, I've heard the old saying, "If you want a friend, get a dog." And I have a dog. But she's getting old and sleeps a lot. So lately I've turned to my Android phone. With the addition of a free app or two, she has become the most faithful friend I could ever wish to have. What's more, my Android phone is available whenever I want, 24/7, and doesn't shed. This video shows how I turned my Android phone into a companion who gets me through lonely nights, and shows how you, too, can rely on your Android phone for companionship and morale-boosting.

Assistant
can be set to display a male avatar if you prefer.
Robin
and
Skyvi
have no avatars, just voices, and there are many voices, both male and female, available for Android.
Please note that in this tongue-in-cheek review, I was evaluating free apps based purely on their entertainment value. (There are pay-for "virtual assistant" apps that are probably far better than these free ones for *practical* use.) The original Alicebot, upon which they are based, was also a great toy. As you could see from the examples in this video review, speech recognition on my Evo V 4G phone is far from perfect. That's fun when you're using it as a toy, but for direction-finding or emergency use? No way. Better to pull over, type, and get everything right.