Oct 24 2014 8:44PM GMT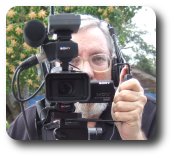 Profile: Robin "Roblimo" Miller
Tags:

Several friends and I got into a discussion of the famous IBM Model M keyboard. Unicomp still makes those keyboards, starting at $79. And while Wikipedia says, "Unicomp has had difficulty making them profitable because they rarely break, and most retailers will not stock such an expensive keyboard," they keep on making them. But this was not the keyboard my wife decided I needed as an early birthday gift. She got me a more modern, quieter keyboard that has its own good qualities, including some it shares with the Model M.

Would I have chosen a wireless keyboard and mouse combo for myself? Probably not. I am a bit of a "connection luddite" in that I typically prefer non-portable gear to be wired, not wireless. Despite this, I am happily using my Logitech Wireless Combo MK520 — a keyboard and a mouse that share a tiny "unifying" 2.4 GHz USB receiver that plugs into your computer.
You'll be happy to know that this keyboard and mouse combo works flawlessly in Ubuntu 12.04. It works with Windows, too, in case you need to use a Windows-only program.
But most keyboards and mice (or mouses if you prefer) work fine with Linux and Windows, so let's talk about feel.
This is a "stiff" keyboard. It takes less finger force than the Model M, but not so little that you don't know you're pressing keys. For some reason, a keyboard that takes substantial pressure seems to be less likely to cause carpal tunnel syndrome or other hand and wrist ailments than one that takes a little strength to use. My personal belief about this phenomenon, based on no scientific evidence whatsoever, is that keyboards that take a deep stroke *but* actuate only part of the way down are the easiest ones on your hands because you don't "bottom" them with much force once you are used to them.
Did that last paragraph make any sense? What it meant to me was that I am able to use some decent finger force while typing on the MK520 without "jarring" my fingers on each keystroke. This also allows me to type at my maximum speed, which is not terribly high, and to type with fewer errors than on keyboards that don't suit my hands.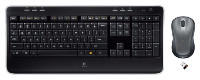 The Logitech MK270 wireless keyboard and mouse combo is one that doesn't feel quite right to me. Its sells (through Amazon on 10/23/2014) for $19.99 while the MK520 costs $34.99. The vast majority of MK270 buyers seem to like it — but the vast majority of MK520 buyers are also happy, as indicated by the high ratings Amazon customers have given to both of them.
I think it comes down to personal taste. And other people surely prefer other keyboard makes and don't like Logitechs at all.
And the mouse: It's just slightly soft, and it slides around on my mouse pad with hardly any effort. I like that in a mouse.
I have a reputation for being cheap. (Check this blog's title.) But I try not to be pound wise and ton foolish. If a $34.95 keyboard and mouse feel better and help me work faster than a $19.95 keyboard and mouse or a $15 wired combo I'll spend the extra bucks and be glad I did every time I use my computer.



But there are limits to this attitude. For example, an iPhone 6 plus with a 5.5″ screen costs over $900, unlocked, while I found a 5.5″ phone I like perfectly well for less than $200. Is it is good as an iPhone? It depends on your taste. But my taste doesn't run to spending money foolishly, so I am perfectly happy with my $200 phone — which is *better* in some ways than an iPhone.
And now you know what I'm going to write about next week: Selecting cell phones, a topic I haven't touched on since October 6.