May 3 2014 8:47PM GMT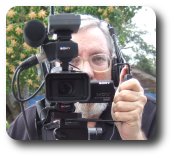 Profile: Robin "Roblimo" Miller

Specifically, it's Acer's Iconia B1-710-L401 Android Tablet, which makes this just about the best deal I've seen for a name-brand tablet with a duo-core processor. It only has 8 GB of memory, but that doesn't matter much because it has a memory card slot that can hold up to 32 GB of add-on memory. I turned to Amazon to check user reviews, and to see their price. The reviews were almost all favorable. My favorite negative one was from the person who was disappointed that this Android tablet didn't come with Windows 8. — The Amazon price was $99, so the factory short-fuse sale is a better deal by $10 — at least through Monday, May 5. Both offer free shipping.

The one thing this tablet doesn't have is decent cameras. It only has one, and it's a .3 MP "selfie" front camera, useful only for low-rez Internet chatting. Or for getting in trouble if you're a teenager, which is why my family has bought no-camera Nooks and Kindles for our teens and pre-teens.
A day for Acer love
I was not paid by Acer to write this. I just own some of their products and like them. In fact, my not getting paid by Acer is why I didn't order one of these nice tablets for myself; I don't have any budget slack this month. If I did, I'd probably buy one. Or maybe one of the Acer $199 Chromebooks my colleague Preston Gralla sees as worthy competitors to Macbooks, and another colleague, Steven J. Vaughn-Nicholls, has loaded with Linux, which (in my eyes) makes them full-fledged notebooks. Add an external hard drive, and you have a serious work tool. Amazing for such a low price.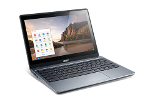 To keep this post from being all Acer all the time, I'd like to point out that a lot of people prefer the Samsung $249 Chromebook to Acer's $199 one. And for more information about Chromebooks in general, in March 2014 C|Net ran a story titled Chromebooks compared: New and upcoming Chrome OS laptops, that gives a decent overview of Chrome-powered laptops, along with links to reviews of each one they mention.
Now, a confession: I may be tempted to buy a Chromebook, but I probably won't get one this year or possibly even next year. Why? Because I already own an Acer Aspire One 722, and with its new SSD, it is as fast as I need and the battery lasts over 8 hours. The SSD has even made video editing (in Sony Vegas on Windows 7) a decent experience, which is really something on a laptop that cost me less than $280.
So what piece of computing equipment will I buy next? It depends. My inventory is fairly full right now. I have a used gamer-fast Windows PC I need to repair and put in service, and I'm in the process of deciding what kind of hardware I should use as a PVR when we dump cable (which is going to happen within the next month; UPS dropped off my Winegard amplified antenna yesterday), along with 50′ of coax because a 30′ mast is required for a good signal where I live, on the outskirts of the Tampa Bay TV viewing area.
And there are a few pieces of software I have, but have not reviewed and keep meaning to. So stay tuned, make sure you're subscribed to the Cheap Computing RSS feed, and together we'll see what comes down the Cheap Computing pike in coming weeks.