Aug 18 2014 10:54PM GMT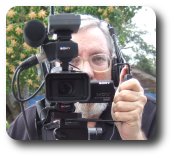 Profile: Robin "Roblimo" Miller
Tags: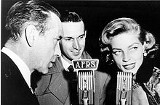 I've written about looking good in video chats (more than once), and about making good video in general — and doing it all with little or no cash outlay. Today I'm going to talk about sound for video, since most news video producers will tell you that good video is 80% sound. When you're trying to get a point across, blurry pictures and clear sound beat clear pictures and muddy sound almost every time.

The basic rule for getting clear sound in a video chat is to use a headset instead of relying on your computer or webcam microphone. A headset is better than the fanciest and coolest-looking desk mic because the mic on it is at a constant distance from your mouth even when you move around. You can also set the mic off to the side of your mouth, which will reduce breathy sounds and sibilants. Another good thing about headsets is that they isolate your incoming (speaker) sound from the mic, which means you don't get feedback (SCREEEESH!) or echoes-choes-choes…..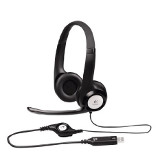 And the last thing that's great about headsets is that you can get ones that connect directly into you computer's circuitry via USB instead of into your sound card for comparatively little money. This Logitech headset is my daily sound workhorse. It cost me less than $40 (shop around for the best deal) and has lasted about two years so far.
There are many headsets you may prefer over the Logitech model I like, since part of my preference is based on a comfortable fit and not all heads and ears are the same size or shape.
The two important technical factors when selecting a headset are making sure it has a noise-canceling mic to keep extraneous sounds (air conditioner, ambulance siren passing nearby, etc.) down as much as possible, and that it connects to your computer via a USB port. Besides that, it's mostly about comfort. You can get slightly higher sound quality by spending more money, but is the slight improvement worth the extra expenditure? Not to me, but it might be to you.
Now about sound for your video cam or a DSLR camera you use for video: You need an external microphone. This is not negotiable. No camera ever made has as good a mic as the cheapest ones you can get from photo/video suppliers like B&H or Adorama.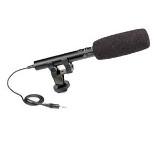 The Azden 990 (pictured) is my favorite "shotgun" microphone for use on small camcorders, DSLRs, and smartphones. It's monaural, so you can get an adaptor cord and use it as one of two mics on that camera — with the other one being, perhaps, my favorite lavalier mic, the low-cost Audio-Technica wired lav mic, is now apparently sold with an adapter for use with smartphones for about the same price. This is clever, since you need that adapter for any mic you're going to plug into your phone (or tablet) if you also want to monitor sound through earbuds or headphones, which you most certainly should.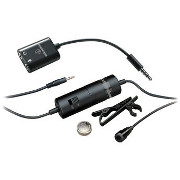 I also have an iRig handheld mic, which has a similar smartphone/headset adapter. It's a decent piec4 of equipment, except that with its smartphone plug its use is limited to smartphones and tablets. I'd suggest getting a decent mic with a 1/8″ plug on the end — that's what DSLRS and most consumer camcorders need — and using an adapter to plug it into your phone. This will give you more versatility per dollar than the iRig mic, which I bought before mic/headndest/smartphone adapters were commonly available.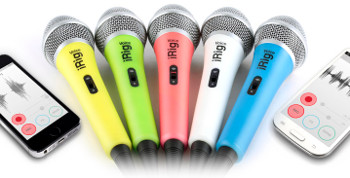 And what to do if your video capture device doesn't have someplace to plug in an external microphone? Your only real choice, other than accepting the sound quality of the built-in mic, is to use one of the many handheld digital recorders that have come to market in the last few years. My personal "best value" choice is the ~$100 (street price) Zoom H1. If you're only going to record a spoken voice or two, there are less expensive recorders that will do the job, and if you're recording high end music, you may want a more expensive one.
—
Yes, I'm saying you need to spend some money to get good sound for your videos. But not a lot. It is easy to spend $10,000 on sound gear for your $20,000 4K cinema camera, but that's obviously not within the scope of a blog called Cheap Computing.
—
TWO CHEAP TIPS: Furry wind-cut (often called "dead cat") filters for microphones are horribly expensive, like $20 and up for each tiny, shaped piece of fake fur. You can go to a fabric store and buy more fake fur than you'll need for all the wind cut filters you (and several friends) will use in three lifetimes for less than $10. A little cutting and a couple of rubber bands, and you have what you need. I've been doing this for years.
And for your Audio-Technica (or whatever) lav mics, you will want a supply of replacement foam filters because they are tiny and are always getting lost. Radio Shack has the best value I've found on these, currently less than $3 for a pack of four.